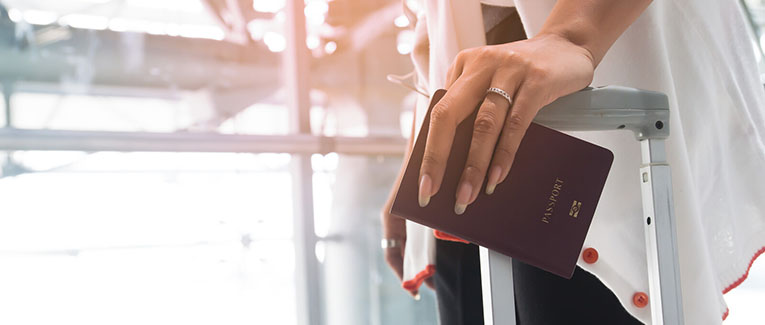 If you are a U.S. citizen and your fiancé(e) is a non-U.S. citizen who lives outside the U.S., and you plan to get married in the U.S., you can obtain a fiancé(e) visa for him/her.
K1 visa:
The K1 fiancé(e) nonimmigrant visa entitles the visa applicant to enter the U.S. to marry an American citizen.
K2 visa:
Unmarried children, under 21 years of age, of a K1 applicant derive K2 nonimmigrant visa status from the K1 parent if the children's names have been included in the K1 visa petition. A separate petition is not required if the children accompany or follow the K1 applicant within 1 year from the date the K1 applicant is issued his/her K1 visa. To be eligible for a K2 visa status, the child(ren) must be unmarried, eligible to be listed under the K1 applicant's visa classification, and under the age of 21 at the time the child(ren) enter the U.S. After the child enters the U.S., the stepparent/stepchild relationship for a U.S. citizen petitioner and K2 child must be created before the child reaches the age of 18.
It is a multi-step procedure:
In rare instances, some couples may have to attend a fraud interview if the government has any doubts whether the intended marriage is real or not.

After Arriving in the U.S.
The marriage must take place within 90 days of your fiancé entering the U.S. If the marriage does not take place within 90 days, or if your fiancé marries someone other than you (the petitioner), your fiancé will be required to leave the U.S. Until the marriage takes place, your fiancé is a nonimmigrant. It is not possible to extend the fiancé visa beyond the original 90 days' duration.
It is best to get married as soon as possible after entering the U.S., since getting a marriage certificate takes time and it is required to apply for an Adjustment of Status.
If you could not get married within 90 days for unexpected reasons and you still want to get married, get married as soon as possible. However, your spouse would need to file Form I-130 along with a Form I-485, Adjustment of Status application. Don't leave the United States if you are late by 6 months or more, as you would be subject to a 3-year (more than 180 days illegally) or 10-year (more than 1 year illegally) bar for re-entering the U.S.
If you are late in getting married and are filing a green card application, and USCIS catches you and puts you into removal proceedings, you will have to file the green card in immigration court. Application paperwork is the same, but the immigration judge will look harder at your case to make sure that the marriage is bona fide, and that you had genuine reasons for the delay.

For visitors, travel, student and other international travel medical insurance.
Visit insubuy.com or call +1 (866) INSUBUY or +1 (972) 985-4400
After marriage:
After marriage, your fiancé (now your spouse) can apply for an Adjustment of Status to be able to live and work permanently in the U.S. If your fiancé does not want to become a permanent resident after marriage, your fiancé (now your spouse) must leave the U.S. within the original 90 days' duration.
Work permit:
K1/K2 visa holders can file the application for employment authorization.
If you file the application immediately after arrival, but before filing for an Adjustment of Status (AOS), this EAD will expire when your K-1 visa expires within 90 days. However, the wait time to get an EAD itself is more than 90 days. Therefore, it is a waste of time and money to apply before applying for an Adjustment of Status. If you still want to apply, the filing category is (a)(6).
You can apply for an EAD at the same time as filing for AOS or after filing AOS. This procedure is the same for all other applicants applying for AOS.
Social Security Number:
K1 visa holders can get a social security number upon producing a valid, unexpired I-94. Apply two weeks after arrival in the U.S. so that the Social Security Administration (SSA) can verify your information in the SAVE-ASVI database. If you apply too soon, they may have to do a manual verification by filing Form G-845 with the USCIS, which may add several weeks of delay. Also, do not wait too long, as many SSA offices will not allow you to file for a SSN if your I-94 is about to expire within 14 days. Of course, it is also possible to apply after you get an EAD.
Along with all other documents, carry RM 00203.500: Employment Authorization for Nonimmigrants, just in case the staff at the SSA is not aware that the K1 visa holder is eligible to get a SSN.
K2 visa holders must first have a work permit (EAD) to get a social security number.
Carry your marriage certificate to the social security office to get the social security card in your new name. If you applied for a social security number before marriage, you can go back to the social security office after marriage to get your name changed on the social security card.
The social security card will be marked "VALID FOR ONLY WITH USCIS AUTHORIZATION". That means you need to get an EAD first before you can actually work.
Travel outside the U.S.:
The fiancé visa (K1/K2) allows a fiancé to enter the U.S. only once. If you leave the U.S. after entering on a fiancé visa, you can not re-enter on the same visa, and you will need a new visa.
After getting married and after filing an Adjustment of Status, if you want to leave and re-enter the U.S., you must apply for Advance Parole to return to the U.S.
We are sorry that this post was not useful for you!
Let us improve this post!
Tell us how we can improve this post?