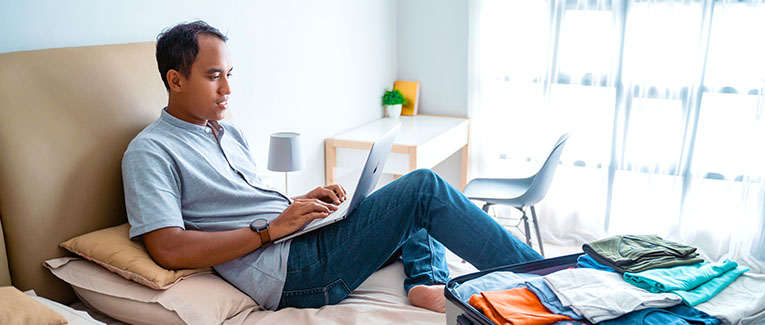 When a close relative such as parents or in-laws are visiting the USA from abroad, it is a happy occasion for everyone. Your relatives are excited about all the fun they will have on their trip, from the time they will spend with relatives, the delicious meals they will share and other enjoyable activities they'll do together as a family. No one really thinks about their visiting relative suddenly becoming sick or being hurt in an accident; however, this is a very real and potentially worrisome possibility when relatives are visiting USA. To protect your family, it is highly advisable to purchase travel insurance for your relatives visiting the USA.
Obviously, many people visiting the USA may not fall sick or get injured. However, you never know what could happen to someone at any time. It is always better to be safe than sorry, as life is highly unpredictable.
There are many travel insurance plans available and hundreds of websites and thousands of agents. Therefore, it can be very challenging to figure out how to choose the best travel insurance for your relatives visiting the USA.
The following tips would help you select the best travel insurance for your visitors to the USA:
Medical coverage in travel insurance is the most important part. There are various policy maximum options available; a policy maximum is the maximum amount that the insurance company will pay in case of a covered medical expense. As the cost of healthcare in the US is very high, you should choose at least a $100,000 policy maximum, a higher policy maximum is even better as medical expenses can be high.
There are primarily two types of visitors insurance plans: fixed coverage plan that have a sub-limit for every medical procedure and the comprehensive coverage plans, which pay in terms of percentage. As fixed coverage plans are highly insufficient, comprehensive coverage plans are always recommended.
The price of the insurance depends upon the duration of the insurance. Therefore, the longer your visitors stay, the more you will have to pay. The prices are either in terms of the number of days, or months and days.
If the visitors are visiting for a longer duration, such as four to six months or longer, consider buying travel insurance that is extendable; you could initially buy for three months and extend coverage later as necessary.
If your visitors are not sure of the duration they will be staying, buy for a shorter duration and extend the policy as needed.
In any unforeseen circumstances if the visitors need to leave early, make sure that the policies are refundable.
Most elderly relatives will not be participating in hazardous sports activities. However, if some of your relatives are considering activities such as snow skiing, jet skiing, hiking or similar activities, check the travel insurance plan to make sure such activities are covered. Sometimes, you will have to pay an additional premium and purchase the optional hazardous sports coverage in order to cover those activities.
Compare various insurance plans on an insurance marketplace such as Insubuy and make an educated decision.
You can't purchase a lower premium insurance and upgrade to a higher plan that provides better coverage later, as most people who would like to do that have already fallen sick or gotten injured. At the time of sickness or injury, it is too late as the new insurance plan would consider those problems as pre-existing conditions and would not cover it at all. You can't upgrade, port or transfer from one visitors insurance to another. When something happens, what you have is what you can use, so choose wisely.
In case you were to fall sick or get injured while on the trip, make sure to keep all the documents handy and file a claim form promptly.
Don't purchase from a travel agent or directly from an insurance company. If you run into any issues later, they won't be able to help you. Instead, purchase from a neutral broker that works for you and offers travel insurance from multiple companies, such as Insubuy. They would be able to understand your requirements and suggest to you the most suitable plan for your needs.
While there are many foreign based insurance companies that include a great deal of frivolous coverages you may not need (such as golf ball loss coverage, plane hijack coverage) as part of the travel insurance, their medical coverage is very limited and basic. Therefore, it is best to avoid such travel insurance plans. Only purchase travel insurance plans that offer solid medical coverage along with a PPO network for the ease of cashless billing.
Business executives that frequently travel to USA on short trips should consider purchasing annual multi trip travel insurance instead.
When buying travel insurance, don't simply look at the price and choose the cheapest plan, assuming all plans work the same way and provide the same coverage, because travel insurance plans don't all work the same and do provide different coverage. Please take the time to read the certificate wording for the details of what is covered and what is not. Some customers claim that they didn't care to review the fine print with dozens of pages and their claim rejection was not fair, when the insurance company actually paid or rejected the claims according to the terms and conditions of the insurance. Whether you read the terms or not, the insurance companies are still going to follow them.
While some of the claims for travel insurance take longer than domestic health insurance, if there is an unusual delay, feel free to contact Insubuy's Claims Resolution Team and seek their professional help at no cost to you. Don't suffer for a long time and try to deal with everything yourself, that will only increase your stress and get you frustrated.
Travel insurance terminology is not something that you are used to dealing with every day. Therefore, if you don't understand something, feel free to call Insubuy and ask questions. They have knowledgeable and experienced US based licensed agents available 5 days a week to help you. Call toll-free +1 (866) INSUBUY or +1 (972) 985-4400 or via WhatsApp at +1 (972) 795-1123.
We sincerely hope that the above tips help you get the best travel insurance for your relatives visiting the USA.
We are sorry that this post was not useful for you!
Let us improve this post!
Tell us how we can improve this post?