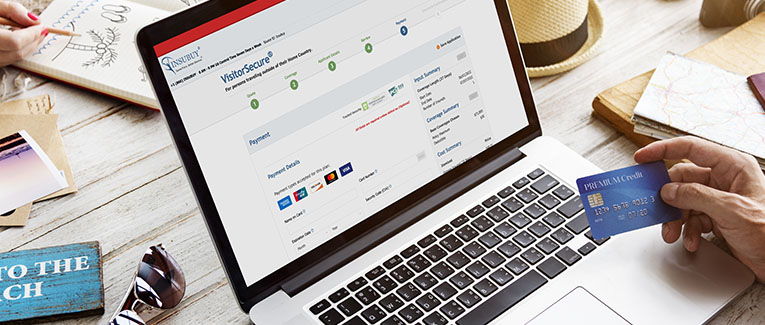 Whether you are visiting the U.S. on your own, or you live in the U.S. and your relatives from abroad are coming to visit, you should highly consider purchasing visitors insurance, as healthcare costs are among the highest in the world.
There are many visitors insurance plans available in the market that offer different coverages, terms and conditions, and have different prices.
While visitors insurance plans are available in the U.S. as well as in your home country, it is definitely preferable to purchase from a U.S.-based company instead of a company from your home country, as the U.S-based companies have distinct advantages.
You should not simply purchase the cheapest plan that you come across. There are primarily two types of visitors insurance plans: fixed coverage and comprehensive coverage. While the fixed coverage plans cost less, they also provide limited coverage that falls significantly short of the actual healthcare expenses in the U.S. We always recommend everyone to purchase comprehensive coverage plans only, as they provide adequate coverage, even though they cost more.
Visitors Insurance Purchase Process
You can visit the marketplace website Insubuy to get instant quotes from multiple companies, compare them side by side, and make an instant purchase online. For each traveler, you will need the name, date of birth, passport number (if applicable), travel dates, and other generic information such as address, phone number, email address, and the credit card information to make a purchase. The process only takes a few minutes, and all major credit cards are accepted. There is no medical exam and no physical paperwork to submit.
Alternatively, if you are not comfortable doing the application online or if you need any help deciding the most suitable visitors insurance plans for your needs, you can call the toll-free number +1 (866) INSUBUY, from 8 AM to 7 PM CT, five days a week, to speak to a licensed insurance agent that specializes in visitors insurance. Don't worry: You will not have to give your credit card number over the phone, as the agent will send you a link (by email or text message, as per your preference) to securely enter the credit card details.
Visitors Insurance Purchase Timing
Visitors insurance plans can be effective as early as the next day or any future date you specify. Many visitors insurance plans provide coverage during time spent in transit, as well. All visitors insurance plans are effective as of 12:01 AM in the time zone where the insurance company is located. Most of the visitors insurance plans start at 12:01 AM Eastern Time U.S. Therefore, in order to have coverage during travel time as well (if the plan provides such coverage), you should keep the time zone difference in mind and consider putting the effective date of the insurance one day in advance of the departure date.
Visitors Insurance – Policy Documents
As soon as you make a purchase, you will get an email confirmation containing the link to download all your fulfillment documents such as the ID card, visa letter (if needed, which is also the confirmation of coverage letter), certificate wording, and—if appropriate—a link to search for the contracted providers in the network that can provide cashless treatment.
MyAccount
Once you have purchased visitors insurance, you can log into MyAccount at any time to access your fulfillment documents (described above). Additionally, you can easily repurchase the insurance, either the same plan for the same person, the same plan for a different person, a different plan for the same person, or a different plan for a different person.
You can also request cancellations as well as change requests online.
If you have any incomplete applications, or quotes for which you didn't purchase the insurance, you can access all of them in a convenient place.
Based on all the insurance plans you have purchased, MyAccount also allows you to maintain an Address Book that you can use to conveniently reuse information when purchasing insurance for different plans.
We are sorry that this post was not useful for you!
Let us improve this post!
Tell us how we can improve this post?