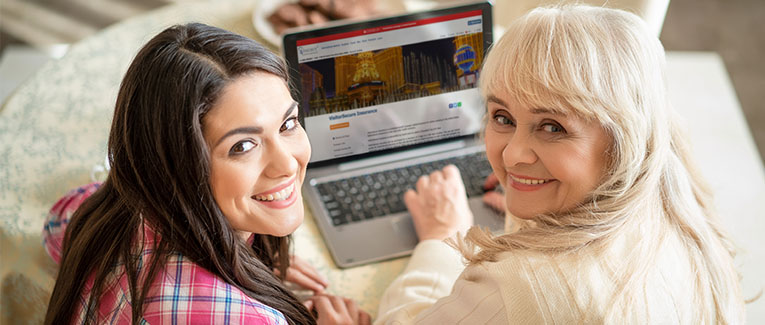 VisitorSecure is a highly popular visitors medical insurance plan for relatives and family members visiting the United States for a short duration. VisitorSecure is a fixed benefit visitors insurance for people temporarily traveling to the U.S.
VisitorSecure is underwritten by Lloyds of London, which is rated A- "Excellent" by A.M. Best.
VisitorSecure Features
You can choose from various policy maximums available, such as $50,000, $75,000, $100,000, or $130,000. VisitorSecure is available for any duration between 5 and 364 days and can be renewed for another 364 days. In case you need to extend your stay, you can extend the insurance. VisitorSecure can be purchased instantly by clicking on the link above, and you can download your ID card within few minutes of the purchase.
VisitorSecure has various deductible choices, such as $0, $50, or $100. However, for the age group of 70–99 years, the only available deductibles are $100 and $200.
VisitorSecure is an affordable travel insurance for non-U.S. residents traveling to the U.S. There is no PPO network in VisitorSecure, and you can visit any physician or hospital of your choice.
VisitorSecure Insurance Restrictions
Even though VisitorSecure has many excellent features, it comes with several restrictions:
VisitorSecure is a fixed coverage plan, and it pays a fixed amount for each and every covered medical benefit. You will have to pay the difference from your pocket, and that can be very large, as healthcare expenses are very high in the U.S.

Say that you have purchased a $50,000 policy maximum, and you are hospitalized for 3 days. The insurance will pay $1,450 per day for a total of $4,350. Even if the hospital bill is $30,000, you will have to pay the difference of $25,650 out of your pocket.
The policy maximum chosen is for the life insurance of the insurance plan and not per incident.
VisitorSecure does not provide acute onset of pre-existing conditions benefits for people in the 70+ age group.
VisitorSecure does not participate any PPO network in the U.S. That gives you the flexibility to visit any provider of your choice. However, there is no directory or list that you can refer to find out which provider will bill the insurance company directly. As there is no PPO network, there would be no network-negotiated fees, either. While most hospitals can bill the insurance company directly, you may end up paying out of your pocket for a physician visit and having to file a claim for reimbursement of eligible medical expenses.
For senior people who are 80+ years of age, the maximum coverage available is $10,000.
If the proposed insured is located in the states of Maryland, New York, or Washington at the time of purchase, they are not eligible to purchase. Additionally, if you are purchasing on behalf of someone (such as for your parents visiting the U.S. from a foreign country), you cannot be physically located in the state of Maryland, either.
As it is a fixed coverage plan, many benefits such as acute dental pain, trip interruption, loss of checked luggage, return of minor child(ren), emergency reunion, loss of passport or travel documents, border entry protection, and accidental death & dismemberment (AD&D) are excluded.
As there is no benefit period, if you were to fall sick toward the end of the policy, and if you don't extend your coverage, you will not be covered for any subsequent treatment past the expiration date of your current coverage.
Conclusion
VisitorSecure is a highly popular, budget-friendly visitors insurance for the U.S. Insubuy always recommends everyone to purchase a comprehensive coverage plan for better coverage. Such visitors insurance plans are available for instant purchase at Insubuy. For the sake of comparison, a popular comprehensive visitors insurance is Atlas America.
We are sorry that this post was not useful for you!
Let us improve this post!
Tell us how we can improve this post?