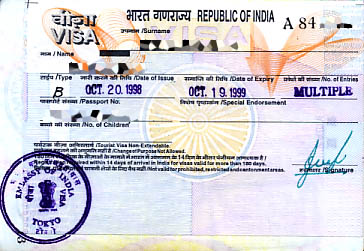 Surname: Same as the last name in the US or family name.
Name:: Same as the first name in the US. Also known as given name.
Type: Visa type such as tourist, journalist, etc.
Date of Issue: The date when the visa was issued.
Date of Expiry: The date when the visa expires.
No. of Entries: Number of times this visa will let you enter India (Single/Double/Multiple)
Passport No: Visa holder's passport number.
Special Endorsement: Any notes, restrictions would be written here.
No. of Children: Your number of children.
Irrespective of the visa validity duration, maximum periof of stay in India is limited to 6 months (180 days).
Visa validity begins on the day it is issued and not on the day of entry into India. You must have your passport that is valid for at least six months beyond the completion of your trip.
Related links:
India dual citizenship
India visa
PIO card
OCI

We are sorry that this post was not useful for you!
Let us improve this post!
Tell us how we can improve this post?