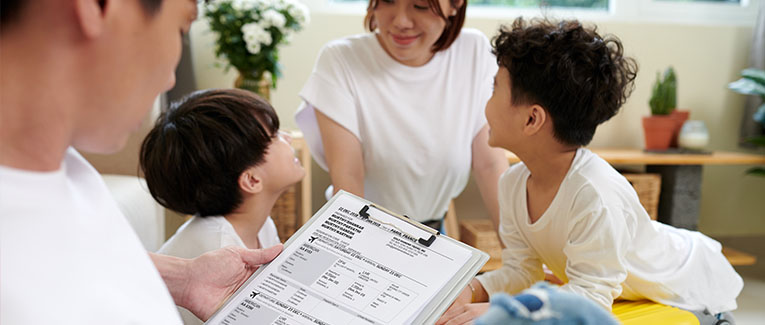 One of the Schengen visa requirements is to provide a flight itinerary or flight reservation for your Schengen trip.
A flight itinerary is also called an air ticket booking, a flight confirmation, or a dummy airline ticket for visa.
What Is a Flight Itinerary?
A flight itinerary is a flight time table that shows the list of flights that you have booked for trip to the Schengen area.
The flight itinerary would show your name and the flight number, airport codes, the date, the time, and the duration of each flight. You must show the flight itinerary for your round-trip journey and not an open or one-way journey.
What Is a Flight Ticket?
As opposed to the flight itinerary, you get a flight ticket when you actually pay for the airline ticket. That means, you have a reserved seat on the airplane that would take you to your destination and bring you back.
Some airline tickets are completely refundable. However, most tickets nowadays are either non-refundable or have heavy change penalties. Most tickets are not refundable at all.
Airline and travel insurance companies don't consider the visa denial or delay as valid reasons for refunding your money.
What Exactly Is Required?
Most Schengen consulates ask you to submit only the flight itinerary and not the actual flight ticket. They are very well aware of the non-refundable nature of the flight tickets. However, some consulates may ask you to show the proof of the actual air ticket when your visa is issued. In some cases, some consulates may ask you to submit the actual flight ticket, but that is not the normal procedure.
Why Is a Flight Itinerary Required?
Many people wonder why they need to submit the flight itinerary when applying for Schengen visa and why they can't plan their trip after getting the actual visa.
There are several reasons behind that:
Appropriateness of the Embassy/Consulate
There are set rules regarding where to submit Schengen visa application. That largely depends upon your travel itinerary, such as your primary destination and where you will stay each day in the Schengen area.

Having a flight itinerary helps the embassy/consulate make sure that the applicants are applying at the appropriate consulate.
Visa Length
Once the consular officer sees your flight itinerary, they can see when you are planning to go to the Schengen area and for how long you will stay there. That helps them issue the Schengen visa for an appropriate length of time.

As the Schengen visa will be issued exactly for the duration of your trip duration you show, it is better to add a few days before and after in the itinerary. That way, when you actually book the trip, you will have more flexibility in making your travel arrangements.
Avoiding Overstay
The consular officer can evaluate your flight itinerary and decide the visa length and the dates accordingly so that you don't end up overstaying in the Schengen area. Otherwise, that could cause you problems this time or when you apply for a Schengen visa again in the future.
How Do You Book a Flight Itinerary?
There are many ways to book a flight itinerary without having to actually pay for the flight tickets:
Check directly with the airline
Check with a local travel agent
Check with online travel websites
There are many specialized websites that provide a proof of booked flight itinerary for a fee. We don't recommend a specific one. You can do your research and choose the one that you may feel comfortable with.
No matter from where you get it, make sure you know for how long it is valid for. Many places would hold your reservation for 2 or 3 days or a maximum of 7 days. However, the Schengen visa processing may take 10 to 15 days. Therefore, you should really get a booked flight itinerary that is valid throughout the duration your visa application is processing.
Of course, you can get a booked flight itinerary from anywhere you like, as long as it is legitimate.
Do not try to create a fake flight itinerary by changing the existing templates for a flight itinerary. If you are caught doing so by the consular officer, not only your Schengen visa will be rejected, but you may be banned from applying again in the future.
Sample Flight Itinerary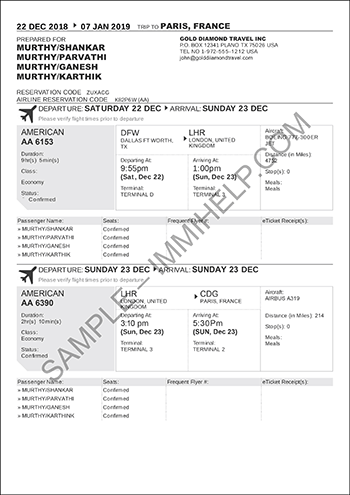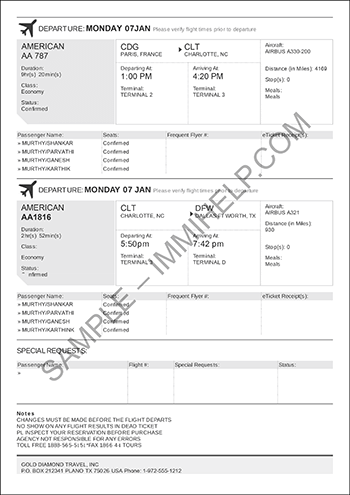 We are sorry that this post was not useful for you!
Let us improve this post!
Tell us how we can improve this post?