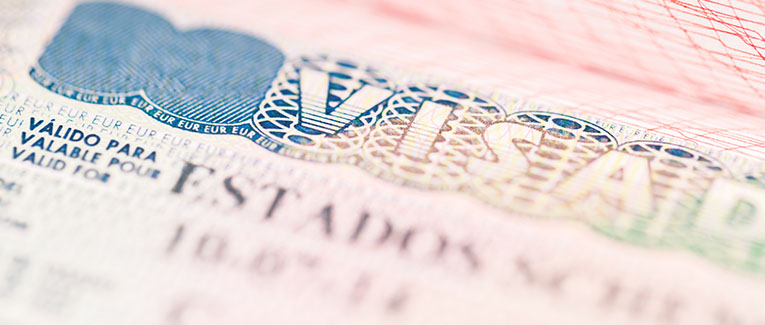 Many people who are visiting the Schengen area wonder how to extend their Schengen visa.
Short-stay Schengen visa extensions are allowed by the law. However, you can't just casually extend your Schengen visa just to enjoy a longer stay.
If the person visiting on a Schengen visa has legitimate reasons to do so, whether they are personal, professional, medical, or other, it may be possible to extend Schengen visa in limited circumstances. The decisions to approve Schengen visa extensions are made on a case-by-case basis.
Generally, you can extend your Schengen visa only if you have not stayed for more than 90 days in the past 180 days and if your current visa is not expired.
Extension Reasons
Some reasons for which you may be able to extend Schengen visa:
Late Entry
You must enter the Schengen area within the visa validity period and stay within that validity period. (That is quite different from how US visa works, where visa stamp validity and authorized duration are two completely different things.)

For some reason, if you entered the Schengen area late, you may be able to apply for Schengen visa extension by that much of a duration.
Force Majeure
If unexpected events suddenly occur in your country of residence during your stay in Schengen area, such as war, conflict, riots, violent protests, severe weather conditions, or natural disasters (volcano eruption, tornado, earthquake, etc.), you may be able to apply for a Schengen visa extension.

The duration of your extension may depend upon the nature of the event and when it is likely to become better for you to safely return home. However, if the situation does not change in the anticipated duration, you may apply for another extension.
Humanitarian Reasons
You may be granted Schengen visa extension for humanitarian reasons to prevent or overcome hardship for foreign nationals.

Some of the examples could be you need to attend a funeral following the sudden death of a family member, continue receiving medical treatment, to give support to a close person who is facing severe hardship, and so on.

In case of trying to extend Schengen visa for medical treatment, you must be able to provide that you are unable to travel out of the Schengen area without putting your life at risk and you would need to continue receiving the treatment in the country you are in. That also means that if your medical condition allows you to return to your country of residence by postponing your treatment without putting your life at risk, your extension may not be approved.
Serious Personal Circumstances
If you get into important or serious personal circumstances, you may be able to extend Schengen visa. Some examples include:

Unfinished work in the Schengen area
An unplanned wedding. This could either be yours or your relative's.


The immigration officer will look at the relevant facts and make the decision accordingly. Other than for medical treatment reasons, the chances of you getting a Schengen visa extension are lower in this category, compared to the other ones. However, you can always try.
Extension Process
Overall process to extend Schengen visa:
Determine whether you have a justified reason to apply for extension.
Gather necessary documents.
Pay visa fee, if required.
Attend interview, if required.
Wait for the decision.
Many of these steps are described below.
Application Timing
You must apply to extend Schengen visa before it expires.
You must apply to extend Schengen visa in the country you are physically located in, at the time of application.
It may take from a few days up to a month for the authorities to process your Schengen visa extension application. While your application is under process, you are legally permitted to stay in the country where you applied for Schengen visa but can't travel to other Schengen countries.
If your extension is approved, you can stay in the Schengen area until the extension validity. However, if it is rejected, you must leave the Schengen area in a day or two.
Schengen Visa Extension Documents
For an extension, you don't need to submit as many documents as you had submitted at the time of initial Schengen visa application.
At the minimum, you need to submit the following documents:
Passport
It must include the Schengen visa that you currently used to enter the Schengen area
Application form for extension
Proof of finances. You must be able to show that you have enough money to financially maintain yourself during the extension duration you are applying for.
Schengen visa insurance that covers the extension duration.

It would be the best if you can extend the same insurance you originally purchased when you initially entered. If that is not possible, you can buy a new one easily.
All documents that justify your reason to extension Schengen visa.
Interview
Depending upon the country you are currently in and applying an extension for, you may or may not need to attend an interview in person. If you are required to, schedule an appointment online with the immigration authority in that Schengen country.
Make sure you that you reach their office on time and you are carrying the necessary documents. It is important that you should clearly be able to answer the questions related to your reason for extension.
Schengen Visa Extension Fee
When applying for the first extension, you don't have to pay any extension fee for humanitarian reasons or force majeure reasons. However, you must pay €30 for an extension due to late entry or important personal reasons.
If you need to apply for an extension a second time, you will have to pay the extension fee, irrespective of your reason. The fee is €30 for minors and €60 for adults.
We are sorry that this post was not useful for you!
Let us improve this post!
Tell us how we can improve this post?