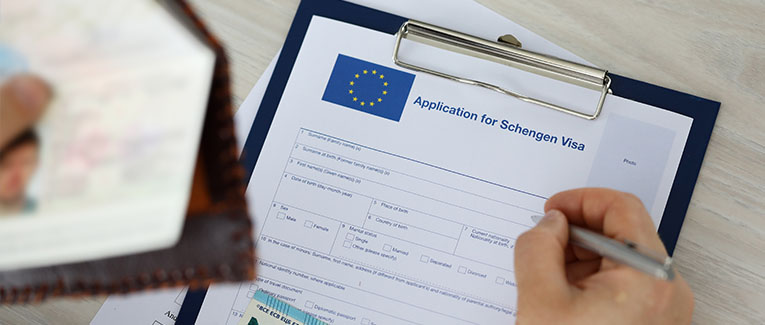 Those that normally live in the U.S. can apply for a Schengen visa if they need to.
Who Needs Schengen Visa?
U.S. citizens don't need a Schengen visa for travel to the Schengen area for a duration up to 90 days in any given 180-day period. However, non-U.S. citizens (including green card holders) who are citizens of a country for which visa-free travel to the Schengen area is not permitted need to apply for Schengen visa.
Visitors to the U.S. should generally apply for the Schengen visa from their country of permanent residence unless they can show a justification of why need to apply from the U.S.
Who Applies for Schengen Visa?
Greencard holders need to apply for Schengen visa, just like temporary visa holders, if they are a citizen of the country that requires Schengen visa.
Millions of non-U.S. citizens who live in the U.S. would like to visit Europe for a vacation. Particularly, there are many people of Indian or other Asian origin that live in the U.S. on H, L, or other visas, such as F or J. While visiting their country, they may want to stop by in Europe for a few days for sightseeing. Sometimes, even if they are transiting the airport in the Schengen area, they may need a Schengen transit visa, even if they have no intentions of leaving the airport.
Where Do You Apply for Schengen Visa?
There are many Schengen embassies and consulates in the USA where you would eventually go for an interview in person.
However, most of them have outsourced their visa application process to VFS Global. You have to schedule an appointment before you can visit the consulate in person.
There are strict rules that govern which country's embassy or consulate you need to apply at. If that country has outsourced the process to VFS Global, you would apply with them. Otherwise, you would apply directly with the Schengen embassy/consulate.
Schengen Visa Application Process
You should simply follow the Schengen visa application process.
Among many requirements, you will see that you must get Schengen visa travel insurance. It is very likely that you already have health insurance while you are living in the U.S. However, that is not enough. Schengen visa insurance has specific requirements that must include emergency medical evacuation and repatriation benefits, which domestic health insurance plans don't cover.
You can simply visit Insubuy to get instant quotes from reputed providers and make an instant purchase online. You can print the instant visa letter or confirmation of coverage letter to be submitted to the VFS visa application center.
Once you get the visa, do not attempt to cancel the insurance thinking you don't need it, as you will be asked to show the proof at the port of entry when you actually travel to the Schengen area.
Even though the official visa fees are in Euros, they are accepted in U.S. dollars. The exact amount in U.S. dollars may change from time to time.
We are sorry that this post was not useful for you!
Let us improve this post!
Tell us how we can improve this post?