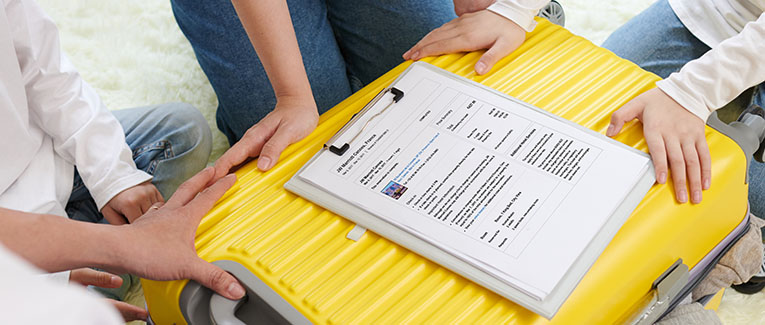 Proof of accommodation is required when applying for Schengen visa, as part of Schengen visa application requirements. It must cover the entire duration of your stay in the Schengen area.
It can be provided in one or more forms, as listed below:
Hotel or hostel booking
Include one or more proofs that each shows the name of the place, complete address, phone number, and the email address, for the entire duration of your stay in the Schengen area.
Invitation letter from a host (such as relatives or friends) with whom you will be staying.
Additionally, a copy of the host's passport or ID and proof of residence may be required.
Rental agreement, if you have rented a place (such as an apartment, condo, house, or a room) in the country where you will be staying. It should have the details about the place and the landlord.
In case of a student who will be staying at the dormitory, a signed contract between the student and the official of a dormitory in the country where the student will be studying.
If you would be backpacking, traveling in a van, or have a tent, such a plan would not be enough for proof of accommodation for Schengen visa application.
Why Is Proof of Accommodation Required?
Part of the Schengen visa requirements is that you should have a well-defined itinerary and a clearly defined purpose of the trip. You should also apply at the appropriate consulate based on your itinerary.
Providing proof of accommodation helps the consular officer make sure that you have applied at the appropriate Schengen embassy/consulate as well as the purpose and the duration of your trip is consistent with what you have mentioned in your application form and with rest of the documents.
Hotel Booking
From the list provided above, for most people, it would mean that they would need to show the proof of a hotel booking or reservation.
Compared to the flight itinerary for Schengen visa, it much easier to get the proof of a hotel reservation.
You can directly visit the hotel website, ask a local travel agent, or go to the travel web sites. You can book the hotel for your entire stay. It can either be in one city, multiple cities, or even in multiple countries. Most hotels allow you to make a booking without having to prepay for your stay. As long as you cancel at least 24 hours in advance, there is no cancellation fee. Of course, all hotels in the Schengen area don't operate on the same rule. Therefore, you must check with the travel agent or the hotel to make sure what the cancellation rules are.
You don't really need to book your hotel reservation through websites that are in the business of giving proof of hotel booking for a fee.
Most hotel bookings will come in the form of an email or itinerary print out as a PDF file. Either one is fine, as long it is genuine.
Don't try to make a fake hotel booking by using some online template. If the consular officer catches you (which they most likely will), your Schengen visa application will be rejected, and you may not be able to apply again in the future.

Sample Hotel Booking
The actual hotel booking confirmation format may vary by the hotel, the travel agent, or the web site that you may use since is no standard format. However, the following sample hotel booking would give you an idea of how it may look like.
Sample Sponsorship Accommodation Letter
Instead of staying in a hotel, if you will be staying at someone's home when you visit the Schengen area, you can provide a sponsorship accommodation letter. You don't need to provide the hotel booking proof in this case.
Ganesh Murthy
15 rue de L Engin
24500 Eymet Dordogne
France
Phone: +33 11-12345678
Email: [email protected]

May 25, 2019

To
Consulate General of France in Bangalore
21 Palace Road
Vasanthanagar
Bangalore 560 052
India

Subject: Invitation letter for Shankar Murthy, Passport No: A12345678

Respected officer,

My name is Ganesh Murthy, and I reside at the above address. I work as a software engineer in Star IT Tech Limited in France, and I am a permanent resident of France.

I would like to invite my father, Shankar Murthy, to visit France and other Schengen countries.

He will live at my home on the above address from Dec 23, 2018, to Jan 7, 2019. After that, he will return back to India where my father works as an Electrical Engineer with Bharat Heavy Electrical Limited.

Therefore, we respectfully request you to grant them the Schengen visa so that he can enjoy spending time with me and my family, as well as visiting the tourist attractions in France, Spain, and Italy.

If you need any further information, I can be reached at the above-mentioned contact information.

Respectfully,



Ganesh Murthy

Enclosure:
Employment letters of Ganesh Murthy and Shankar Murthy
Birth certificate of Ganesh Murthy
We are sorry that this post was not useful for you!
Let us improve this post!
Tell us how we can improve this post?