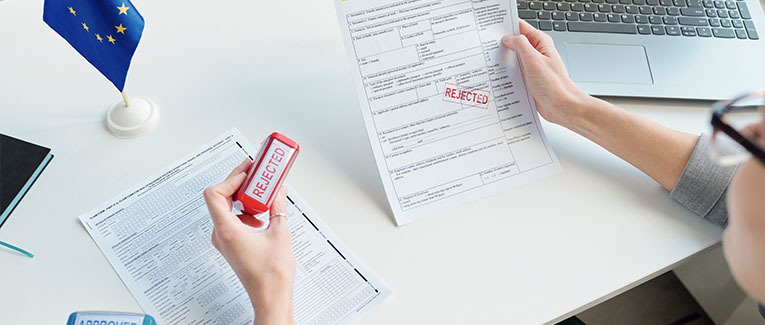 When a person applies for a Schengen visa, the consular officer looks at various things, such as the documents submitted, financial capability to take the trip, ties to the home country, purpose of the trip, personal background information (including any criminal activities), and so on. When all the criteria are not satisfied, the officer may reject the Schengen visa application.
Many applicants are unable to understand why their Schengen visa application was rejected. The following are some of the most common reasons why Schengen visa application may be rejected. This may give you an idea on how to appeal or reapply.
Inadequate Schengen Visa Travel Insurance
In order to get Schengen visa, there are specific requirements for Schengen visa travel insurance. You must submit a "visa letter" or "confirmation of coverage letter" meeting all of those requirements.
Passport Issues
If your passport is damaged, the pages are missing or detached, or otherwise in a not good condition.

Additionally, the valid passport has many requirements. Please look at the Schengen visa requirements to make sure your passport adheres to all of them.
False Documents
When all the required documents are not available, some Schengen visa applicants attempt to submit false documents or fake documents. In addition to getting your visa application denied, you may face further consequences.
Background Issues
If you have committed a crime in the past, such as drug abuse, child abuse, terrorism, rape, or murder, you would be ineligible to get a Schengen visa.
Purpose of Trip
If you don't have a clear purpose of the trip, you keep changing your answers about it, your documents don't match the purpose and the duration of the trip, or if you fail to provide the documents providing your financial situation (such as employment or profession), your Schengen visa may be denied.
Application at Wrong Consulate
There are specific rules about where you should apply for Schengen visa. If you apply at the wrong consulate, your visa may be rejected, and you may be asked to apply at the appropriate consulate.
Proof of Travel Itinerary and Accommodation
If you fail to provide the proof of travel ticket booking, hotel booking, or other accommodation for each destination and each night you will spend in the Schengen area, or if your travel itinerary does not match with the purpose of your trip and the duration, your Schengen visa may be denied.
Means of Subsistence
There are specific rules regarding means of subsistence (proof of financial means) for your trip to the Schengen area.

If you fail to provide the proof of such funds, such as bank statements or other similar documents, your Schengen visa may be denied.
Letter of Reference
If the purpose of your Schengen trip requires you to provide a letter of reference, it must be on an original letterhead with the address and the contact details of the company and the person writing it, it must not be older than three months from the date of application, and it must be signed.

If any of those conditions are not met, your Schengen visa may be denied.
Prior Acts
If you already have an active Schengen visa, or if you overstayed on your last trip to the Schengen visa, your application for Schengen visa may be denied.
We are sorry that this post was not useful for you!
Let us improve this post!
Tell us how we can improve this post?