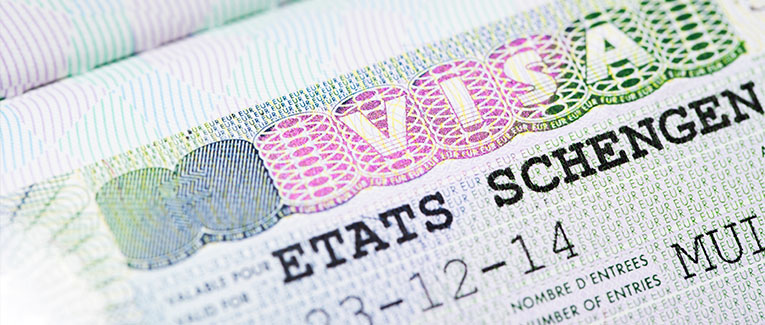 What is the Schengen Area?
The Schengen area is an area of 27 member countries in the Europe that have standardized their visa requirements, including the border control.  In order to visit one or more Schengen countries, citizens of many countries need to get the visa only once, called a Schengen visa.  There are no internal border controls within Schengen countries.
The following European countries are currently part of the Schengen area:
Austria, Belgium, Croatia* Czech Republic, Denmark, Estonia, Finland, France, Germany, Greece, Hungary, Iceland, Italy, Latvia, Liechtenstein, Lithuania, Luxembourg, Malta, Netherlands, Norway, Poland, Portugal, Slovakia, Slovenia, Spain, Sweden, and Switzerland.
*Joined January 1, 2023
What is a Schengen Visa?
A Schengen visa is a short-stay visa that allows the holder to travel to any of the countries of the Schengen area to a total stay of up to 90 days within a period of 180 days for tourist or business purposes.
Citizens of many countries can simply travel to Schengen countries for a period up to 90 days for tourist or business purposes without first getting a Schengen visa.
Schengen visa is not meant for studying, working, nor living in the Schengen country or for visiting for more than 90 days. In such cases, a person must apply for the visa of a respective country in Europe instead of a Schengen visa.

How to Apply for Schengen Visa
If you are traveling to Europe, depending upon your citizenship, as well as the purpose and the duration of travel, you may be required to get the Schengen visa.
In order to apply for Schengen visa, you should follow the steps listed below:
Apply for a Passport
If you would like to travel to Europe, and if you don't already have a passport, you would need to first apply for one through the country of your citizenship. Timelines to get the passport may vary from a couple of weeks to 4-6 weeks or longer. In peak travel times, it may even take 2-3 months. Therefore, you should plan accordingly.


Determine Whether You Need Schengen Visa
Please read who needs Schengen visa to determine whether you need a Schengen visa.


Determine the Schengen Visa Type
Depending upon your purpose to visit the Schengen area, you can apply for one of the following Schengen visa types:

Tourism
Business
Visiting family or friends
Cultural
Sports
Official visit
Medical reasons
Study
Transit
Airport transit
Schengen visa types – purpose
Where to Apply for Schengen Visa
Schengen countries have consistent and strict criteria when determining where to apply for Schengen visa.
Where to submit Schengen visa application
When to Apply for Schengen Visa
Processing timings vary at different embassies/consulates in different parts of the world. So that you are able to make your trip as planned, you are recommended to apply for a Schengen visa approximately three weeks before you intend to travel.
As it is possible that there may be delays with your Schengen visa application, you should consider applying 30-60 days in advance of your trip start date.
You can't apply for more than three months in advance of start of your planned trip. You can't apply if there are less than 15 days left until the start of your planned trip.
Determine Whether to Apply in Person or Not
If you are applying for the Schengen visa for the first time, you will not be registered in Europe's Visa Information System (VIS). Therefore, you will be required to submit an application in person where you will be fingerprinted.
Once you are registered with VIS, and as long as your fingerprints were collected within the last 59 months prior to your trip start date, you can apply either by courier or designate a third party to submit your application.
This requirement may vary slightly by the country. Therefore, it is the best to check with the designated Schengen embassy/consulate in your country to confirm.
Schedule an Appointment
If you are required to apply in person, you will have to schedule an appointment with the Schengen embassy/consulate or their designated Visa Application Center (VAC).
Many countries allow you to schedule an appointment online. In some countries, you will have to schedule an appointment in person at the designated Schengen embassy/consulate.
Complete a Visa Application Form
In order to apply for Schengen visa, you will need to complete a Schengen visa application form.
Schengen visa application form
Gather Required Documents
There are some standard documents required for any type of Schengen visa application. Depending upon the purpose of the trip, there are additional documents required.
Schengen visa documents requirements
Buy Schengen Visa Insurance
To apply for Schengen visa, in addition to the other documents, you are required to purchase Schengen visa insurance.
You can purchase it online at
Insubuy
, and you can immediately download the visa letter (confirmation of coverage letter) that you can enclose along with rest of the documents
Pay Visa Fee
Irrespective of the Schengen embassy/consulate you are applying at, the Schengen visa fees are common across all of them.
However, they vary based on the purpose of the trip, type of passport, and whether the person is an adult or a minor.
Schengen visa fees
Attend the Visa Interview
Most people are required to visit the interview in person. All first-time applicants are required to attend in person. Some repeat applicants may be exempt from attending in person.
Schengen visa interview questions and tips
Even when you present all required documentation, you are not guaranteed a Schengen visa as there is no right to it. Presenting all the documents only assures that the application can be accepted by the appropriate consulate but not that a visa will actually be granted. The consular office can ask for any additional documents as necessary.
You should not make non-refundable travel arrangements until you receive the approval for your visa. You should never assume that your application will be automatically approved.
Wait for an Outcome
It may take around 15 days for processing of your visa. In busy travel seasons or for citizens of some countries, it may take up to 30 days.
If your visa is approved, it will be stamped in your passport. When you receive the passport, please check the
visa sticker
carefully to make sure everything is correct and exactly how you needed it. Enjoy your trip to Europe, and don't overstay since you will face problems the next time you try to visit or apply for Schengen visa.
When you enter the Schengen area, make sure that the officer stamps your passport indicating the date you entered on. Similarly, get a stamp indicating the date when you left the Schengen area. Otherwise, it might be difficult to prove later the duration of your stay in the Schengen area.
If they need additional documents, they will let you know. Submit them as soon as possible.
If your visa is rejected, try to find out why it happened and what you can do to fix it the next time you apply for the same.
Common reasons for Schengen visa rejection
If you believe that the visa officer rejected your visa inappropriately, you can appeal the rejection.
How to appeal Schengen visa rejection
Travel to Schengen Area
Even though there are strict rules regarding where you must apply the Schengen visa from, there is no requirement that you must enter the Schengen area through the country that you issued your Schengen visa. Your first destination may not necessarily be your main destination.
However, in order to avoid any complications, it is advisable to adhere to the same itinerary you submitted at the time of Schengen visa application.
Enjoy your trip.
We are sorry that this post was not useful for you!
Let us improve this post!
Tell us how we can improve this post?