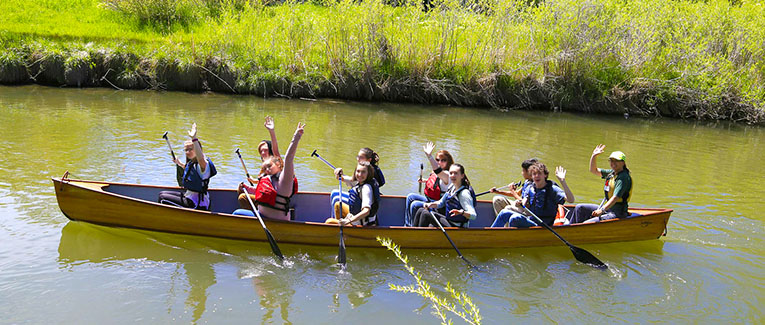 School age children have a long vacation in the summer in the U.S. There are many summer camps organized throughout the U.S. Through the Camp Counselor program, foreign post-secondary students or youth workers can engage with the American youth at U.S. summer camps. They oversee the camp activities of the American youth during the U.S. summer. Through this program, American campers have the chance to gain knowledge of foreign cultures, while foreign camp counselors increase their knowledge of American culture.

Participants Eligibility
Must be proficient in spoken English.
Must be able to supervise and interact with American youth.
Must be at least 18 years old.
Must be a foreign post-secondary student, youth worker, teacher, or individual with specialized skills.
Details
Accommodations (housing) and meals are provided at the camps at no cost to the camp counselors.
Participants must receive pay and benefits commensurate with those offered to their American counterparts at the camps.
Camp Counselors will occasionally have to perform non-counseling duties as part of camp life.
However, they cannot serve as "staff". E.g., they cannot act as office workers (administrative personnel), cooks, or menial laborers,such as dishwashers or janitors.
Employers must provide all participants with a phone number, which allows 24-hour immediate contact with the sponsor.
Participants can work as counselors in U.S. summer camps for up to four months. Extensions are not allowed.
Sponsors
Sponsor should conduct an in-person interview of the prospective camp counselors.
Sponsor should secure references regarding suitability of prospective camp counselors for a particular summer camp.
Sponsors must find positions for all participants before they arrive in the U.S.
Eligible summer camps must be either accredited, a member in good standing of the American Camp Association, or affiliated with a nationally recognized nonprofit organization, or inspected, evaluated, and approved by the sponsor.
Prior to the departure to the U.S., sponsors should provide participants with information on their duties and responsibilities as a camp counselor, contractual obligations relative to accepting a camp counselor position, and information on financial compensation.
Ensure that participants have the required J1 visa health insurance.
Maintain SEVIS
Monitor participants throughout their stay and provide assistance as needed.
We are sorry that this post was not useful for you!
Let us improve this post!
Tell us how we can improve this post?