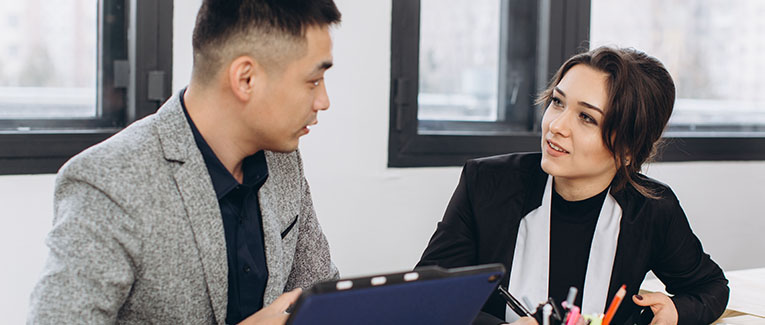 The J-1 Visa Internship Program is designed to allow foreign professionals to come to the U.S. to gain exposure to U.S. culture and to receive training in U.S. business practices in their chosen occupational field. The maximum duration of an internship in any occupational field is 12 months. Upon completion of their exchange programs, participants are expected to return to their home countries. This program bridges the gap between formal education and practical work experience.
All parties involved in internship programs should recognize that interns are seeking entry-level training and experience. Accordingly, all placements must be tailored to the skills and experience level of the individual intern.
Eligibility

An intern must be a foreign national:

Who is currently enrolled in and pursuing studies in a foreign degree- or certificate-granting post-secondary academic institution outside the U.S.; or
Who has graduated from such an institution no more than 12 months prior to his/her exchange visitor program start date.
Who is at least 18 years of age.

Participants must have their English language proficiency evaluated or verified by a recognized English language test (such as TOEFL, Cambridge etc.), by signed documentation from an academic institution or English language school, or through an interview conducted by the sponsor via in-person, video conference, or by webcam.
Sponsors or any third-parties acting on their behalf must conduct a thorough screening of potential interns, including a documented interview in-person, by video conference, or by web camera.
If you have already done an internship previously on a J-1 visa, you will have to first spend 90 days outside of the U.S. before the program and your Internship Plan Form DS-7002 will need to prove that you are not duplicating your previous internship.
Restrictions
The intern can not work in the following work environments:
Unskilled or casual labor positions.
Positions that require or involve childcare or elder care.
Any kind of position that involves medical patient care or contact.
Positions that require more than 20 percent clerical or office support work.
Allowed Categories
Internships are offered in the following occupational categories:
Agriculture, Forestry, and Fishing
Arts and Culture
Construction and Building Trades
Education, Social Sciences, Library Science, Counseling, and Social Services
Health Related Occupations
Hospitality and Tourism
Information Media and Communications
Management, Business, Commerce, and Finance
Public Administration and Law
The Sciences, Engineering, Architecture, Mathematics, and Industrial Occupations
Sponsor Responsibilities
J-1 internship sponsors must:
Conduct site visits of host organizations that:

Have not previously participated successfully in the sponsor's program
Have fewer than 25 employees
Have less than $3 million in annual revenue.

Collect the following information from all host organizations:

Employer Identification Number (EIN)
Verification of telephone number, address, brochures, website, etc.
Proof of worker's compensation insurance policy

Sponsors must have a written agreement in place with any third-party involved in an internship program. The written agreement must outline the responsibilities on all matters involving the administration of the J-1 exchange visitor program.
Program Evaluation Requirements
Midterm and Final Evaluations are required for internship programs that exceed six months. For programs with durations of less than six months, an evaluation is required at the conclusion of the program.
All evaluations must be received by the designated sponsoring organization before the end of the participant's exchange program, and must be signed by both the participant and their immediate supervisor.

Host Responsibilities
The host company is the company who will host the participant for the training program and will be the employer.
Hosts are required to:
Sign a completed Form DS-7002 – Training/Internship Placement Plan (T/IPP) to verify that all placements are appropriate and consistent with the objectives of the interns as outlined in their program applications and as set forth in their T/IPPs.

The T/IPP identifies the skills or experience the intern will learn and must be signed by the intern, host organization or supervisor, and sponsor organization representative (RO/ARO) – before a sponsor may issue Form DS-2019.

Faxed and digital signatures on the Form DS-7002 will be accepted; however, all three signatures must appear on the final form.


Notify sponsors promptly of any concerns about, changes in or deviations from T/IPPs during training and internship programs and contact sponsors immediately in the event of any emergency involving trainees or interns;
Abide by all federal, state and local occupational health and safety laws;
Abide by all program rules and regulations set forth by the sponsors, including the completion of all mandatory program evaluations;
Have sufficient resources, plant, equipment and trained personnel available;
Provide continuous on-site supervision and mentoring by experienced and knowledgeable staff; and
Ensure that interns obtain skills, knowledge, and competencies through structured and guided activities such as classroom training, seminars, rotation through several departments, on-the-job training, attendance at conferences, and similar learning activities (as appropriate in specific circumstances).
Maintain 5 full time employees per 1 intern ratio if hosting more than one intern.
We are sorry that this post was not useful for you!
Let us improve this post!
Tell us how we can improve this post?