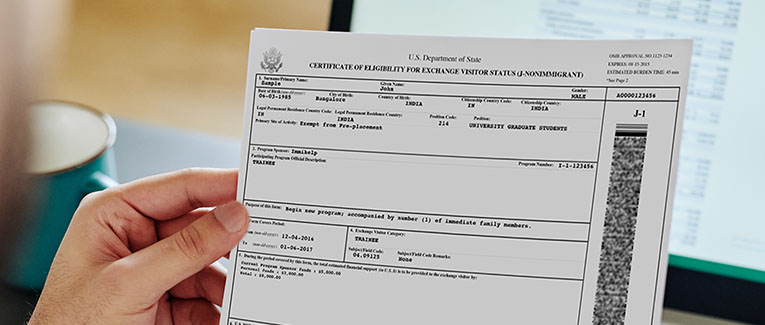 Form DS-2019, "Certificate of Eligibility for Exchange Visitor (J-1) Status", is a document that is used in the administration of the exchange visitor program. Each prospective J-1 and J-2 visa applicant must present their separate Form DS-2019 to the consular officer at the U.S. Embassy or Consulate to obtain the J visa to enter the U.S.
Form DS-2019 replaces earlier Form IAP-66.
Please note that issuance of Form DS-2019 is not a guarantee of getting J visa, as the consular officer determines whether you can get J visa or not.

Obtaining Form DS-2019
Form DS-2019 is a document controlled by the U.S. Department of State. It can only be produced through the Student and Exchange Visitor Information System (SEVIS). No blank SEVIS forms exist that you can just download.
Once the designated sponsor has screened and selected prospective exchange visitors, they are authorized to issue this form. The sponsor completes the information in this form prior to giving it to the participant, who can then apply for J visa.

Details of Form DS-2019
Each Form DS-2019 is printed with a unique identifier known as a "SEVIS ID Number" in the top right-hand corner, which consists of an "alpha" character (N) and up to 11 numerical characters (E.g., N12345678901).
Form DS-2019 is a two page document.
The Form DS-2019:
Identifies the participant (block 1)
Identifies the sponsor (block 2 and block 7, which contain the name, signature, and telephone number/address of the sponsor's responsible officer)
Provides a brief description of the program activity to be completed by the participant (block 2)
Identifies the beginning and end dates of the program (block 3)
Identifies the program category (block 4)
Provides a breakdown of the total estimated financial support to be provided to the participant during his or her program (block 5).
Verifying Form DS-2019
Once you receive Form DS-2019, thoroughly review it to make sure that all the information is correct. If there is anything incorrect, contact the designated sponsor. You can find the name and telephone number of your designated sponsor on Form DS-2019.
If everything is correct, sign your name in the appropriate space on page one of the form agreeing to the instructions and certification language relating to participating in the exchange program found on page two.
Make sure that the spelling of your name and your date of birth appear exactly as they appear in your passport. If that is not the case, please contact your designated sponsor to get correct SEVIS Form DS-2019.
Make sure that the start date mentioned in section 3 of the Form DS-2019 is accurate. You can enter the U.S. up to 30 days before and up to 30 days after this start date. If for any reason, you can't enter the U.S. within 30 days of the start date, please notify your designated sponsor.

Scam Alert
Some scammers are sending emails to people claiming that they could provide them with Form DS-2019 if they paid them $250 or $300 and often ask the potential victims to pay that money by Western Union.
Beware of such scams. Never send any money to anyone like that. Do not communicate with them.
If you receive any such emails that claims that it is from immihelp®, please report to us immediately. We never send any such emails, and we never charge any money to any of our website users. You can't get employment in the U.S. in such manner.
We are sorry that this post was not useful for you!
Let us improve this post!
Tell us how we can improve this post?