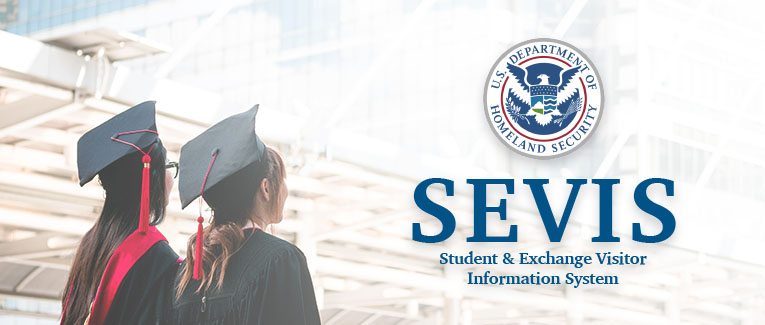 SEVIS is the Department of Homeland Security (DHS) database developed to collect information on F, M, and J visa holders.
SEVIS enables schools and program sponsors to transmit mandatory information and event notifications via the internet to the DHS and DOS throughout a student's or exchange visitor's stay in the U.S.
Unless otherwise exempt, participants must pay a SEVIS I-901 fee. You will need a receipt confirming payment before you go for the visa interview. You will need to show the same receipt while entering the U.S. Sometimes, program sponsors include the SEVIS fee as part of the program fees, and you can find that out from the sponsor; in that case, you will collect the payment receipt from the sponsor.
Even though you must pay the fee a minimum of three business days prior to your visa interview, you should pay it as soon as you receive Form DS-2019 to allow sufficient time for DHS to update your fee payment in your electronic SEVIS record.
The SEVIS fee is required only for a new J-1 visa. It is not required if you are currently on a valid J-1 immigration status or transferring to a new J sponsor, nor for J-2 dependents.
The SEVIS Fee is $35 for Au Pair, Camp Counselor, and Summer Work/Travel, while it is $220 for others. This fee is required even for those who don't require a visa to enter the U.S. as an exchange visitor. However, if you are in a federal government-sponsored program that starts with program numbers of G-1, G-2, G-3 or G-7, the SEVIS fee is not a requirement. The fee can be paid either by the participant or by a third party inside or outside the U.S.
When filling the Form I-901, make sure to type your name exactly as it appears on your SEVIS Form DS-2019. Complete each section accurately.
There are three ways to pay the SEVIS Fee:
Online:
This is the most recommended way to pay because you can print the temporary receipt immediately.

Visit FMJFee.com, and complete Form I-901 online.
Submit the Form I-901 electronically, and make the payment with a credit card, such as through Visa, MasterCard, or American Express.
Exception: Credit card payments from Ghana, Nigeria, Cameroon, and Kenya can not be accepted. Such participants must pay by other means.
Print the online receipt to use as temporary proof of payment until your receive the formal receipt in the mail.

By Mail:


Complete paper form I-901.
A check or money order made in U.S. dollars and drawn on a bank located in the U.S. Make it payable to "I-901 Student/Exchange Visitor Processing Fee". Write your name and the SEVIS identification number on the check or money order.
Mail the Form I-901 and payment to:


Regular Mail:
I-901 Student/Exchange Visitor Processing Fee
P.O. Box 970020
St. Louis, MO 63197-0020
Or
Courier/Express Mail:
I-901 Student/Exchange Visitor Processing Fee
1005 Convention Plaza
St. Louis, MO 63101

Western Union:
Participants in more than 130 countries can pay SEVIS I-901 using the Western Union Quick PayTM service in their local currency. Western Union transmits both the payment and the Form I-901 data to ICE.



Print the appropriate Sample Quick Pay Form: International, US
Go to the local Western Union Agent location, and make the payment in the local currency.
Complete a "Blue Form" at Western Union. The form may have words such as "Payment Services", "Quick Pay", or something similar in the local language, but it will still be a blue form. Make sure to fill the form according to the sample form you downloaded.
Retain the Western Union receipt as temporary proof of payment until you receive the formal receipt, which should be issued within three days from the date of payment.
Three business days after the payment, visit FMJFee.com to view the payment status. Once you see the confirmation of payment, print out the confirmation page, and that serves as proof of payment of the SEVIS I-901 fee.
Each participant that pays the SEVIS fee will be sent a formal receipt (which will most likely be on Form I-797) within 3 days of processing the fee. This receipt should be used as a proof of fee payment. It will be sent to the mailing address provided on Form I-901 via airmail at no additional cost. However, as it may take time to arrive in the mail, you can request expedited courier delivery by indicating this request on Form I-901 and by paying an extra $35 at the time of initial payment. In case of courier delivery, you must provide a contact phone number and actual street address because couriers don't deliver to a P.O. Box. Make sure to make copies of your receipt.
The SEVIS fee is non-refundable. However, if your J-1 visa is denied, you don't have to pay another SEVIS fee if you reapply for a new J-1 visa within 12 months of the denial.
There are no fee waivers available for the SEVIS I-901 fee.
We are sorry that this post was not useful for you!
Let us improve this post!
Tell us how we can improve this post?