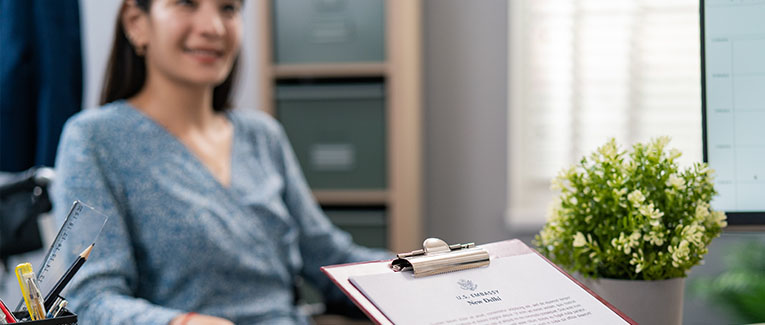 You need to apply for J-1 visa at the nearest U.S. Embassy or Consulate in your country of residence. If you are married and/or if you have dependent children, depending upon your program category and whether your sponsor allows it, they may be able to apply for J-2 visa, either concurrently with you or after you.

Visa Process
Even though your actual visa process may vary based on the U.S. embassy or consulate you will be attending, the following are the general steps:
Pay the visa application fee.
Schedule an interview.
Attend the interview.
You may not be issued the J-1 visa more than 120 days in advance of the program start date. However, keeping in mind that it may take a long time to get the visa appointment, you may apply more than 120 days in advance. Once you get the visa, you may not enter the U.S. more than 30 days prior to the start date as mentioned on Form DS-2019.
Canadian Citizens:
Canadian citizens are not required to have a J visa stamping in order to enter the U.S. However, they are required to present the Form DS-2019 and proof, SEVIS fee payment, and supporting financial documents to the enter the U.S. on J1 status. Make sure that you get Form I-94 in order to be considered in J-1 status and not on visitor (B-2) status.

Interview
All participants from the age 14 through 79 years are required to appear in person for visa interview. Unless requested by the embassy or consulate, persons age 13 and younger, and age 80 and older, generally do not require an interview. The waiting time for an interview appointment may vary based on the embassy/consulate. You are strongly recommended to apply sufficiently in advance. Primary applicant and dependents (if applicable and allowed) may attend the interview at the same time, or dependents may attend it later.
During an interview, an ink-free, digital fingerprint scan will be taken. Some visa applications may be delayed because they may require further administrative processing.
During an interview, the applicants must demonstrate that they meet the minimum requirements, such as:
Participants plan to remain in the U.S. for a temporary, specific, and limited period.
Participants have compelling social and economic binding ties abroad to a residence in a foreign country which they have no intention of abandoning, and that will insure their return abroad at the end of the visit.
Participants have sufficient funds to cover their expenses in the U.S.
If your spouse and children will remain in your home country while you are in the U.S., be prepared to explain how they will support themselves without you sending them money from the U.S.
There are no specific list of documents or evidence that you can present that can prove all of the above as everyone's circumstances may vary. However, if you explain your family ties, your assets, and that you plan to return to your country to work or continue your studies, or whatever your plan may be, that should be enough.
Make a good impression during your interview; be positive and respond to questions with clear and concise answers.

Processing
As no assurance regarding the issuance of visa can be given in advance, you should not make the travel arrangements in advance. If you attempt to obtain a visa by the willful misrepresentation of a material fact, or fraud, it may result in permanent refusal of a visa or denial of entry into the U.S. There are certain class of people who are ineligible to receive visas, but some of them may be able to apply for the ineligibility waiver.

Visa Denial
If the applicant does not meet all the requirements for getting J visa, he/she may be denied visa. In that case, the applicant may apply again if there is new evidence to overcome the basis for the refusal. In absence of new evidence, consular officers are not obligated to re-examine such cases.

Visa Approval
When you receive your passport with the visa stamp in it, make sure that your visa type is what you requested (that is J1 or J2).
Make sure that the consular officer returns the original Form DS-2019 to you as you will need that to enter the U.S. Sometimes, they may return the Form DS-2019 to you in a sealed envelope, and in that case, you will present that envelope to the immigration officer at the port of entry.
You can travel to the U.S. until the expiration date mentioned on the visa.
We are sorry that this post was not useful for you!
Let us improve this post!
Tell us how we can improve this post?