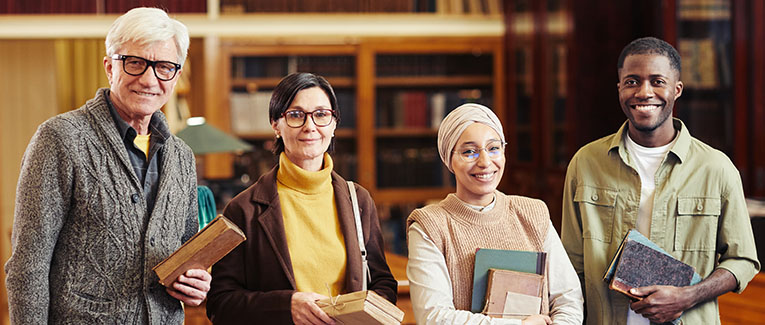 Professors, research scholars, or persons with similar education or accomplishments travel to the U.S. on a short-term visit for the purpose of lecturing, observing, consulting, training, or demonstrating special skills at research institutions, museums, libraries, post-secondary accredited academic institutions, or similar type of institutions.
Details
The maximum duration of participation in this category is six months.
No program extensions are permitted.
No change in category will be considered.
The minimum program duration of 3 weeks for any exchange visitor program category is waived for participants in this category.
Exchange visitors who have recently participated in an exchange program as a professor or research scholar in the U.S. are not expected to attempt to reenter the U.S. as a short-term scholar to rejoin the original sponsor, as this would be considered a continuation of their original program objective.
This category is often used for lectures, observations, consultations, conferences, professional meetings, participation in seminars and workshops, etc.
This category is primarily for academics who reside outside of the U.S. and are invited to the U.S. occasionally for short visits.
Participants may return to the U.S. again for a new Short-Term Scholar stay, provided there is a substantial break between the visits, and each visit is for a new objective.
Participants may return to the U.S. for a longer term stay using the J-1 Research Scholar & Professor category without being subject to the 12 and 24 month bars.
Sponsor Responsibilities
Sponsors are required to:
Screen and select qualified foreign nationals to carry out exchange initiatives
Monitor the visitor's stay while in the U.S. and assist with any issues that may occur
Ensure that the foreign national is successfully carrying out the responsibilities for which entry to the U.S. was granted
Ensure that exchange visitors are involved in cross-cultural programs where they can learn about the U.S. and its people
Maintain SEVIS records
Ensure that the exchange participants and their dependents, if any, are covered by health insurance
Ensure that exchange visitors have sufficient finances to participate in the program and to support their spouse and dependents, if any
We are sorry that this post was not useful for you!
Let us improve this post!
Tell us how we can improve this post?