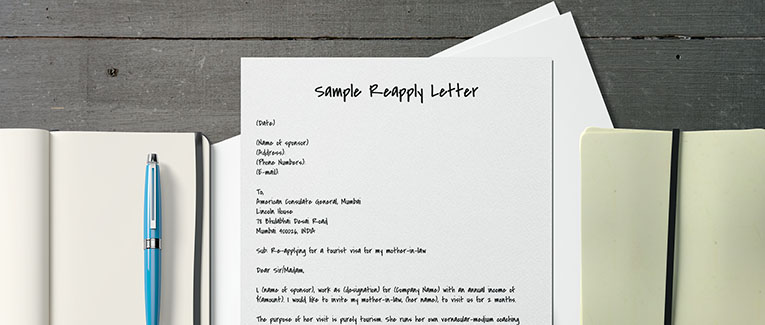 (Date)
(Name of sponsor)
(Address):
(Phone Numbers):
(E-mail):
To,
American Consulate General, Mumbai
Lincoln House
78 Bhulabhai Desai Road
Mumbai 400026, INDIA
Sub: Re-applying for a tourist visa for my mother-in-law
Dear Sir/Madam,
I, (name of sponsor), work as (designation) for (Company Name) with an annual income of $(amount). I would like to invite my mother-in-law, (her name), to visit us for 2 months.
The purpose of her visit is purely tourism. She runs her own vernacular-medium coaching classes and can visit the USA only during summer vacation (April-May). She must return afterwards, before the new academic year begins in June.
Her visa was rejected in the first interview under 214B, so I am writing this letter to convince you of her return before the expiration of her authorized stay.
My wife, her daughter, is a housewife (H4 visa), and I am the only earning member. Besides, my parents both have a 10-year multiple entry visa to also visit us, so I cannot financially support my mother-in-law for long.
She has a successful professional life in India with around 60-70 students studying under her every year (receipt books can be shown). She will not leave her career to reside in the USA as she cannot speak English fluently and will be entirely dependent on me.
She owns her own apartment and has a substantial bank balance, fixed deposits, shareholdings, insurance policies, etc. (affidavit attached).
She is staying with her sister's son, (name), for over 3 years. He stays in Mumbai because of his profession and relies on her for food, housing, and support.
21 members of her family stay in Mumbai (in Thane-Mulund itself where she stays): her mother, mother-in-law, brother-in-law, brother, 3 sisters, and their families. It is a very close-knit family who take care of her, and she would love to return for them.
I hereby assure you that she is definitely not a potential immigrant. She just wants to visit the USA for her summer vacation, which coincidentally is the best time to see Virginia-DC with its famous cherry blossoms and the beautiful spring season. We have also planned to visit Philadelphia, New Jersey, New York, Niagara Falls, Las Vegas, and California. During her visit, she will stay with us at the above address, and I will bear all her expenses including the round-trip airfare to the USA, food, housing, travel within the USA, medical insurance, and all her other personal expenses.
I promise you that she will leave the United States before the expiration of her authorized stay. Kindly grant her the tourist visa.
Please do not hesitate to contact me via telephone or e-mail if you have any questions.
Thanking You,
(Signature of Sponsor)



(Name of Sponsor)
Enclosures:
Notarized Affidavit of Support, Form I-134
Copy of my H1B approval (Form I-797)
Copy of my Passport, Visa along with a printed I-94
Letter of employment
Copies of last two salary statements
Copy of my recent Bank statement
Bank Account verification letter
Copies of last two years Tax Returns statement W2 form
---
Note:
Important information about sample documents
We are sorry that this post was not useful for you!
Let us improve this post!
Tell us how we can improve this post?