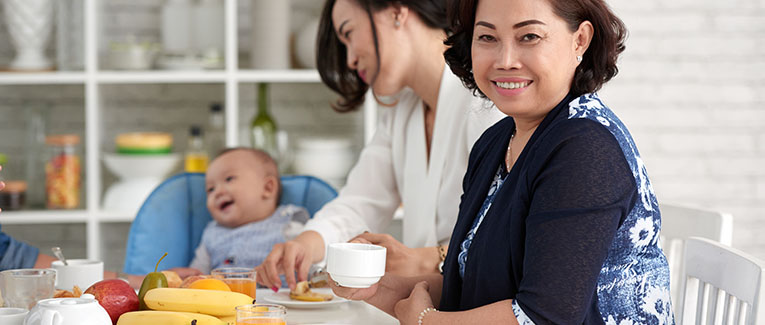 A tourist visa is primarily for tourism. A tourist visa is appropriate if you want to come to the US for "pleasure". But the meaning of this word is broader than you roaming around to tourist places all the time, with a camera and camcorder.
Pregnancy Help
Many people would like to visit the US because their daughter, daughter-in-law, sister, or other close relative is pregnant.
Allowed Activities
Many types of activities qualify under a tourist visa. Of course, you can get a visitors visa just for the purpose of tourism as well. It is not necessary to have any of the following additional reasons. Of course, if your visa is rejected once under one reason, do not make up other reasons and keep changing them just to try to get the visa. In other words, provide a genuine reason every time. Because of their experience, if the consular officer catches that you lied, he/she may make a note in their computer and it may be very difficult for you to get a visa the next time.
Meeting relatives and/or friends and spending a short time with them.

Make sure you are genuinely going to meet them. Some of these reasons simply do not make sense. E.g., you want to go to the US to meet your childhood friend whom you met 20 years ago and you don't even know what he does in the US.


Meeting the elderly relatives who may be sick and may be dying.


Attending a close relative's wedding, house warming, sweet 16 party, baby shower, or graduation, etc.

However, please keep in mind that giving such reasons for someone who you don't have close contact with, or have not met in a long time, or are not close relatives or friends with, may not work. E.g., if you say that you want to go for a baby shower of your sister-in-law's cousin's niece, that may not sound too convincing.
Wedding
Inviter should send the following additional documents to the visitor:

Wedding invitation


Details about the wedding arrangements.



House Warming
Inviter should send the following additional documents to the visitor:

Invitation letter.


Photos of the new house.


Any documents that would prove that he/she has purchased the house.



Sweet 16
Inviter should send the following additional documents to the visitor:

Invitation letter for sweet 16 party.


Details about the party arrangements.


The birth certificate of the child that is turning 16 years.



Graduation
Inviter should send the following additional documents to the visitor:

Invitation letter.


Details about the graduation day (any printed material or similar information).


Letter from school regarding the graduation day.


The proof that the person is indeed studying in college, such as ID card, I-20, transcript etc.



Baby Shower
Inviter should send the following additional documents to the visitor:

Invitation letter.


Details about the baby shower arrangement such as booking of the hotel or a similar place.


Proof of pregnancy such as medical records, doctor's letter or report etc.



However, the reason of baby shower may be considered the same as coming for pregnancy help. You have to be very careful with this.


To visit the US on a packaged tour.
Make sure that you are indeed going on such a tour. Getting the proof of a packaged tour payment, if you are not planning to go on a tour, does not help. Sometimes, tour operators just provide such proof for a nominal payment even if they have no intention of joining the tour. Sometimes, people pay the initial deposit and do not really intend to go on the tour at all. Sometimes, if the applicants make full payment and if the visa is rejected, it might be very difficult to get the refund. There may be huge cancellation fees or they may not give the refund at all and instead ask you to use that money in touring somewhere else such as in Dubai, Hong Kong, Singapore, Bangkok, Malaysia, Australia etc. where it might be relatively easier to get a visa. Therefore, you need to be very careful.
It is wrong to assume that some tour operators have relationships with the consular officer and therefore if you join their tour, you will get the visa.
If you are genuinely going to go in an organized tour, show the proof of payment or initial deposit and get the details of the tour.
For shopping.


For taking a test or interview. Generally, such tests should not be available to take in the home country.

e.g., CPA exam, CSA (Clinical Skill Assessment) exam.


Attending the exhibition.


To see plays, live shows, and museums.


Participating in conventions, conferences or convocation of fraternal or social organizations.

However, this does not mean that you join "Lion's Club" just 15 days before your visa interview to make up this reason.

E.g., there is jewelry show, electronics show, car show, etc. in Las Vegas routinely.


Taking a restful and relaxing vacation.


Looking into potential colleges or universities.


Taking part in amateur unpaid arts entertainment events or contests.


Attending short classes.


Accompanying relatives on other temporary visas.


For voluntary programs conducted by charitable organizations, as visiting ministers, or personal/domestic employees, under certain conditions.


Some foreign athletes and sports teams may come to the US with tourist visas.


International Students in the USA:
Bring your latest school results, transcripts and degrees/diplomas. This is required even when you are just visiting the US, and not going to the US for studies.
Not Allowed Activities
Prospective Students
The US immigration law does not allow prospective students to enter first on a tourist visa, look for schools, and change to a student visa. A student must first apply from the country of residence for an F-1 visa if he/she intends to study in the USA. If you are planning to attend short, recreational, or part-time study courses such as cooking, art, and yoga classes, it is better to specify it at the time of application. This is so that you can get the "Study incidental to visit: I-20 not required" notation on your visa stamp to avoid any problems later.


Journalist
Representatives of foreign press, radio, film, journalists, or other information media engaging in that vocation while in the US require a nonimmigrant Media (I) visa. They cannot travel to the US using a tourist visa and cannot travel on the visa waiver program.


Work
Visitors are not authorized to work in the US.

Therefore, do not attempt to work at your relative's or anyone else's motel, store, gas station, restaurant or at any other place, even if you are not getting paid for it.


Dual Intentions
If you would like to get a visitor visa so that you can enter the US and later study, work, start a business, or get married, you will not get a visa if the consular officer comes to know about it. Even if you get the visa by mistake, the consular officer at the port of entry may not allow you to enter the US, if he/she comes to know about your dual intentions.

Please don't think that just because you don't tell them, they will not know about your dual intentions. They are very smart and experienced. Part of their job is to be able to catch people like that, so it is pointless to try to get away with it.

Such applicants may intend to stay in the US for various reasons such as

Adult sons and daughters who can not get an immigrant visa along with their parents because they aged out.


Spouse is a green card holder. However, the F2A petition will take around five to six years to get approved and the other spouse would like to go to the US to live with the green card holder spouse earlier.


Students who would like to study in the US, but are unable to show financial resources for the same.


Those who don't have a good job or business in the home country. However, their relative in the US has a motel, store or gas station and they need a dependable, hardworking and a low wage person.



Studying
You can not take admission in a school/college and start studying.


Frivolous Reasons
Do not provide any frivolous reasons that simply do not make any practical sense.
We are sorry that this post was not useful for you!
Let us improve this post!
Tell us how we can improve this post?