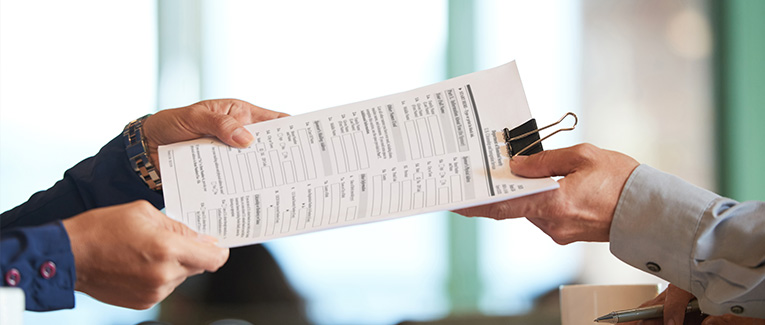 The following documents need to be sent from the person who is sponsoring his/her relatives (or anyone else such as friends) to visit the United States. Please send these documents to the person whom you are sponsoring. Do not send it to the US Embassy or Consulate. Please send completed and legible documents. Wherever possible, send computer printed or typed documents to avoid any confusion. Also, please try to send the most current documents. Any documents like an employment letter, pay stubs, bank letter, etc. must be less than 6 months old.
If you are sponsoring multiple people at the same time (such as both of your parents), you should send separate I-134 forms for each person. However, you can just send one set of supporting documents for both of them.
Form I-134, Affidavit of Support Form
You will need to show that you can financially support your relatives while they are in the US You need to fill a form called "Affidavit of Support form (I-134)" for that purpose. One form should be filled for each applicant. So, even though your parents are applying together, you need to send two forms. Some consulates say that if you are applying for a family (such as parents, in-laws, etc.), you have to submit only one I-134 and not for each person. However, there is no harm in providing one for everyone, instead of taking chances.

Notary: You do not need to get your Form I-134 notarized.

Download Fillable I-134
Step by step guide to complete Form I-134
Employment Letter
Statement from your employer (1 original for each applicant) on business stationery, showing:

Pay Stubs
Recent pay stubs. 3 or 4 should be enough.
Bank Letter
Letter from your Bank (1 original for each applicant) on their business stationery, giving the following details:


Date account opened
Total amount deposited for the past year
Present balance
Average balance last year


It's OK for the letter to be addressed to "To Whom It May Concern".

Some banks may take a long time to provide such a letter. Therefore, it is advisable to prepare well in advance.

Sample bank account verification letter
Bank Statements
Send the bank statements for the last 6 months. It should have a good balance at least for the last 6 months. Do not deposit money into your bank account the day before to show a big balance, only to withdraw it the next day. You really should have money to show your financial strength to be able to support the people you are sponsoring. While there is no specific guideline to how much money you should have in the bank, it should be enough to take care of all their expenses. Something like $5,000/person should be good enough.
Letter to the Consulate
Letter from yourself stating that you will take care of their expenses in the USA. This letter should be addressed to the US consulate your relatives will be visiting.

Sample letter to consulate
Invitation Letter
A personal letter of invitation (free format, but formal; explain here how you will be able to accommodate them in your house and take them around for tourist purposes).

One letter should be enough for both of your parents. If your relatives don't understand English, it may be helpful to send the translation of the letter in your native language because the consular officer may question that your parents might have never read the letter.

Sample invitation letter
Income Tax Documents
Copy of the last 3 years of income tax returns and W2s. If you don't have them, you can request the transcripts from the IRS. Don't include state income tax returns. If you have not been in the US for the last 3 years, send the tax returns for the years that you do have.

If you did not file a tax return, a written explanation describing why you had no legal duty to file the return is needed. If you filed a late or amended tax return, you should submit evidence of this.

If you are self-employed, include self-employment schedules filed with income tax returns or financial records such as a bank statement for the business accounts.
Identification, Relationship and Legal Status Documents



If you are a non-US citizen:

Your original birth certificate. If you are sponsoring your in-laws, your spouse's original birth certificate is required instead.


Photocopy of all pages (including blank pages) of your passport. If the US visa is in your old passport, then a photocopy of all pages of the old and new passport is required.
Also, proof of legal status:

If you are on an H1 or L1, a copy of the latest H1/L1 visa approval notice (I-797 Notice of Action).

If you are at an adjustment of status (I-485 stage), send copies of the I-485 receipt, EAD card and Advance Parole. These may not be required, but it does not hurt to send them.


If your US visa has expired, but has a renewed petition, photocopy of the renewed petition. If your US visa status (such as H, L) has expired, and your employer has filed for an extension, send the I-797 receipt notice.


If you are a legal permanent resident in the USA, provide proof of green card (front and back).

If you are a US citizen, provide proof of US citizenship.
Legal Status of Siblings
If the parents have more than one child in the US, send the proof of legal status of all the children, in addition to all of the documents described above from the sponsored child.

Please look at the list just above to determine what kind of document to provide for a given legal status.
Spouse Documents
If you are sponsoring your spouse's relatives (such as in-laws), photocopies of all pages (including blank pages) of your spouse's passport and your marriage certificate.
FAQ on Sponsoring Visitors Visa
Can a visitor visa really be sponsored?
We are sorry that this post was not useful for you!
Let us improve this post!
Tell us how we can improve this post?