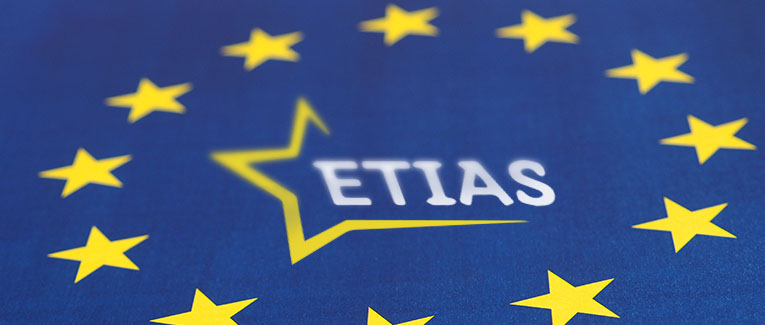 The European Travel Information and Authorization System (ETIAS) is a European visa waiver program that is similar to the Electronic System for Travel Authorization (ESTA) in the US.
Once ETIAS goes into effect, those who are allowed to travel to the Schengen Area without a visa will be required to complete an online ETIAS visa waiver form before traveling to a Schengen country. This includes visitors from the United States, Japan, Australia, Canada, New Zealand, and the United Arab Emirates.
Those who require a Schengen Visa to visit Schengen member countries, either due to nationality or length/purpose of stay, will not be eligible for ETIAS. They will continue to have to apply for a Schengen Visa just as before.
Who Can Apply for ETIAS?
Citizens or nationals of more than 60 visa-exempt countries are expected to be able to apply for the ETIAS visa waiver once it is implemented. The current list of eligible countries is as follows, and more countries are expected to be added:
Countries Where Residents Must Apply for ETIAS to Visit Schengen Area
| | | | |
| --- | --- | --- | --- |
| Albania | Georgia | Moldova | Solomon Islands |
| Antigua and Barbuda | Grenada | Montenegro | South Korea |
| Argentina | Guatemala | New Zealand | Taiwan |
| Australia | Honduras | Nicaragua | Timor Leste |
| Bahamas | Hong Kong | Palau | Tonga |
| Barbados | Israel | Panama | Trinidad and Tobago |
| Bosnia and Herzegovina | Japan | Paraguay | Tuvalu |
| Brazil | Kiribati | Peru | Ukraine |
| Brunei | Macao | Saint Kitts and Nevis | United Arab Emirates |
| Canada | Macedonia | Saint Lucia | United Kingdom |
| Chile | Malaysia | Saint Vincent | United States of America |
| Colombia | Marshall Islands | Samoa | Uruguay |
| Costa Rica | Mauritius | Serbia | Vanuatu |
| Dominica | Mexico | Seychelles | Venezuela |
| El Salvador | Micronesia | Singapore | |
What Countries Do You Need an ETIAS Visa Waiver to Travel To?
It is expected that ETIAS will be required to travel to any of the 27 countries that form the Schengen Area.
European Union Schengen Countries
The following countries are members of the European Union and Schengen Agreement. They will therefore require ETIAS:
| | |
| --- | --- |
| Austria | Latvia |
| Belgium | Lithuania |
| Croatia* | Luxembourg |
| Czech Republic | Malta |
| Denmark | Netherlands |
| Estonia | Poland |
| Finland | Portugal |
| France | Slovakia |
| Germany | Slovenia |
| Greece | Spain |
| Hungary | Sweden |
| Italy | |

*Croatia was admitted in December, 2022 with full membership as of January 1, 2023
Non-European Union Schengen Members
The following countries are not members of the EU, but are part of the Schengen Agreement. Therefore, ETIAS will be required:
| | |
| --- | --- |
| Iceland | Norway |
| Liechtenstein | Switzerland |
Micro-States That are Part of the Schengen Area
The following micro-states are de facto members of the Schengen Area. ETIAS will be required to visit them:
| | |
| --- | --- |
| Monaco | Vatican City |
| San Marino | |
European Union Countries That are Not Part of the Schengen Area
These countries are members of the EU, but not part of the Schengen Agreement. ETIAS will not be required to travel to these countries. They will remain subject to their own visa and entry regulations.
| | |
| --- | --- |
| Bulgaria | Ireland |
| Romania | Cyprus |
All remaining countries in Europe that are not part of the EU or the Schengen Area are not expected to participate in ETIAS at this time. Their rules and requirements for entry will remain set by the individual countries.
ETIAS Visa Waiver FAQ
Why is ETIAS being implemented?
As with ESTA in the US, ETIAS is expected to provide an additional measure of security for Schengen countries, while still being more convenient for travelers from eligible countries than having to go through the Schengen visa process. Proponents also state that it will lead to less waiting at immigration control checkpoints, and help curb illegal immigration.
When will ETIAS go into effect?
ETIAS is expected to be fully implemented by November, 2024, but it will launch at the beginning of 2023. Up until it is officially implemented, travelers to Schengen countries who do not require a Schengen visa will still be able to visit only using their passport. Visitors who require a Schengen visa will be unaffected by ETIAS, as they will still need a visa even after ETIAS implementation.
According to official sources, ETIAS may be optional for the first six months of 2023, until it has been fully implemented.
How much will ETIAS application cost?
The cost for ETIAS visa waiver application will be €7. Officials state that it will be a familiar online payment system, and all major credit cards will be accepted.
Where can I travel with ETIAS?
According to official language, visitors with an ETIAS waiver will be able to travel to any country in the Schengen Area, and between any countries in the Schengen Area with just one ETIAS waiver for the duration of stay authorized by ETIAS.
For instance, a person with an ETIAS visa waiver would be able to fly to Germany, then travel to Austria or Switzerland with no other travel authorization necessary.
Where can I apply for an ETIAS visa waiver?
For information on how to apply for an ETIAS visa waiver, visit the official ETIAS website.
What information do I have to provide during ETIAS application?
Travelers from the 60 eligible countries are expected to be asked to provide the following during ETIAS application:
Full name and address
Valid passport or travel document
Date of birth and place of birth
Information about the traveler's parents
In addition, supplementary questions may be asked regarding:
Criminal record and public health risks
Any previous refusal of entry to Schengen countries
Previous European travel information
Employment history
How long will authorization take with ETIAS?
Most travelers should expect to receive authorization within minutes of applying. However, the wait can be up to two weeks.
How long will an ETIAS visa waiver be valid?
The ETIAS authorization will be valid for three years from the date it is issued.
We are sorry that this post was not useful for you!
Let us improve this post!
Tell us how we can improve this post?