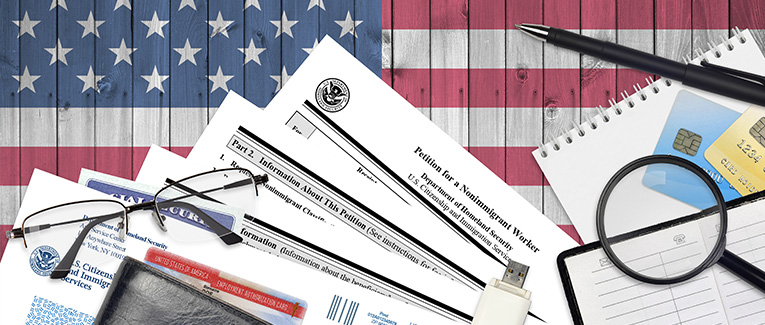 When filing H1B petition, you should follow the instructions given below:
Original signatures are required on each form. All signatures on the petition should be made in blue ink to readily identify the original signature. If the signature is made with black ink, it may become difficult to distinguish between the original and the copy, as the copy is black and white and the signature is also black and white.


Double check the petition to make sure that you have answered all the questions and that the answers are consistent and correct throughout the entire package, including the petition and all accompanying documentation. USCIS cannot make assumptions about what a petitioner really intended if that is not clear on the face of the documents submitted.

E.g.,

If you check "yes" to the question of whether the beneficiary has a U.S. Master's degree in Part A, #5 of the supplement, then Part C, #7 should also be checked "yes".


If the petitioner indicates on one part of the Form I-129 that the beneficiary is not subject to the cap, but on top of the petition writes "Regular Cap", it can delay processing of a case or even cause it to be rejected.



H1-B petition must be filed at the appropriate service center, depending on jurisdiction.


To make sure that your petition is filed properly, clearly label all H1-B cap cases in red ink on the top margin of Form I-129 petition. Use the following codes:
Reg. Cap (65,000 regular cases minus the Chile/Singapore cap cases received)
C/S Cap (Chile/Singapore H-1B1s)
U.S. Master's (20,000 cap exemption for beneficiaries with U.S. Master's or higher degrees)
Exempt (for petitions filed by certain institutions of higher education; nonprofit organizations; and nonprofit research organizations or governmental research organizations, as defined here.)


Please send only one petition per envelope. (These may then be mailed together in one mailing package.)

Regular Cap
U.S. Master's Cap
Regular Cap Premium Processing
U.S. Master's Cap Premium Processing
H-1B1 Chile/Singapore
Make sure to fill the application correctly regarding whether it is subject to the cap or not. If you file a petition that was subject to the cap, but if you incorrectly indicate that it was exempt from the cap, the petition will be denied if no H-1B visa numbers are available (cap has been reached), and the filing fees will not be returned.
For visitors, travel, student and other international travel medical insurance.
Visit insubuy.com or call 1 (866) INSUBUY or +1 (972) 985-4400

Multiple H1B Petitions Filings
If the same employer files multiple H1B petitions for the same H-1B worker, USCIS will deny all such applications. This will ensure that companies filing H-1B petitions subject to the H-1B cap have an equal chance to employ an H-1B worker. Fees submitted with such multiple petitions will not be refunded.
If USCIS discovers that such multiple petitions were filed after one or more petitions were approved, USCIS will revoke such petitions.
This rule does not preclude related employer (e.g., a parent company and its subsidiary) from filing petitions on behalf of the same alien for different positions, based on a legitimate business need.
Even though it is not fair to others, there is no rule that prohibits multiple unrelated employers from filing H1-B petitions for the same alien beneficiary (future H-1B worker).

Mailing H-1B Petition Subject to Cap
If USCIS receives enough H-1B petitions that are subject to the annual cap, they would be included in the random-selection lottery during the time window specified by the USCIS, which varies from the year to year.

Courier Delivery:
Make sure to use the private couriers that are bonded. Examples of such couriers are Federal Express (FedEx) and United Parcel Service (UPS). Any package sent via private courier that is not bonded will be rejected.
Applications sent via courier will be accepted from 6 AM through 5 PM, local time at the California Service Center and the Vermont Service Center.

USPS Delivery:
In order to be considered the package being delivered or timely filed, it must be on-site at the Service Center in time. It is not enough to be in the P.O. Box in time. Remember, the P.O. Box is at the post office, and USCIS picks up the mail several times a day. Therefore, if your package was delivered to the P.O. Box after USCIS picked up mail for the last time on the last day, it will not reach USCIS Service Center on time and, therefore, will not be considered timely filed.

Other Deliveries:
Due to security concerns, you must use either the United States Postal Service (USPS) or bonded private couriers, as described above. You cannot hand deliver the package or send it via taxi cab to the service center.
For visitors, travel, student and other international travel medical insurance.
Visit insubuy.com or call 1 (866) INSUBUY or +1 (972) 985-4400

We are sorry that this post was not useful for you!
Let us improve this post!
Tell us how we can improve this post?