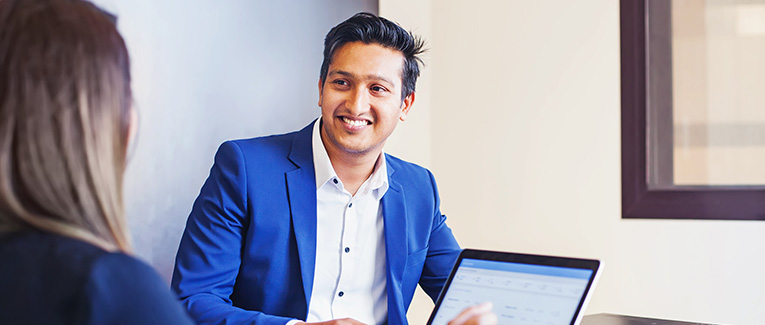 You should reach the consulate around half an hour before your scheduled interview time. You will have to show the appointment letter to get into the consulate. The security person will check your bag (plastic bag with the folder) and scan your entire body for other items that you may be carrying. Please don't carry any other items besides your documents. You are not even permitted to carry a cell phone with you. If locker facilities are available at the consulate, you can place small items like your cell phone, keys, and other stuff in there. (E.g., locker facility is available at the U.S. Embassy in New Delhi).
After the security check, you should join a line. A staff member will assist you and arrange the documents in the following order: passport, DS-160 confirmation page, I-797 Notice of Action (H1B visa approval), and visa fee fee receipt.
At the counter, your documents will be checked, and you will be given permission to enter the consulate. All the documents you just provided are put in a folder (file) and returned back to you. You need to carry this folder when you go to the interview, and this file is the first one to be produced to the visa officer.
After entering the consulate, you should get your fingerprints taken. Place your left and right index fingers on the fingerprint machine or pad. Next, you join the line for the interview. While standing in the line, don't disturb others as the visa officer can always see you. Try to maintain good attire. If possible, sit away from families, student applicants, or other groups of people who tend to talk a lot and comment on every applicant that comes out of the booth. This may make you unnecessarily nervous.
Make sure to have all your documents in order. Go to the interview prepared and confident. Consular officers are generally very polite. There is no need to get scared or show nervousness.
After staying in the U.S., if any of you are going to your home country for stamping purposes, and if any of your children are U.S. Citizens, you don't need to take those children to the consulate. However, make sure to take their passports to prove that they are indeed U.S. Citizens.
When the interview is over, avoid staying inside the consulate. Try not to disturb others, and don't start talking about how you feel or how the interview went.
Additional Tips
Keep smiling when standing in line and during the interview.
Carry decent folders. Avoid colorful plastic. If available, carry a harmonium folder with many compartments.
Dress like a corporate employee. You must give the impression that you are a professional, working person.
Try to give short and to-the-point answers. Consular officers are very busy, and they usually allow only two to three minutes per candidate.
Look straight at the officer and not at their computer or your papers.
You must be able to communicate fluently in English as most professional positions in the U.S. require you to communicate in English. If you are not able to speak English fluently, you may not be able to perform your job.
It is very important that you be able to establish a clear link between your prior experience and future job requirements. Not doing so will make it very difficult to secure a visa.
If you have a four-year degree in the area of intended employment, work experience is not required in order to get an H1B visa.
Fabrication of evidence (degrees, prior work experience, etc.) could result in a lifetime fraud/misrepresentation bar on entry to the United States. Therefore, avoid the temptation for the same.
You must have fundamental knowledge of the subject matter in which you are going to work in the U.S. If you can't answer the basic questions about your profession or job, you are unlikely to get the visa. You may get 221(g) refusal, and your petition may be sent to USCIS for revocation.
Avoid any behavior that makes the consular officer suspect that you are withholding some information.
Don't submit the photographs of the persons as dependents if they are really not your dependents.
Avoid any behavior that shows the result of obvious coaching. You can certainly get advice, do research, or read web sites in order to get help with the H1B process, but if your answers are too similar to those of other applicants, your credibility may be questioned. E.g., using sample documents and sample interview questions given on immihelp.com. Don't produce all the documents word by word as given on this web site. Please make sure to make appropriate changes according to your situation.
As long as you are a clearly qualified candidate, you should not have problems during the interview. E.g., if you are applying for an H1B visa for a computer programmer job, and if you have a bachelor's degree in either of the fields, such as computer science, electrical engineering, electronics engineering, electronics and communication or such related fields, you have a much better chance. If your degree is in an unrelated field, it may result in delays as work experience and/or diplomas would need to be evaluated as equivalent to the bachelor's degree in a required field.
Make sure that your sponsoring employer is credible and has made you a bona fide job offer. If your employer has a history of failing to pay the prevailing wage to previous employees on an H1B visa, this may cause a problem for you.
221(g)
If you are missing any of the documents that the consular officer requires before issuing visa, you will be issued a 221(g) form (blue, pink, yellow, or green) with the missing items ticked. You don't have to take the appointment again. You have to drop off the missing documents – excluding your passport – to the visa application center. Depending upon the documents asked for, your processing may take days, weeks, or even months.
We are sorry that this post was not useful for you!
Let us improve this post!
Tell us how we can improve this post?