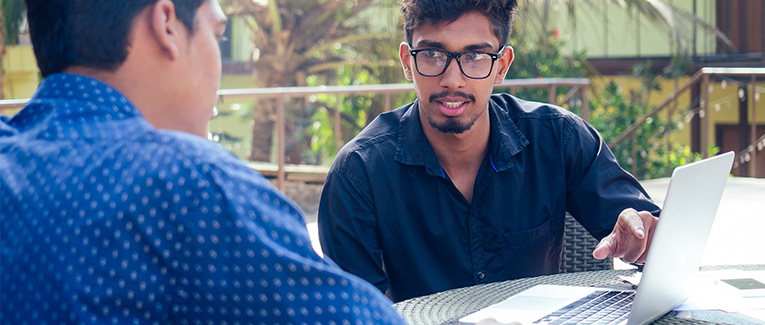 If the person is currently working on an H-1B visa for one employer (or has worked in the recent past), and when such person changes jobs to another employer, the new employer has to file a new H-1B petition for the employee. Many people, including some immigration attorneys, call this process an "H1 transfer". Even in this document, we refer to the new petition by the new employer as an "H-1B transfer", solely for the ease of describing it. It is very important to understand that there is really no concept of "transfer". Nothing gets transferred from one employer to another employer, except the employee itself. The previous employer does not have to "transfer" something to the new employer; the previous employer does not even have to know about the new employer.
Therefore, when people say "H1 transfer", it is actually just a new H-1B petition, all over again, without the restriction of the H-1B cap.
When the new petition is filed by a new employer, it may generally be with a request to extend the H-1B status. Since nothing gets transferred, neither the new employer nor the employee need to take any permission from the previous employer to file a new H-1B petition.
Documents
In order to file a new petition with the new employer, you will also have to submit the following documents for H-1B (primary) application:
Two or three most recent pay stubs. (Not required if the existing H-1B was never used and the transfer is applied from outside the U.S.)


Copy of your most recent H1-B approval notice, Form I-797


Copy of all pages of your passport (including blank pages), which is valid for your entire requested period of stay in the U.S.


Copy of the most current visa stamp. The visa stamp does not have to be unexpired.


Latest resume.


Copy of social security card.


All previous approval notices.


Copy of all degrees, diplomas, transcripts, and mark sheets.


Copy of work experience letters, offer letters, and relieving letters.


W-2's and tax returns, if applicable.


If you are a Occupational/Physical Therapist, you will need to provide a copy of your state license and visa screening certificate.

H-4 Documents (For Spouse or Minor Child):
Details
After the new employer files for an H-1B transfer, you can start working for the new employer as soon as you get the receipt notice.


If you previously worked for employer A and now have a pending H-1B petition for employer B, and you would now like to work for employer C, you can do that as long as employer C files a new H-1B petition for you, as long as you are in status.

As there is really nothing getting transferred from A to B to C, you don't have to necessarily get the petition with employer B approved first. If you already started working for employer B after receiving the receipt notice and before it was approved, and you would like to work for employer C, the petition from employer B must be approved in order for the petition from employer C to be approved as an extension of status.


If you were either on bench or you were otherwise not paid while previously employed, it is still possible for a new employer to file an H-1B petition for you, even if you don't have recent pay stubs. As there is no concept of transfer, it is still possible that the new petition would be approved. However, in the absence of recent pay stubs, if you failed to maintain the valid H-1B status, it may not be possible to obtain an H-1B extension of status within the U.S. USCIS may instead ask you to go back to your home country and ask you to reenter on a new Form I-94. If your visa stamp has already expired, you will have to get your visa stamp at the consulate before being allowed to enter into the U.S. again.


In case you had an approved H-1B petition from an employer, but never worked in the U.S. because you never entered the U.S., it is still possible for the new employer to file a new H-1B petition for you without any new paystubs. As there is really no concept of transfer, this is not even an issue. You will not be subject to the H-1B cap. You don't require any paystubs because if you are not in the U.S., the extension of H-1B status is not even applicable. You will be issued Form I-94 when you enter the U.S.

Also, if the current visa stamp itself has not expired, you don't need a new visa stamp.


More information can be found in H1 Transfer FAQ.

We are sorry that this post was not useful for you!
Let us improve this post!
Tell us how we can improve this post?