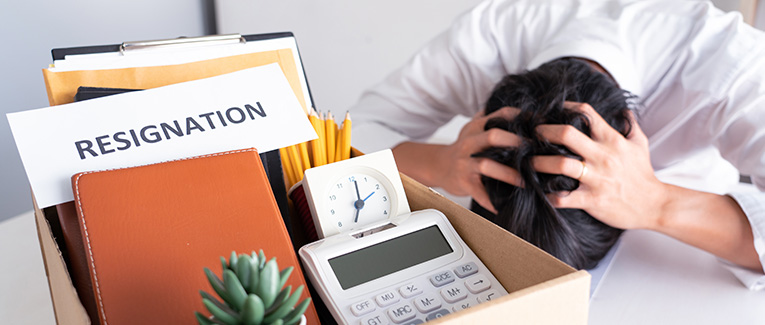 There are times when an H-1B visa holder in the United States might want to voluntarily resign from his place of employment. H-1B employment is still considered "at-will" employment, meaning he is legally allowed to quit and that his employer is not allowed to retaliate. However, H-1B visa status is dependent upon fulfilling the obligations of employment with the sponsoring U.S. employer. If that employment ends, the worker's lawful status within the U.S. is in jeopardy. The following are some points to keep in mind for H-1B workers considering quitting their jobs.
When an H-1B employee quits, the employer is legally required to notify USCIS of the situation. Normally, there is a 60-day grace period following the end of employment in which an H-1B worker can make final arrangements in the U.S. (if he's going home) or find a new job, change status, or make travel plans (if he hadn't previously planned on going home). This 60-day grace period, however, is a discretionary policy on the part of USCIS.
On one hand, USCIS makes no official distinction between workers who are terminated and those who resign. On the other hand, the policy is intended to provide some leeway for workers who lose their job due to circumstances beyond their control; it would be unwise for H-1B workers who resign to assume that they will be granted the full measure of the grace period. It is very possible that they will be considered out of status as of their last day of employment.
If an H-1B employee resigns, the employer is not obligated to pay the travel costs of the trip home. Under a normal H-1B agreement, the employer is responsible for "reasonable costs" associated with the return of the worker to his home country. This is no longer the employer's responsibility if the worker chooses to end his employment early.
Some H-1B workers are in the U.S. because they are fulfilling a J-1 waiver obligation of three years, usually providing medical services in a medically underserved region. Workers in this situation who terminate their own employment could face consequences of failing to comply with the provisions of the J-1 waiver and having to fulfill a two-year home residency requirement.
There are still options available to H-1B workers who want to quit their current job but still remain in status. The easiest one is for workers who already have another job lined up. If the new employer files an I-129 while the employee is still working for the original employer, and USCIS approves it, the worker can quit the old job and begin the new one without a lapse in legal status. The worker can also apply for a change of status to something like F-1 (if he plans to attend school) or B-2 (tourist).
When changing status, it's important that the worker be able to demonstrate to USCIS that he has remained in status up to that point. This includes evidence like the original employment agreement, pay stubs, time sheets, etc.–anything proving that the worker has been an active employee.
Remember that resigning from a job as an H-1B employee can affect present immigration status as well as more permanent immigration opportunities in the future. It's always recommended to do some research, have a plan, and be ready to execute that plan before turning in a resignation letter.
We are sorry that this post was not useful for you!
Let us improve this post!
Tell us how we can improve this post?