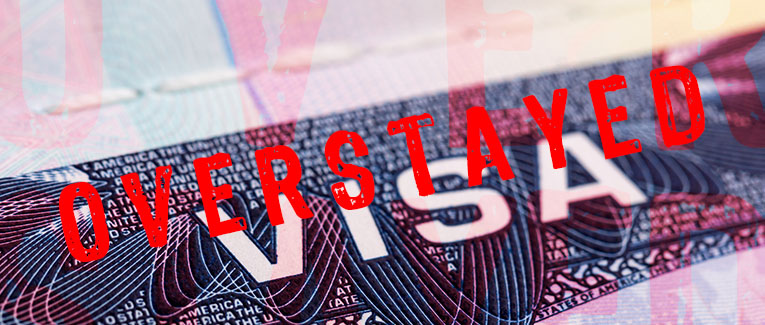 As per a DHS report released in March 2020, around 676,422 foreigners overstayed their U.S. visas in 2019, which amounted to an overstay rate of 1.21%.
Overstaying occurs when a lawfully admitted nonimmigrant remains in the U.S. beyond their authorized period of admission. U.S. Customs and Border Protection (CBP) defines those who overstay in two ways:
1. Those who had no recorded departure (or, Suspected In-Country Overstays)
2. Those who had a departure recorded after the expiration of their authorized period of admission (or, Out-of-Country Overstays).
Overstayers usually hold nonimmigrant visas such as H-1B, and their dependents hold H4 visas. Some even come on business visas such as B1, or visitor visas, such as B2.
You've Overstayed Your U.S. Visa. What Happens Next?
While an overstay can lead to severe issues, we can guide you through the next steps.
To begin with, you need to be clear about the duration of your overstay. The date of your expected departure is the date mentioned on your Form I-94 Arrival/Departure Record, not the expiration date of your visa. The visa expiration date is the last date up to which you would have entered the U.S. using that document.
The rules are lenient for students, as they need a judge or an immigration official to declare them unlawfully present. Their I-94 likely says "D/S," which means their overstay begins only once they stop studying or complying with their visa terms. The suspected in-country overstay rate for students was estimated to be 1.52% in 2019.
Let's now look at some of the undesirable consequences of an overstay:
It can affect your application if you apply for a visa again. Any foreign national having overstayed their U.S. visa would likely not get permission to reenter unless they got a nonimmigrant visa in their own country.
You might encounter more intense questioning at the port of entry (POE) on your next trip. The POE officer might even deny you entry if unsatisfied. In case you applied for an extension on any previous trip, you need to keep all relevant documents ready.
You might get barred from entering the U.S. for the next 3-10 years from your date of departure. This depends on your overstay duration.

3-year bar: This applies if you've overstayed for more than 180 continuous days, but less than one year, and you left before formal deportation.

10-year bar: This applies for overstays of more than 365 continuous days.

The time bars are applicable only if you left the U.S. before formal deportation. If your unlawful presence is for more than one year in total (can be noncontinuous), and you get deported, but still attempt an uninspected entry, you will be permanently barred. The only waiver, in this case, is available to VAWA self-petitioners. You can still request special permission to apply for a Green Card or U.S. visa after 10 years.
You can't change your status to another nonimmigrant status or extend your stay in the U.S. once you've overstayed your authorized stay.
One way to avoid these time bars is to file for a change of visa status with the USCIS. This is helpful in some rare cases for those eligible for Green Cards. You'll have to submit all the required documents before scheduling an interview. This option is not available to those who've illegally entered the U.S. All relevant details for filing the petition are on the official USCIS website.
Are There Any Exceptions?
There are certain cases in which the 3-10-year bar might be excused. Unlawful presence in the U.S. is not accrued for:
Children under 18 years of age
Victims of human trafficking, if they can show proof the trafficking is one of the central reasons for the overstay
Those who have an asylum application pending with the USCIS, or a pending change of status case
Beneficiaries of the Family Unity program
Those who've received protection via:

Deferred Enforced Departure (DED)

Temporary Protected Status (TPS)

Withholding of Removal under the Convention Against Torture

Battered children or spouses who gained entry on a nonimmigrant visa, and can prove that the abuse caused the overstay
These exceptions might not apply to those under the permanent bar. It's best to consult a lawyer in this case.
Extending Your Visitor's Visa
To get an extension on your I-94 date, you need to file a request with USCIS on Form I-539. Here are a few things you should know about this:
The application for adjustment of status or an extension of stay needs to be filed at least 45 days before the expiration of your authorized stay.
You can apply for an extension only if you have a legitimate reason to request it.
You need to have been lawfully admitted into the U.S. with a nonimmigrant visa.
You can't get an extension if you've committed any crimes making you ineligible to hold a visa.
You need to have definite plans to exit the U.S. after the proposed extension period.
Your passport needs to be valid (and remain valid) during your entire stay.
There are certain categories of entrants who needn't apply for a visa extension:
The fiancé of a U.S. citizen, or the dependent of the fiancé – K nonimmigrant visa
A crewmember – D nonimmigrant visa
Someone on the Visa Waiver Program
Someone in transit through the U.S. – C nonimmigrant visa
An informant (along with their family) on organized crime or terrorism – S nonimmigrant visa
What Documents Do You Need For A Visa Extension?
Your application stating the reason you are requesting the extension
A copy of your return tickets to prove your intention to only stay temporarily
The completed I-539 Form, which can also be filed online
Proof of financial arrangements during your extended stay
Copy of I-94 for each applicant
Instructions on the Visitor Visa (B2) extension checklist – M-752
The extension fee for a visitor visa (B1-B2) is $370. Your spouse and children will not be charged with an additional fee. You might have to pay a biometric fee of $85, depending on your visa type. This applies to minors as well.
You can get an extension of up to 240 days in the U.S. following the expiration of the date on I-94.
The I-601A Provisional Waiver of Inadmissibility
For those immigrating as relatives of U.S. permanent residents and citizens, lottery winners, as well as immigrant visa applicants in other categories, there is a provisional (or stateside) waiver available. Under this, you can apply for a waiver on the 3-10-year bars before exiting the U.S., instead of after.
Effective since 2013, it allows applicants to forgo their consular interview and avoid the risk of getting trapped outside the U.S.
Inadmissibility refers to a barrier to receiving a Green Card or visa. The I-601A provisional waiver deals only with one ground of inadmissibility – overstay of visa as per U.S. immigration law and subsequent accrual of unlawful presence. There are various other grounds of inadmissibility for Green Card applicants, such as fraud, health problems, and immigration violations. The waiver does not deal with these.
Extension of Visa-Waiver Program Stay
The Visa Waiver Program (VWP) allows foreign nationals to visit the U.S. for short, 90-day stays. It applies to countries whose citizens don't typically overstay their visas. Extensions on your stay under the VWP aren't usually allowed. There are, however, certain exceptions:
Medical emergencies, which allow an extension of up to 30 days
Changes in travel schedule beyond individual control, such as flights getting canceled due to a hurricane or pandemic
The surest way to avoid legal troubles is to plan your travel according to your original I-94 dates. While we have covered most of the information you need in case of overstaying, you should consult an experienced immigration attorney for further help.
We are sorry that this post was not useful for you!
Let us improve this post!
Tell us how we can improve this post?