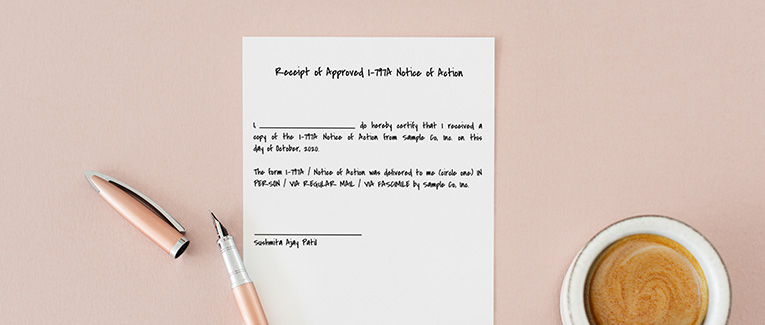 Once an H-1B visa petition is approved by USCIS, an I-797C Notice of Action is mailed to the employer, which is considered a courtesy copy and is printed on regular white paper.
Additionally, an I-797A Notice of Action is typically mailed to the attorney of record. It is printed on colored paper with security features, and it has an extended Form I-94 towards the bottom of the document. This document is very important to the H-1B visa holder.
Therefore, whenever the employer gets the document from the attorney, they should hand it over to the employee and make sure to get a signed receipt from the employee that the employee did indeed receive it.
Receipt of Approved I-797A Notice of Action
I, ___________________, do hereby certify that I received a copy of the I-797A Notice of Action from Sample Co, Inc. on this _____ day of October, 2020.
The form I-797A / Notice of Action was delivered to me (circle one) IN PERSON / VIA REGULAR MAIL / VIA FASCIMILE by Sample Co, Inc.
____________________________________
Sushmita Ajay Patil
We are sorry that this post was not useful for you!
Let us improve this post!
Tell us how we can improve this post?