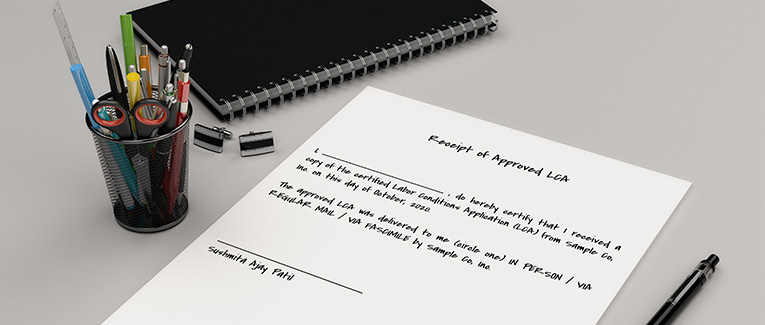 Before an H-1B visa petition can be filed with the USCIS, the employer needs to file an LCA (Labor Condition Application) with the DOL (Department of Labor) and get it approved. The employer needs to sign two copies in original of the approved LCA and provide one of them to the beneficiary (H-1B visa holder). At that time, the employer needs to ask the employee to sign a receipt stating that the employee received a copy of the approved LCA.
The following template can be used for the same:
Receipt of Approved LCA
I, ______________, do hereby certify that I received a copy of the certified Labor Conditions Application (LCA) from Sample Co, Inc. on this _____ day of October, 2020.
The approved LCA was delivered to me (circle one) IN PERSON / VIA REGULAR MAIL / VIA FASCIMILE by Sample Co, Inc.
____________________________________
Sushmita Ajay Patil
We are sorry that this post was not useful for you!
Let us improve this post!
Tell us how we can improve this post?