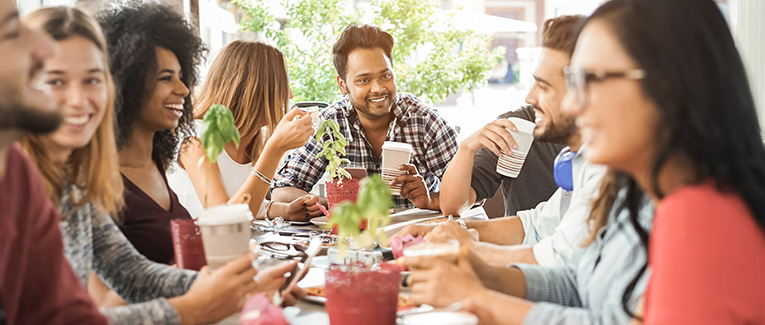 Globalization may have made daily lifestyles similar across the world, but there are certain nuances of eating and meal times that still vary from country to country.
While visiting or living in a new country, it helps to know what the general meal times are, and what the culture is like for each meal.
Most Americans generally eat three big meals a day—breakfast, lunch, and dinner. But, some other small meals and habits are also an integral part of the American food culture.
Here is a low-down on the general American mealtimes, and what to expect at each of them.
Breakfast
The first meal of the day, for most people, is eaten anywhere between 6:00 A.M. and 10:00 A.M., depending on their daily schedule, and when they need to get to work or school.
During weekdays, breakfast is eaten earlier and is more rushed than on weekends. It is sometimes even eaten 'on the go' in cars or while walking to work or school.
Weekday breakfasts usually involve packaged ready-to-eat foods like milk and cereal, bagels, breakfast bars, or granola and yogurt. Depending on the habits of individuals and families, the meal can also include simple dishes like eggs, toast, smoothies, or oatmeal.
These breakfast dishes are most commonly accompanied by a strong cup of coffee, or a 'cup of joe' as some people like to call it. About 65% of American adults drink coffee with breakfast, making it the most popular breakfast beverage in the country. It is closely followed by orange juice and milk as strong contenders.
Working adults often grab their breakfast at a drive-thru or coffee shop on their way to work to eat in their car. Since most schools now serve breakfast, children tend to eat it at school, between 7:30 and 9:00 A.M., before classes begin.
Weekend breakfasts in America, on the other hand, are a whole other affair.
Relaxed weekend mornings tend to be accompanied by heavier breakfast dishes that need more cooking time and effort. They range from the quintessential American combo of bacon and eggs with toast, to classic pancakes or waffles with syrup and a load of toppings.
Sometimes this weekend breakfast is pushed to later in the morning, making it a 'brunch.' (Don't worry. We have a whole section covering this favorite American meal further down.)
Lunch
What time a person eats lunch in America depends, once again, on their daily schedule and life choices. The usual time range for lunch is from 12:00 P.M. to 2:00 P.M., with most restaurants opening up for lunch at even the early hour of 11:00 A.M.
For school children, this meal is served hot in their school cafeterias between 11:00 A.M. and 2:00 P.M. But, for many American adults, lunch is a cold, light meal to refuel in the middle of a busy workday. Popular lunchtime meal options include soups, sandwiches, and salads.
The typical break for lunch at work in the U.S. is an hour long. This gives people enough time to go down to the nearest restaurant and grab a bite to eat. Although on a daily basis, most people choose to enjoy their packed lunch with colleagues.
On particularly hectic days, some people elect to eat lunch at their desks while continuing to work. This kind of lunch break is called a 'working lunch.'
Dinner
Also known as 'supper' for some families, this is the last big meal of the day, enjoyed after a long day's work.
It is considered by many to be the main meal of the day, and is eaten relatively early in the U.S. when compared to Europe. Dinners in America are hot, sit-down meals that are enjoyed in the company of family or friends.
While the average time for dinner in the U.S. is reported to be 6:22 P.M., most people eat it anywhere between 6:00 and 8:00 P.M. That said, there is always the rare American that has either earlier or later dinners, based on their lifestyle and work schedules.
Most restaurants in the U.S. open up for dinner service starting at 5:30 P.M., and close around 10:00 P.M. on average.
Dinners at restaurants can be a lavish affair, with multiple courses and fancy drinks. But, the standard at-home American dinner is more often a single plated meal or a basic takeout.
The contents of dinner aren't uniform across the country, and again vary from family to family as well. But they typically include meat, veggies, and a side of potatoes or rice.
Both at-home and dine-out dinners are quite often accompanied by a dessert to end the day on a sweet note. From fresh tropical fruit to cookies and ice cream, there is no dearth of choices when it comes to desserts in the U.S.
Snack Time/Coffee Break/Tea Breaks
While there aren't any fixed times for a snack, these are the little meals that fall in between the three big meals of the day.
For children, most schools and daycare centers have a designated morning snack time at around 10:30 A.M. There is also a popular snack time for when they return home in the afternoon around 3:00 P.M. Most often, these snacks include simple bite-sized food (like crackers, cheese, fruits, or mini sandwiches) and a drink (usually milk, juice, or soda).
But this isn't an activity exclusive to children. Most adults take out a few minutes in their workday for a quick 'coffee break' or 'tea break' at around the same time.
These breaks offer a brief respite from their otherwise jam-packed office hours. The excuse of a cup of coffee or tea and a quick snack gives people a chance to re-energize before they head back to work.
Happy Hours
Although this isn't a real meal in itself, happy hours are distinctive enough to be worth a mention in this guide.
Happy hour is a post-work social activity popular among working American adults. This cultural phenomenon originated in the early 20th century in the U.S Navy, and has been sustained until now.
Typically held between the hours of 4:00 and 8:00 P.M., happy hours are a common way for coworkers to relax and unwind after a long and stressful workday. It is a social activity where people gather at bars and restaurants to share drinks and appetizers while talking about their day.
Most bars and restaurants in the U.S. offer discounts and deals on their drinks and hors d'oeuvres during this period, giving people an extra incentive to flock there before heading home for dinner.
Brunch
Apart from the three main meals that are an everyday staple in the U.S., brunch is a special meal enjoyed by many. Brunch as a sophisticated social activity has been popularized by media and pop culture, adding to its popularity.
It is a cross between breakfast and lunch, and is enjoyed late in the morning on lazy weekends (especially Sundays) and holidays.
Brunches can start as late as 11:00 A.M., sometimes even noon, giving people a chance to sleep in on the weekend morning.
It is also an inherently luxurious meal that is meant to be enjoyed with a group of family and friends. This meal is an opportunity to eat decadent, dressed-up versions of breakfast foods, along with lightweight cocktails on the side.
Both of these combined make brunches the longest meal eaten in the U.S., usually extending for a couple of hours! Brunch as a meal is also rarely organized at home. It is most often eaten out, at upscale restaurants and cafes that cater to it on weekends and holidays with special menus.
Now you are more familiar with all the major meal times in America, along with the foods and cultures associated with them.
We are sorry that this post was not useful for you!
Let us improve this post!
Tell us how we can improve this post?