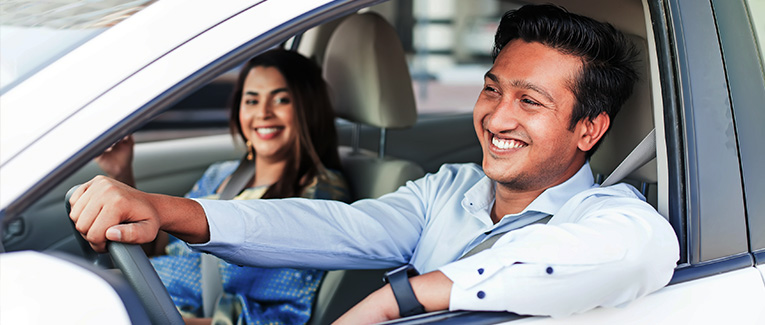 Are the traffic laws in the U.S. as stringent as your friends make them out to be?
Will driving on American roads be a walk in the park?
Time to appease your anxiety.
Rules
1. Side of the road
The British practice left-hand driving, as do most territories colonized by them. Australia, India, and South Africa are among the 76 countries that make up the list.
The remaining 70% of the world's population drives on the right-hand side. This includes 163 countries predominantly in North America, Europe, and the Middle East. Naturally, the U.S. falls in this category.
2. License
Americans should be nearly 15 or older to get a car driving permit. The minimum age for getting a full license varies between 16 and 18, depending on the state.
You can get a permit for as little as $20 in the U.S. But, one of the cheapest nations to get a license in is India, where it costs $2.67 (when converted in 2021). Norway is at the other end of the spectrum, charging over $3,600, owing to extensive training and high industry wages.
An International Driving Permit (IDP) is also accepted in many places, provided it's linked to a license. The two main types of IDPs are issued for three years and one year; the U.S. acknowledges the second kind.
3. Speed limit
State law governs speed limits in the U.S. The range of 25-85 mph varies between metropolitan areas and the countryside. Freeways generally don't have a minimum speed, while the upper limit averages 70 mph.
Nearly every country besides the U.S. and the UK indicates the limit in km/h. Amongst European regions, Poland's speed limit peaks at 140 km/h. Highway limits in Germany, France, and Italy are at a close second at 130 km/h. South Americans follow suit, with Argentina and Venezuela capping the number at 120-130 km/h.
4. Traffic signs
'Stop' signs are the most crucial to look out for on the road. Red and white are the universal colors that make the sign visible well in advance. Almost all countries have the word 'stop' emblazoned in English and/or the local tongue. Some symbolize it with a raised palm.
Warnings for pedestrians, animals, and accident-prone zones can be spotted often as well. Bear crossings are frequent in the U.S. and Russia. Deer famously amble by on English motorways, as do camels in Northern Africa.
Signs come in many shapes and hues, each with its implication. Octagons, triangles, circles, and squares are standard. Red and yellow stand for warning, green and blue are informational, and a white background with a black overlay is regulative.
5. Fines
The driving rules and fines in every country comprise extensive lists that are specific to their ordinances and laws. Here are the common fineable offenses in the U.S. and their amounts:
Driving under the influence – Between $200 and $500
Speeding ticket – Varies by state; $150 on average
Parking violation – From $10 to $50, depending upon the city size
Expired license – Starts at $50; severity of the offense can escalate cost up to $25,000
Overtaking a school bus dropping children – Up to $1,000
Etiquette
1. Flashing headlights and honking
Not flashing headlights may seem bizarre to Europeans. How else do you warn others of the speed check or police post ahead?
But, cruising down an American highway with your lamps blazing is a prime driving blunder. The glare can impair the vision and judgment of drivers in oncoming vehicles.
If you're on the receiving end of that situation, don't retort by turning up your lights. Divert your eyes to the white center line on the road instead.
Few instances are exceptions. Flashing your light on low to signal fellow drivers about hazards or give trucks the go-ahead to switch lanes is acceptable in most parts of the U.S. It can also be used to communicate with a deaf driver. It is best to avoid the high beam except for at night when there is no oncoming traffic.
Honking isn't appreciated either. Asians and Africans might be attuned to the habit and the noise pollution that comes with it. That's rarely the case in the Western world; the act is illegal in some cities, especially at night. Horns are for emergencies only.
2. Pedestrians
What's called a zebra crossing in the UK and a pedestrian crossing in Australia is a crosswalk in the U.S. People are prone to recognize the bold white horizontal or slanted stripes against the dark concrete road backdrop, seen across the globe.
The U.S. has another popular way of marking crosswalks, which is unusual elsewhere. Such crosswalks lie between two 12 to 24-inch white lines that are at least six feet apart. Being relatively subtle, they're found in areas with low footfall.
Crosswalks are located at most intersections and traffic lights. But, motorists must beware that pedestrians can legally cross at any intersection regardless of having a crosswalk.
3. Giving way
Overtaking is one vehicle passing another to get ahead. Left-hand driving nations permit overtaking from the right, and vice versa for right-hand driving.
Overtaking rules are applicable not only between two cars, but also for bicycles and heavy vehicles. American cyclist rules recommend maintaining a minimum distance of three feet for safety in most states.
It's widely understood that bicycles give way to pedestrians, cars give way to cycles and pedestrians, and trucks give way to all. This pecking order is simply based on load, speed, and volume.
An anomaly is the Netherlands, where bicycles outnumber people and cars combined. Residents of China, Japan, Belgium, Switzerland, Finland, and Denmark have been increasingly choosing to ride over drive.
4. Navigating intersections
There are four kinds of intersections: three-leg, four-leg, multi-leg, and circular or roundabouts. They may or may not be regulated by traffic signals and signs. When they are not, traversing them can get tricky.
In the U.S., priority is given to the car that reaches the intersection first, or the one that's to the right of a driver. Everyone must adhere to 'Stop' and 'Yield' signs where necessary. Roundabouts should be approached and exited from the right lane in the anti-clockwise direction.
While roundabouts are a recent adoption in North America, France and Spain have a high number of roundabouts. Only 73 roundabouts exist per one million Americans, whereas there are 591 for every one million Spaniards, and 967 per one million Frenchmen.
Experience
1. Landscape
Bustling lanes peppered with headlights and streetlamps are ordinary sights in every urbanized place. Traffic conditions, and more importantly the view, are rather different when you leave the city behind. You'll get sweeping greenery, mountains, and seas if you're by the coast.
The lay of highways in North America reflects a grid pattern. Inner-city areas are divided into rectangular blocks, which are clusters of buildings bordered by streets. Blocks are even colloquially used as a measure of distance. Australia and the UK use block road structures too, though not as prominently.
2. Fuel and facilities
Indians and Brits will be familiar with "petrol," while "gas" has secured its spot in American lingo.
There are over 115,000 gas stations lining U.S. roads. They are a staple not just for refueling the car, but also its passengers. Similar to Indian and British national highways, stations along American highways have convenience stores and food outlets attached.
Diesel-fueled automobiles are more sought after in Europe than in North America, due to the higher price tag. Electronic and alternative vehicles are an emerging sector in both continents. The U.S. is home to over 41,000 electric vehicle charging stations and counting. Driving in the U.S. might be a piece of cake for many thanks to the commonalities it has with other nations. But fret not if you feel like the differences seem tough to conquer. All perfecting takes is practice.
We are sorry that this post was not useful for you!
Let us improve this post!
Tell us how we can improve this post?