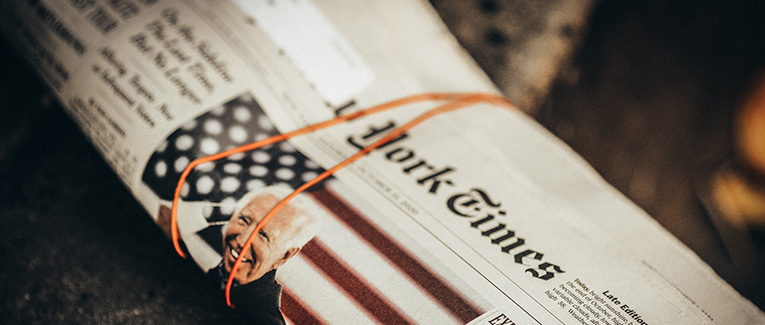 When you make the move and settle in the United States, your view of the world will shift slowly, but surely. From global issues to politics, soon you might think the way most Americans do.
What shapes that change? The American media.
Understanding the key players of American media and how the industry operates is imperative.
Some American Media Trivia Before we Begin
The Constitution guarantees freedom of the press. So, the U.S. government doesn't own or control the media. But, broadcast media is subjected to heavier government regulations than print, to keep controversial content off-air.
The Federal Communications Commission (FCC) issues special licenses to radio and television broadcasters. They act as media police to safeguard public decency standards on the air.
With revenues of over $242 billion, media and communications are one of America's largest business groups. Corporate greed is a prime motivator in this industry.
Objective reporting only graced the scene from the 20th century onwards. Prior to that, partisan journalism, yellow journalism, and interpretive reporting were on the rise. Whether the latter has completely vanished is questionable.
Only 30-40% of American citizens agree that American media is a good influence. The rest find it difficult to trust the media.
Varieties of Media Outlets and Their Kingpins in America
The two main types of traditional media include print media and broadcast media. Of these two types, newspapers, magazines, radio, and TV play dominant roles. However, with the digital revolution and the onset of social media as a news source, the lines between print and broadcast are blurred.
To get a lay of the land, we will explore the history and current status of various forms of media operating in the U.S.
1. Newspaper
Since the 18th century, the newspaper has been one of the original news sources for all Americans. Newspapers have seen a steady rise in popularity over the centuries, albeit alongside tough competition from alternative media outlets like television and radio.
The house of cards came crashing down with the rise of digital journalism in the 21st century. As more people look to the internet for information, this stalwart of the print media is on the decline in America today. Over 300 newspapers closed down in 2020. For the others still operating, sales are constantly plummeting.
The majority of U.S. newspapers have shifted base from paper to screen. With only 16% of American adults relying on newspapers for their daily dose of news, you won't catch any millennials with a newspaper anytime soon. Most of the newspaper fans fall under the category of senior citizens.
10 of the most well-respected and renowned newspapers in America are:
USA Today
The Wall Street Journal
The New York Times
New York Post
Los Angeles Times
The Washington Post
Star Tribune
Newsday
Chicago Tribune
The Boston Globe
You have to get a subscription to access an American newspaper in print or digital format.
2. Magazine
Time, National Geographic, and Rolling Stone ring any bells?
Those are world-famous U.S. magazines. The American magazine industry has been around as long as newspapers, and it continues to thrive. American magazine readership increased by over four million between 2012-2019. The readership is more or less equally distributed among all age groups above 18.
American magazines have a unique appeal to them that has helped them survive amidst the neck-to-neck competition of the American media industry. Surprisingly, U.S. consumers still prefer print magazines to digital.
The chief reason for the resilience of magazines is their visual appeal. Magazines usually specialize in a certain domain, like Vogue is known for fashion and Forbes is a popular business magazine. The quality of content is more targeted and superior compared to newspapers.
Some of the most popular magazines in America today, are:
Forbes
Rolling Stone
Better Homes And Gardens
Glamour
Reader's Digest
The Atlantic
National Geographic
Time
Vogue
Bon Appétit
Architectural Digest
Variety
Sports Illustrated
Cosmopolitan
Playboy
You can buy magazines on a per-issue or subscription basis.
3. Radio
Americans have favored the radio since its inception. Radio was the first electronic "mass medium" technology introduced in the 1920s. Radio has always been an underestimated and overlooked media outlet in the U.S., but it continues to be one of the most powerful mediums, with a weekly reach of 82.5% among adults of all ages.
Apart from the evergreen AM and FM radio stations, American radio has evolved into various other forms like cable, internet, weather, and satellite radio. This diversification, along with the curated selection of news, music, and entertainment, accounts for radio's steady rise in fame.
Most American radio programs are in English, however, Spanish is the second most popular language. The fan-favorite formats of radio shows are news, talk show, music, and adult contemporary. After all, everyone likes to tune in to some friendly banter as they drive back home.
Each station is given a unique call letter of four digits, usually starting with W or K. These are the predominant radio stations in America with millions of daily listeners:
WBEZ
WFCC FM
KXRY
WLTW Lite
WKTU
KEXP
WFMU
KUSF
Kiss/WKSC FM
KOST
4. Television
The advent of television in 1928 was perceived as a medium of cultural significance in the U.S. It was greeted with a combined sense of astonishment and glamor. TV far superseded all other forms of American media, and the craze continues to date.
Americans and television are a classic love affair. The average American spends a minimum of five hours per day in front of the TV. When compounded, that's 15 years of their life. This adds up when you find out that Americans lead the world in TV viewership.
The trend has changed from cable and satellite television to internet services like Netflix, Hulu, Disney+, and Amazon Prime. But, that's not to say that broadcast networks are falling behind.
Variety shows, news, sitcoms, game shows, food, technology, education, adventure, science, talk shows—you name it, there are at least a hundred television shows in that genre. So, you won't find any shortage of entertainment in this country.
You'll come across several of these channels when you switch on your TV in America:
NBC
CBS
Discovery Channel
ABC
History
Fox
PBS
The CW
ESPN
HBO
These channels have garnered fame overseas as well.
If you are a fan of Spanish language channels, check out Univision, Telemundo, and Estrella TV.
5. Social Media
Let's be real. The digital revolution has taken the whole world by storm, and your home country is likely no exception. So, you're not a stranger to the wonders of the internet.
For Americans, the revolution started in 2010 when people said for the first time that they would prefer to surf the internet instead of watching TV. That's when television was dethroned by social media.
Gradually, more people started relying on social media platforms for their daily dose of news and entertainment, to the point where all traditional media outlets are struggling to keep up today.
Having said that, the reliability of internet news is questionable. Since just about any normal person can generate information on social media, it is much less reliable than mainstream media. But, that surely doesn't stop Americans. One flicker of doubt and they'll Google it right away.
Over 72% of the American public extensively uses social media platforms. The top five being:
Facebook
Instagram
Snapchat
Twitter
YouTube
There are other competitors, of course. These include Pinterest, Reddit, WhatsApp, Tumblr, Messenger, and Tik Tok.
The Dark Side of American Media
1. The Bias Debate
There is significant prejudice operating in media, and you ought to be aware of it.
The American media is accused of the following biases:
Political bias towards liberalism, and against conservative views. Politicians complain of exceeding partisanship in the media.
Overarching white bias. Both within the industry and content produced serve the interests of the white American. Diversity is an issue here. News concerning minorities and other races is often overshadowed by their white counterparts.
Global American news reporting favors western news items over news from the rest of the world.
Excessive deference to government officials transforms them into unimpeachable icons. This misleads the masses in matters of national security, law enforcement, and public safety. Not to mention, it influences voting decisions.
2. Media Consolidation
The Telecommunications Act in 1996 loosened ownership restrictions, allowing companies to own multiple media outlets. This has led to the monopoly of a few giant corporations.
From over 50 companies in the 1980s, today only six conglomerates control most of the broadcast media in the United States. Namely, CBS Corporation, Comcast, Time Warner, 21st Century Fox, Viacom, and the Walt Disney Company.
The implications:
Corporate owners might restrict or manipulate news coverage. Hence media consolidation limits consumers' choices and exposure to truth.
It has led to the homogenization of American culture. You'll notice that radio and television formats have become increasingly uniform throughout the country.
When the truth is stifled under the thumb of CEOs, whether American media still operates as an independent source of information is debatable.
3. Triviality
A bunch of loud, obnoxious fools garner more attention than a well-spoken, rational news reporter ever could.
Interpretive reporting is more popular than ever. American news, especially broadcast media, has shifted to opinion-based content that appeals to emotion. It is the age of post-truth, and the media is stuck in an echo chamber.
Here's why:
From using complex academic language and reasoning, broadcast news became more focused on on-air personalities and talking heads debating the news. Inane interviews and the obsession with ratings add to the bankruptcy of truth. This talk-show-like atmosphere is detrimental to objective reporting.
As lots of journalists cover the same unimportant events, trivial matters are blown out of proportion, while complex subjects are oversimplified or ignored. This creates a generation of stubborn people who lack knowledge of the outside world, and foster extremist beliefs.
Believe At Your Own Risk
As you embark on your new life in America, keep your eyes and ears peeled. Be cynical and take everything the American media tells you with a grain of salt.
We are sorry that this post was not useful for you!
Let us improve this post!
Tell us how we can improve this post?