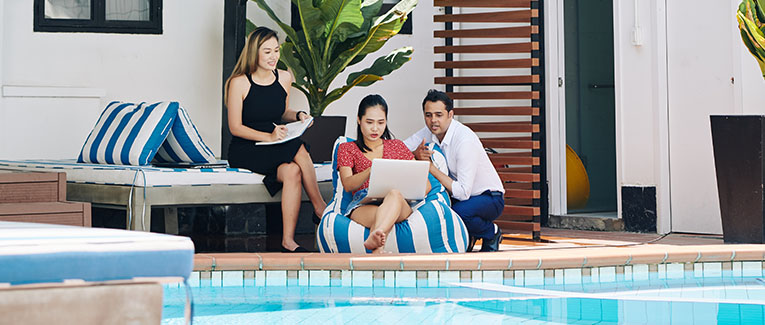 Barbados is offering a "digital nomad visa" to lure North Americans and Europeans to the small island nation. This made big news in the digital nomad universe in 2020.
If you're a newcomer to the U.S., the last thing you need is to risk your residency plans by moving to the Caribbean for a year. There's a better solution, though: Florida, which offers veritable Caribbean vibes, a decent lifestyle for less than $6,000 a month, and a conducive economic environment.
And this is just the beginning.
In a recent study, over 4.8 million Americans identified as digital nomads. That's more than the total population of Los Angeles. While the idea has gained popularity, the logistics of remote work can be daunting. This is especially true for newcomers to the U.S.
What Makes It Easy to Live the Digital Nomad Lifestyle in the U.S.
A lot! For instance:
You're almost always close to a co-working space

New York City has 60+ WeWork centers (as per data available in 2020). Even otherwise, you will never have to break a sweat to find a co-working space in a major U.S. city. If you live close to a busy city center, you'll be just a few minutes away from your "moving" office.
Cafes are welcoming for digital nomads

Working for a few hours in a cafe sounds exciting. But you have the nagging doubt: Will you have to keep ordering stuff to eat? Again, major U.S. city centers have dozens of cafes, and many of them are vocal about being hospitable for digital nomads like you.

For instance, Panera Cafe launched a coffee subscription service in February 2020. You could make your nearest Panera Cafe into your office (with great coffee as a perk) for $8.99 a month.
Inter-state travel and accommodations are affordable

Your biggest costs of the nomad lifestyle will be transportation and lodging. Thankfully, you have safe and sustainable ways to reduce costs. Inter-state flights within the U.S. are affordable. You could sometimes fly from the East to the West Coast in five to six hours for less than $150. Inter-state bus services are also fairly affordable. You can also find carpooling options.

Similarly, Airbnb and Couchsurfing options will make staying in any U.S. city affordable. A quick Google search will reveal which travel apps you need on your phone. Use these services to your advantage. A key survival skill for the digital nomad is to solve problems by spending less.
3 Things to Do Before You Let the Excitement Take Over
Negotiate with your employer
Skip this if you're not employed full-time.
If your job isn't remote already, there are ways to convince your boss. Data from a 2017 study involving 20,000 employees suggested a performance improvement of 13% in people working remotely. Use this evidence to build your case.
Get tools for your remote setup
Arrange for essentials such as portable chargers, a Wi-Fi hotspot, an external hard drive, and a good-quality headset. If you're starting up, don't overspend. Check out your local Facebook group for buying and selling gently used equipment. You can save up to 75% of your expenses this way.
A good way to start is by listing tasks together with everything you need to do them while traveling. Research reliable apps for meetings, communication, and project management.
Hire a professional for taxes
State income taxes might get a little tricky in the U.S. While digital nomads can get deductions or avoid taxes for a certain period, you should hire a professional to make the transition smooth.
Identify your nomadic community
It is now time to identify with a nomad community so that you know whom to reach for support. There are three distinct kinds:
Digital Nomads: This tribe usually turns to a website or an app for their income, transportation, and accommodations. Some ways to book short-term stays in the U.S. for cheap (or even free) are house-sitting, Couchsurfing, and living in a hostel. Some cities that digital nomads can explore are New Orleans, Louisiana; Kansas City, Missouri; Pueblo, Colorado; and Jacksonville, Florida.
Mobile Homes: This tribe carries its home wherever it goes: tiny homes, renovated buses, trailers, campers, etc. Beginners in this community can get a lot of support, along with beautifully made tiny houses at reasonable costs. States good for tiny homes include California, Florida, Michigan, Massachusetts, and Colorado.
Van Life: This tribe renovates vans to include a small bed, toilet, and kitchen. Believe it or not, this lifestyle is gaining a lot of popularity with employees of even tech giants. From full-size beds to fridges and desks that fold out for work, these vans can accommodate a lot. There are websites specifically designed to help you find suitable places to stay.
Tips for digital nomads with kids
Even if you have kids, starting as a digital nomad doesn't have to be difficult. Pay heed to a few tips, and you're good to go.
Prepare the kids for the upcoming change in lifestyle, and convince them of the merits of this change.
It is crucial to set a budget and ensure that you follow it.
Ensure that the kids get enough socialization and entertainment.
Figure out a five-year education plan for your kids.
The U.S. has plenty of opportunities for those looking at a digital nomad lifestyle. With the right kind of guidance, this experience can be rewarding and economical.
We are sorry that this post was not useful for you!
Let us improve this post!
Tell us how we can improve this post?