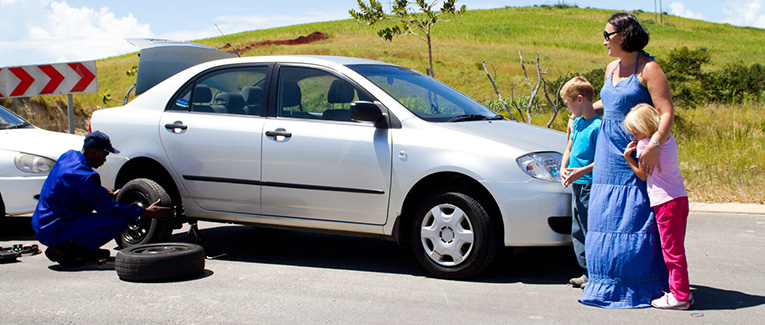 Roadside assistance is a type of insurance policy that helps you if you have car troubles. It offers various services like changing a flat (punctured) tire, bringing you a small amount of gas if you run out, opening your car if you lost your key or locked yourself out, and towing your car if you have an accident or your car won't start.
You can subscribe to roadside assistance services from independent automobile clubs like AAA, or subscribe to it through your car insurance company. Some luxury cars also include emergency roadside assistance as long as the vehicle is within the warranty period.
AAA Membership
The AAA (American Automobile Association) is an independent automobile club for roadside assistance and other travel related services. Their toll-free number is (800) AAA-HELP. A membership to AAA is very useful. There are many AAA bureaus throughout the United States.
In addition to providing the various roadside assistance services as described above, you can also request maps and other travel information from them. If you are a member of AAA, you may get discounts at some hotels/motels, rental car companies, museums, etc.
AAA offers three major programs: AAA Classic, AAA Plus, and AAA Premium. The major difference between them is that the standard program will tow the car up to 3 miles, while AAA Plus allows towing up to 100 miles and AAA Premier will allow the first tow up to 200 miles and then subsequent ones up to 100 miles. AAA charges annual membership fees to their members and covers you as long as you are in the car. It does not matter whether it is your own car, a rental car, you are driving a friend's car, or you're simply riding in someone's car.
Caution
It is better to get an AAA membership than emergency roadside assistance through your auto insurance company. Every time you use the insurance company's roadside assistance service, it is considered an insurance claim and will appear in your vehicle driving history. This will affect your insurance premiums with most insurance companies in the future. However, if you go with AAA or another non-insurance organization, they will NOT report it to your vehicle driving history. Moreover, if you use your insurance's roadside assistance service too much, they may even cancel your car insurance. It is definitely best to not have your roadside assistance and car insurance with the same company.
How It Works
Regardless of which roadside assistance service you choose, most are simply dispatchers that subcontract with a number of towing companies and garages. Therefore, whether you have AAA membership or your luxury car (Lexus/Acura/BMW/Mercedes, etc.) provides roadside assistance, chances are very high that the person who helps you will be the same. Depending on the circumstances, the problem, and your location, the service may either be very quick or you may have to wait for several hours before getting help. Always keep a cell phone handy while driving. Cell phones are your best chance of help when you are stuck on the road.
We are sorry that this post was not useful for you!
Let us improve this post!
Tell us how we can improve this post?