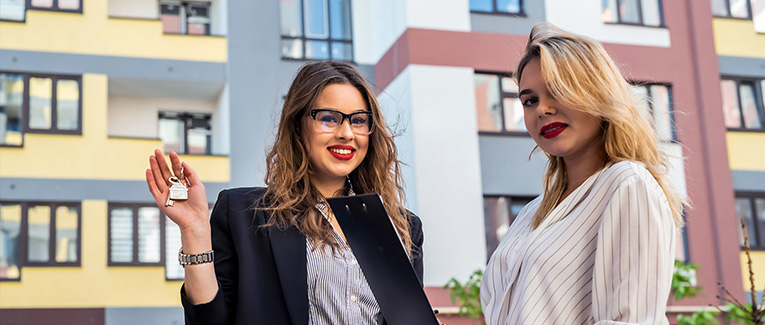 Before you move into an apartment, make sure to inspect the apartment thoroughly in the presence of your landlord or property manager.
After inspecting the apartment, make a list of any damage or problems you have found. If possible, it may be a good idea to take photographs of damaged items/areas. You should sign and date this list and ask the property manager to do the same. Both of you should keep one copy. If the property manager promises to get some things on the list repaired before you move in, get that in writing, including the expected repair date. Without this signed inspection list, you may be required to pay for damages that you did not do when you move out. However, if you have been living in the apartment for one year or more, normal wear and tear is expected (such as a worn carpet), and you will not be expected to pay for all repairs. Below is a checklist to help you in creating a list of items before moving in.
Bathrooms
Is the shower in working condition? Also, if you are not sure, ask the property manager how the cold/hot water combination works and how to turn the shower on vs. the bath. (You will need to purchase your own shower curtain.)
Is there mold on tiles anywhere in the bathroom (particularly the shower)?
Is the sink enamel scratched or chipped?
Flush the toilet and listen for any leaking sounds or other problems.
Is there moisture or water leaking on the floor around the toilet?
Are there any leaks in the water pipe below the sink? Be sure to check in the cabinet under the sink.
Are faucets in working condition? Are there any leaks?
Bedrooms
Are any shelves broken? Are any clothes hanger poles in the closets broken?
Are there any mold or mildew odors in the closets?
Interior items (applies to all rooms)
Is there cracked plaster on any of the walls or ceilings? (Walls are rarely made of concrete, but rather of drywall or plaster and therefore crack easily with aging of the building.)
Are any of the lighting fixtures broken? Lighting is usually provided only in the kitchen and hallway. You will need to bring your own lighting for the bedroom, living room and dining room, such as table and floor lamps.
Are the carpets dirty and/or worn?
Are there any torn draperies or broken blinds?
If there are any ceiling fans, are they in working condition? Most apartments will not have these except in hot climates like Florida, Texas or Southern California.
Are the electrical outlets in working condition?
Are there any roach or mouse droppings in the closets or elsewhere?
Kitchen appliances
Do all the switches and burners work on the stove?
Are there any leaks in the gas line for the stove?
Inspect the refrigerator, heater, air conditioner, dishwasher, garbage disposal (in the kitchen sink; there will be an electric switch to turn it on), and faucets. Make sure they are all in working condition.
Are there any mouse or roach droppings in the kitchen cabinets or elsewhere?
Security
Are the doors leading to the outside sturdy? Is there any evidence of attempted break-ins?
Do the deadbolts work properly? Are they loose at all? Are you allowed to install additional deadbolts on your own?
Do the windows close and lock properly? Are there any obvious leaks that can cause cold air to come in or go out?
Is all exterior lighting working?
Is there a security code needed to get into the apartment or into the complex? If so, make sure to get those codes and remote controls, if any.
We are sorry that this post was not useful for you!
Let us improve this post!
Tell us how we can improve this post?