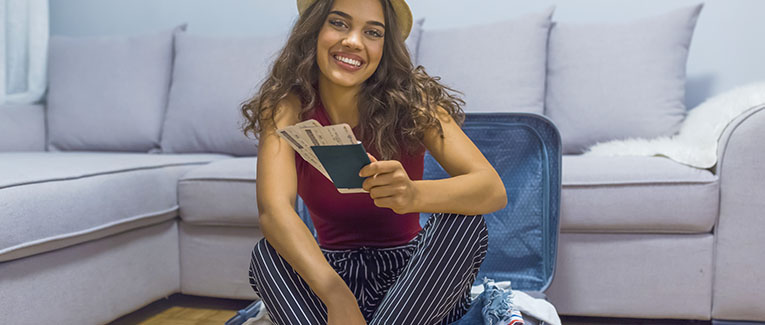 You have completed your documentation, booked your tickets, and finalized your itinerary. The only major task that remains before you take your flight to the U.S. is packing your bags. If not done effectively, baggage nightmares can mar your journey to the U.S. and cause you a load of stress.
Before you travel, you will need information about critical questions like:
How much baggage can you carry?
What can you bring into the U.S., and what is restricted?
What about the items you cannot carry with you?
These important tips and pointers will help you plan your baggage and manage your packing while moving to the U.S.
Baggage allowance
The first and foremost thing to do is to check the latest baggage allowance rules of your airline(s).
Look for the following details:
Number and weight of checked suitcases allowed
Number and weight of carry-on luggage pieces allowed
The airline's website will explicitly list out these details; as a fictional example, it might state that the dimensions of the carry-on suitcase should be under 55x38x20 cm (21x14x8 inches), and weight should not be above 23 kilograms (50 pounds).
These restrictions are different for economy and business-class tickets. Most airlines usually have the following conditions for economy class passengers:
Two pieces of checked-in baggage, not exceeding 23 kilograms (50 pounds) each
One piece of carry-on baggage, not exceeding 10 kilograms (22 pounds). Ensure that your suitcase fits the carrier's dimension rules for it to be allowed on board with you
One personal item (like a handbag or laptop bag)
The airline will charge you excess baggage fines per extra kilogram that you have, so stay under the regulation limit to avoid paying the exorbitant charge.
About transfers and multiple airlines
If you are traveling via multiple carriers, make sure to read the rules of both regarding transferred luggage. Usually, you will have to pack according to the baggage rules of the airline with the least allowance.
For special items like crates or musical instruments, airlines have special rules governing their carriage. Check well in advance about whether you can check those in, or if you have to pay extra to carry it on board.
Finally, there are special ticket categories (like student, minor child, etc.) with flexible baggage allowances. Check to see if you are eligible for additional allowances if you book under these categories.
What should you pack where?
Your list of things to pack for the U.S. could be extremely long, but you must know what is allowed into the country and how.
As a general rule, check the U.S. Immigration and Customs Enforcement (ICE) website to get the comprehensive list of all restricted items into the U.S. These broadly include food items, biological products, firearms, narcotics, explosives, etc.
Additionally, you will find information about which items are restricted in your carry-on luggage. For example, all liquids like shampoos, lotions, and perfumes are supposed to go into your checked baggage. Pack accordingly; otherwise, you will have to ditch these items at the airport itself.
If you are carrying medicines on board with you, keep the prescription handy, because you might be asked to produce them at the security checkpoint.
What to do with additional items?
No matter how well you pack, there are just too many things to carry while traveling to the U.S. from India to fit into your luggage. Be they utensils, heavy winter clothes, books, or documents, you will have to find alternative means to get them into the country with you.
While you can simply claim it as excess baggage, that will end up costing you a pretty penny.
The most cost-effective way is to use your country's regular postal system. Make an international shipping order, and simply collect the additional items at your U.S. address.
Another method is to use a professional shipping company. This will undoubtedly be faster, but significantly more expensive.
A note of caution: Each company will have its own rules about the weight, dimensions, and price of shipping for different goods. It is wise to compare two or three services before you make your choice.
In sum, these are the essential tips to keep in mind while planning your baggage when moving to the U.S.
We are sorry that this post was not useful for you!
Let us improve this post!
Tell us how we can improve this post?