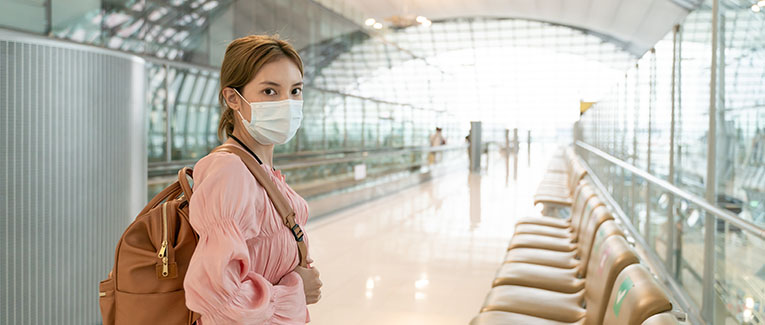 Note: This article was written in 2020, and therefore, the information compiled pertains to the year 2020. For up-to-date information, please read the latest resources concerning COVID-19.
COVID-19 disrupted the lives of millions of people across the world. But that was not all that the pandemic did. It also left thousands of people stranded in foreign lands for long, indefinite periods.
Thousands of foreigners had visited the U.S. before the pandemic hit the country to either meet their families or get jobs. For example, in an article published in June 2020, the Deccan Chronicles notes that two in five Indian-Americans have found themselves in difficult financial situations and doubt financial stability in the upcoming years due to COVID-19. More than 30% of Indians in the U.S. have been impacted financially due to loss of jobs as noted by the Foundation for India and Indian Diaspora Studies in 2020.
Tips for Foreigners in the U.S. on B-1/B-2 Visas
Coronavirus brought the worst-possible phase for the entire world at the beginning of 2020. Various countries, including the U.S., imposed country-wide lockdowns to prevent the spread of the virus. The U.S. government banned most international flights at the onset of the year. Amid this, non-immigrants in the U.S. found themselves stuck in a foreign land in the middle of a pandemic.
Although the government lifted the ban on most international flights during the months of August and September, boarding a flight was still quite risky even then. However, it became vital for non-immigrants to get their B-1 or B-2 visas renewed. If you find yourself in a similar situation, here's what you can do while sitting in the comfort of your home.
Visit the government website of the U.S. Citizenship and Immigration Services (USCIS) and file a request by filing Form I-539, Application to Extend/Change Nonimmigrant Status. Please check all the recently added details concerning coronavirus in the U.S., and fill out the rest of the form.
For visitors, travel, student and other international travel medical insurance.
Visit insubuy.com or call 1 (866) INSUBUY or +1 (972) 985-4400

COVID-19 and Food Security
For someone who moved to the U.S. shortly before the pandemic hit, the sudden imposition of lockdown might have unsettled them quite a bit. And when a situation like this arises, the first concern for most people is food security.
At the onset of the pandemic, food prices rose, and the food supply chain slowed down drastically due to the country-wide lockdown across the globe. According to the CSIS, "at the beginning of 2020, 135 million people faced acute food insecurity", and this number is expected to have risen by the end of the year.
Although it's the government's responsibility to ensure food security in the country during a pandemic, you, as a consumer, also play an important role in self-policing your food purchases and usage.
During a pandemic, it's every individual's duty to save food and stock up responsibly. Try to structure your week's menu beforehand, and stock up on nutritious frozen fruits and vegetables first. Look for discounts and coupons across different grocery stores, and buy in bulk (when possible) to save money. Substitute meat for plant-based food like quinoa, beans, soya, whole-wheat bread, and more. These tips are useful if you are quarantined in the U.S.
Medical Insurance for Foreigners in the U.S. During COVID-19
It's a widely known fact that the U.S. cost of healthcare is the highest in the world. So, whether you are a visitor to the U.S. or a student/worker here, getting an appropriate medical insurance plan is essential for you. It could save you a fortune during a medical emergency.
It's advised that you purchase a visitors medical insurance plan before leaving for the U.S. Its essentiality has increased twofold after the dangerous coronavirus hit the world. However, if you didn't purchase it before departing your home country and found yourself quarantined in the U.S. due to the pandemic, there's nothing to worry about. Here's what you can do.
Consult a licensed travel insurance broker like Insubuy, by email or telephone. Make them aware of your situation, and let them assist you in picking a suitable visitors medical insurance policy for yourself and your family.
Read the documents related to the selected plan carefully, and make a well-informed decision before buying.
For those of you who already have an insurance policy, it's advised that you get it renewed by your insurance agent if you plan to (or have to) stay in the U.S. Before renewing it, don't forget to inquire about COVID-19 coverage.
For visitors, travel, student and other international travel medical insurance.
Visit insubuy.com or call 1 (866) INSUBUY or +1 (972) 985-4400

We are sorry that this post was not useful for you!
Let us improve this post!
Tell us how we can improve this post?