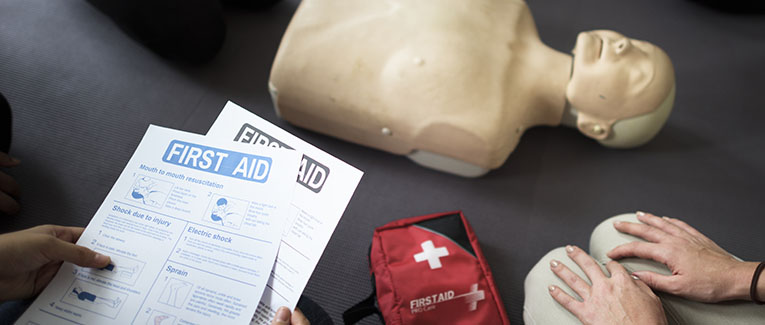 Everyone should know about the basics of first aid. In the U.S., many people learn in school how to give first aid. The aim is to make the patient or injured person as comfortable as possible before emergency services arrive.
However, first aid is taken very seriously in the U.S. It is a lot more than just applying a bandage to a wound or putting some ice on a fractured limb. You can undergo formal training in the U.S. to become a certified first-aid provider.
With this certification, you will learn how to recognize an emergency and evaluate the safety of the surroundings before applying aid.
You can get certified by the Red Cross or any other first-aid training center across the U.S.
A first-aid certification course will teach you:
How to contact emergency services.
How to perform CPR.
How to recognize the signs and symptoms of heart attack, and take the necessary steps.
How to recognize the signs and symptoms of a stroke, and take the necessary steps.
How to determine the nature of burns, whether the result of fire or coming in contact with hazardous chemicals.
How to treat burns in the initial stage.
How to respond to choking and asphyxiation.
How to determine a fracture and support the bone before further damage is done.
What to do in case of a head, neck, or spinal injury.
What to do in case of an eye injury.
What to do in case of abdominal wounds.
How to deal with poisoning or severe allergic reactions.
What to do if a person has fainted.
All these skills, and many more, are taught in first-aid classes. Once you get your certification, you can give first aid in an emergency.
How will becoming a first aid provider help you?
Knowing how to provide first aid will make you a more confident and reliable resource for your community. While others around you might be too dazed to react in an emergency situation, you will be able to provide the best possible help at a crucial time.
You can use your skills to help an injured person at home, in the workplace, or in any public location. Far too many times, a patient's condition deteriorates because initial care was delayed. There is no one location to give someone the right care.
First responders and emergency services could be delayed on the way due to several reasons. If you know how to give first aid, you could end up saving someone's life.
Knowing how to give first aid not only helps you take care of the situation during a freak accident but also during natural disasters. Blizzards, hurricanes, and tornadoes are quite common in America. During a storm, anyone could be hit by flying debris.
Such injuries could be serious, and what's worse is that some injuries are internal. The injury might not look like a big deal on the outside, so the uninformed person might not understand that the victim is bleeding on the inside.
But if you are first-aid certified, you will have enough basic medical knowledge to get an idea of what could be going on because of the kind of injury sustained.
Things to Keep in Mind Before Giving First Aid
When you choose to give first aid, be mindful of the fact that you can be contacted later by the hospital to which the injured person is finally taken.
If the injury is fatal and there are any legal issues involved, you might also be contacted by lawyers. This is because the first-aid provider was present with the patient even before the first responders had arrived. All 50 states and Washington, D.C., have some form of a "Good Samaritan law", which can help prevent first-aid responders who provide reasonable assistance from being held legally responsible for the death of a patient.
If the patient's condition deteriorates, the first-aid provider is often asked about the initial physical condition of the patient right after the injury for a detailed assessment.
Keeping a First-Aid Kit
Whether or not you're a certified first-aid provider, you can also keep a first-aid kit with you at all times. The kit should hold basic equipment like:
Adhesives
Some recognized antibiotics, like those available over the counter
Bandages and compression bandages
Roller bandages
Antiseptic wipes
CPR barrier
Absorbent compress
Cold pack
Eye covering
Eye and skin wash
Hand sanitizer
Sterile pads
Burn dressings
Burn ointment
Becoming a certified first-aid provider in the U.S. has lots of advantages. If you have recently moved to the U.S., knowing how to give first aid will help you to deal better with emergencies in case you are on your own.
We are sorry that this post was not useful for you!
Let us improve this post!
Tell us how we can improve this post?