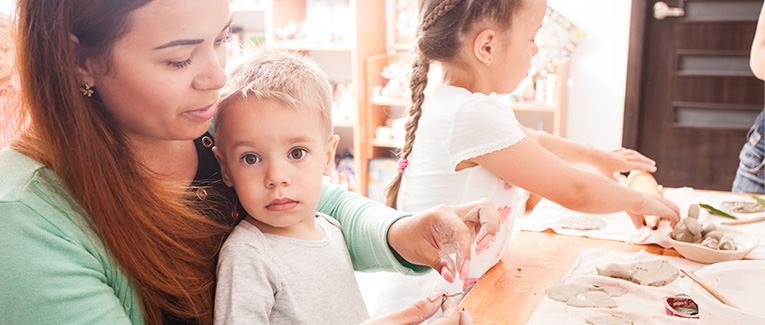 As a parent, your biggest concerns when moving to a new country will largely be about finding good childcare options there, as well as how your child will adjust. Knowing your child is in good hands will give you immense peace of mind, and will allow you to be more present at work.
With only 6% of companies in the U.S. offering childcare benefits, the responsibility falls on parents to find and pay for the right childcare for their kids.
Thankfully, the U.S. has many childcare options for working parents to choose from.
The two broad categories available to you are daycare centers and private babysitters.
Daycare centers are further categorized into in-home or family care centers, and formal daycare centers. The other option of babysitters is also not limited; with options like nannies, shared nannies, and part-time sitters, you are sure to find your fit.
Although all of the above options essentially provide care for children, the scope of care, timing, and price range vary quite a bit.
Here's a complete breakdown of what each of them entails in the U.S., and which one to pick depending on your needs.
Place Your Child in a Well-Run Daycare Center:
Also known as childcare centers, these are formal centers that offer care for many children across various age groups.
The scale of the center may vary, but they all divide children into groups or classes based on age. This allows children to interact with other kids of the same age, and develop social skills early on.
Daycare centers tend to do more than just watch over your child while you're away at work. They each tend to operate on their own curriculum.
Each group of kids will have one or more childcare professionals taking care of them and organizing their activities. The childcare professionals engage children in age-appropriate activities, games, learning, and more.
There is usually more structure at childcare centers than in home-based care systems. This system of daycare also allows kids to adapt to a fixed schedule and learn to communicate their needs. It works especially well for kids over the age of two.
The biggest drawback of daycare centers, however, is in their hours of operation. Most of them close at around 6:00 P.M. and require that you pick up your kids by closing time. So, if your work happens to run late often, you'll be in a pickle. There are a few centers that stay open later, but they are often more expensive.
Also, if they are overcrowded, your child may not receive the attention and care they deserve. So, ensure that you do your research before you finalize your decision.
The amount you will have to pay for this type of care depends on the location, quality, and your child's age.
An In-Home/Family Care Center:
These are much smaller scale centers that, as the name suggests, are run from someone's home. Usually, at 'in-home' care centers, there is only one caretaker who watches over a few children. In some cases, there will be a couple of assistants and a handful of kids at the most.
This is the preferred option for most parents who want to keep their children in a home-like environment, but cannot afford to hire a nanny.
The quality of care and the activities planned vary from center to center based on the caretaker. Since there are only a few children in these centers, there's also no guarantee that your child will find others of the same age.
But, these centers are also generally cheaper than regular daycare centers due to their being run from home.
The prices vary from state to state, and also depend on the quality of the center.
Exclusive Care With A Trained Nanny:
This is perhaps the most expensive of all the childcare options in the U.S. by far.
Despite it being the priciest option, many parents choose to hire a nanny because of the one-on-one attention it offers. With a nanny, the child is taken care of in his or her own home by a specialized caretaker, who attends to their every need.
The kind of activities the child does, the food they eat, and the times they sleep can all be personalized based on the parents' preferences and the child's individual needs. With a good nanny, trips to the skating rink, fresh homemade sandwiches for an afternoon picnic, and more are all on the table for an average day.
Finally, when you hire a nanny, they will take care of your child even when he or she is feeling under the weather. A daycare or in-home care center would have to send a sick child home, to prevent other kids from falling ill as well.
But, because this care type relies solely on the nanny, their caretaking style defines the quality of care the child gets. A careless, lazy, or short-tempered nanny could ruin the child's day and leave them extremely upset. The vetting process becomes absolutely essential so that you hire a high-quality professional.
As for how much you'll have to pay for a nanny, it really depends. There is no fixed number.
Keep in mind that when you hire a nanny, you become their employer. Hence, the U.S. government will require you to pay social security taxes for your nanny.
With such benefits coming at steep costs, recently there has been a rising trend of shared nannies. This is a blend between hiring a nanny and daycare, where one nanny takes care of the children of two or more families at the same time. This way kids get to stay at their own home, or a friend's home, while getting professional care for a bit less money.
Hire A Babysitter For One-Off Days:
Babysitters in the U.S. are individuals hired for shorter time periods to come over to the child's home and watch over them.
In America, babysitters are usually not licensed professionals. Some people work full-time as babysitters, but often they are local teenagers who will watch over kids for a few hours in the evenings or on weekends.
The kind of care your child receives, and the activities they are entertained with depend entirely on the quality of the babysitter. Some babysitters may just watch TV or study while supervising the child. Others go the extra mile to read to the child or take them out to play in the park.
As with the other options, how much you pay depends on how many children they are watching, their experience level, and the quality of care being provided.
If you hire a babysitter overnight, or for special occasions like on a holiday or a vacation, be prepared to pay them extra.
At the end of the day, no single childcare option can be labeled as better than the others. They each have their unique features, so you need to find the one that works best for you. The most important factors to consider are your child's needs, your work hours, budget, and preferences.
No matter which option you choose, finding the right fit for you and your child will likely require some trial and error.
Here are a few pointers for you to cover all of your bases while hunting for the right childcare option:
If you are looking at daycare centers or in-home care centers:
Be sure to visit the center in person during their peak hours. This will give you a realistic idea of what it's like.
Check their childcare professional-to-child ratio and the activities they offer. Each state has its own standards for running a daycare center, so things like the minimum caretaker-to-child ratio will vary across the country.
Crosscheck the center's and the caretakers' accreditation and professional licenses. Especially do so for in-home centers, as they can often fly under the radar.
Talk to the employees at the center. Notice if they seem stressed or overwhelmed with handling children.
Talk to other parents who have children at the care center.
See if their hours fit your work schedule requirements.
If you're looking to hire a nanny or babysitter:
Do a thorough background check on them.
Ask them for references of families they have worked with before. Talk to those parents about what their experience was like.
Especially if you have infants or toddlers, see if they have the necessary experience and the skills to take care of them. Test them to see if they can change diapers, feed the baby, and soothe them when they cry.
Ensure that they are trained in CPR and have attended first-aid classes.
Selecting the right childcare option can be arduous, especially when added to the additional stress of having just moved to a new place. However, being thorough during the selection process will save you a lot of time, money, and stress in the long run.
We are sorry that this post was not useful for you!
Let us improve this post!
Tell us how we can improve this post?