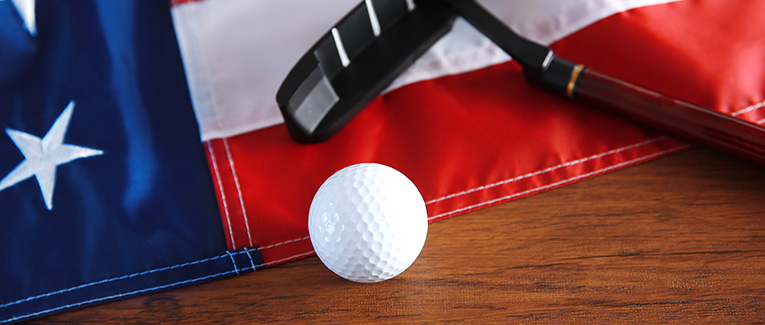 American golfer Gardner Dickinson once said, "They say golf is like life, but don't believe them. Golf is more complicated than that."
The National Golf Association's figures for 2020 showed that almost 25 million people play golf in America today. That's almost 8% of the country's population.
Three million out of the total are junior golfers.
Another three million are new golfers.
Around six million of these golfers fall into the 18–34-year-old bracket.
Also, businesspeople frequent golf courses to have business discussions in an informal, relaxed setting.
Irrespective of whether you like the game or not, knowing a few basics will help you strike up conversations and not feel left out.
So, how do you hold up conversations with golf-loving Americans, and how do you get started with golf if you like the game in all of its complicated glory?
Multiple questions, one solution: This guide right here.
Here you will find:
A brief history of golf.
The basics of golf and some terms worth knowing.
The American golf scene, explained in facts and numbers.
Golfing terms you'll hear even when you are far from the course.
History of Golf: A Look Back in Time
The origins of golf are uncertain and often debated.
However, one thing that is certain is that modern golf developed in Scotland in the Middle Ages. It was titled 'Gentlemen Only, Ladies Forbidden,' from where the term GOLF came into the English language. However, women and children are welcome in the sport today.
Golf in America was off to a not-so-good start. In the mid-17th century, it was seen as a nuisance. After all, too many windows were being broken because of the game. In 1659, golf was banned in the streets of Albany, New York. (No one likes broken windows!) This was the first mention of the sport in the country.
But, by the 1880s, Americans had learned how to play without breaking window panes, and the popularity of the sport started to surge. Golf courses, clubs, and associations started expanding.
Today, with over 25 million Americans playing golf, it is safe to say that the sport found a place in the hearts of Americans.
Basics of Golf: A Beginners Guide to the Game
Golf is complicated. If you really want to learn and play it with your American friends and business associates, it is best to look for a coach and take training classes.
But, before you do that, here are the basics of golf that you should know:
Golf is a multiplayer outdoor game, usually played in groups of four.
Each player uses a specially designed club to hit a small, hard ball.
The field where the sport is played is called a course, or links.
Standard golf links are about 5,900 to 6,400 meters (about 6,500 to 7,000 yards) in length.
The purpose of the game: sink the ball in each of the 18 holes on the course in as few strokes as possible.
Each hole is 4.25 inches in diameter and at least four inches deep. The word 'cup' is also used to refer to this hole.
A hole also means one unit of play in the course. (There are 18 in total.) It includes the area from the starting point to the end. The individual holes vary in length, and are between 90 to 550 meters (100 to 600 yards).
The starting point of each hole is called a tee. This is a wooden peg on which the golf ball is placed.
The soft, plush ground that surrounds the hole is called the green.
The part of the course that leads to the green is called a fairway.
The area on either side of the fairway, often filled with trees or long grass is called the rough.
The green is surrounded by sand-filled ditches known as bunkers.
Water hazards are ponds, lakes, rivers, or ditches on the course that make playing difficult.
Sand traps are scooped out areas filled with sand. They also add challenge to the game.
The scoring for the game works by counting the number of strokes. Every swing made with an intent to hit the ball counts as a stroke, even if your golf club doesn't hit the ball.
The standard number of strokes required to sink the goal in the hole is called par. Par-5 is considered a long hole, and a par-3 is a short hole. Usually, the aggregate par for the entire course is around 72.
Based on how many strokes you take to land the ball in the hole, you can score:
Ace: If the ball reaches the hole in 1 stroke. (Also, called a hole-in-one)
Eagle: If you use two strokes less than par.
Birdie: If you use one stroke less than par.
Bogey: One stroke above par.
Double bogey: Two strokes over par.
Triple bogey: Three strokes over par.
Average golfers score between 90 to 100 while playing on a par-72 course.
A golf course is long enough for a good walking exercise, but if you don't want to do that while you play, you can hop on the electric golfcart to move around.
The game is played using the honor system. No one is watching you, and there is no umpire for the game. You are expected to not cheat and stay fair on your own.
There are several rules, both written and unwritten, for the game. You can check out the official list of rules at the USGA website.
Golf in America: Numbers and Facts
Most American cities have public golf courses where anyone can play. The per-day fee averages around $35 to $40.
High schools and colleges also have golf teams that play and compete to find great, young golfers.
The Professional Golfers' Association of America directs professional play in the country. The PGA has over 290,000 players.
In major American tournaments, the #1 position holder can win up to $1 million. The second and third rank holders win half of that amount.
If you have ever wondered how many golf courses there are in the USA, there are around 9,635 golf courses in the country as of 2021.
Golfing Terms Used in Everyday Conversations
When Americans like something, their affection for it spills into their language. Some golf-related terms that you'll hear in everyday conversations, far away from the golf links include:
Par: Used to indicate normalcy.
For example: The company's performance in the last quarter was below par.
Hole-in-one (or ace): Indicates something that was tough to achieve, but happened.
For example: I hit a hole-in-one with that sales pitch. The clients were surprisingly impressed by our plan.
A chip shot (A short and easy shot in golf): Indicates that something was simple to achieve.
For example: Getting Mary to give us a go-ahead for the project was a chip shot.
At the 19th hole: Because golf courses have 18 holes, the 19th hole usually refers to a clubhouse where food and drinks are served. In regular conversation, meeting at the 19th hole means getting a drink somewhere (not necessarily at the clubhouse on the course).
For example: You can ask your golf-loving colleague if they would like to visit the 19th hole after work.
Tee: Use to indicate that others or you need to get ready for something.
For example: While starting a meeting, you can tell your colleagues to tee up.
Water hazards and sand traps: Used to refer to situations that make a task tough or act as hurdles.
For example: It is wise to identify water hazards and sand traps before committing money to a project.
Get the Game Started
Golf in America is also very popular among immigrants and newcomers. So, if you find the game fascinating, don't be shy in trying your hand at it.
You know the basics. Now get ready to hold conversations or venture onto the golf course.
We are sorry that this post was not useful for you!
Let us improve this post!
Tell us how we can improve this post?