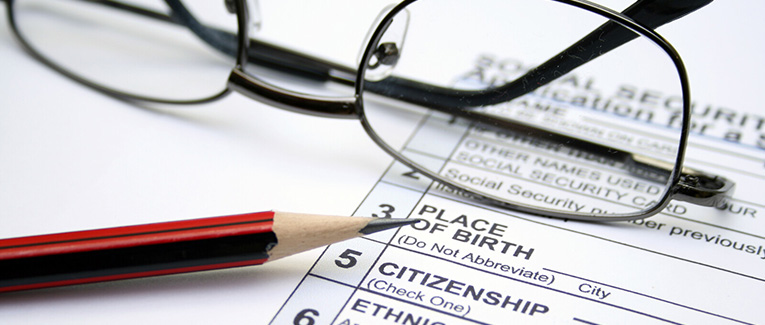 If your social security card is lost or stolen, or if your legal status in the US has changed that requires changes to your social security card, you can replace it at no charge.
Once you apply, you will receive your new card in the mail within 7 to 10 business days.
Documents
Proof of your identification.


If you are a U.S. citizen, (if SSA's records already don't contain that information) proof of your U.S. citizenship.


If you are not a U.S. citizen, proof of your current, lawful, work-authorized status.

More details of evidence requirements.
All documents must be either originals or copies certified by the issuing agency. SSA does not accept photocopies or notarized copies of documents.
Application
In most cases, you can either mail or take your application and original documents to your local Social Security Office.
Replacement limits
You are limited to three replacement cards in a year and 10 during your lifetime.
Note:
The following are not counted towards these limits:
Legal name changes and other exceptions such as a change in noncitizen status that requires card updates.


If you can prove you may need the card to prevent a significant hardship.

Card protection tips
You will most likely need to present your social security card when applying for employment. Therefore, you should keep your social security card in a safe place. Do not carry the card with you.
If you anticipate taking new employment and you need to replace your social security card, please plan in advance.
Identity (ID) theft
Even when you replace your social security card, you still get the same social security number. There is no action taken on the loss of the original card. Reporting a lost or stolen card to SSA will NOT prevent its misuse.
A person who uses your social security card or number can get other personal information about you and apply for credit in your name. This is called an identity (id) theft.
If you suspect that someone else is using your social security number, you should take the following steps to protect yourself and your financial health:
Educate yourself about identity theft;


File a complaint with the Federal Trade Commission;


Check your Social Security Record (call toll-free (800) 772-1213 or TTY (800) 325-0778) to ensure your income is calculated correctly


Monitor your credit reports.

We are sorry that this post was not useful for you!
Let us improve this post!
Tell us how we can improve this post?