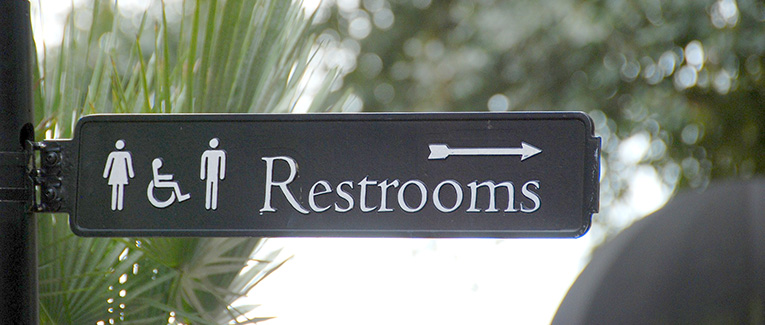 Toilets are called restrooms in the USA. A restroom is not somewhere you rest or sleep. Public restrooms are available throughout the United States. Most public restrooms are maintained very well. Of course, restrooms may not be in good condition in some places. If restrooms are not sanitary in a given place, you can report it to the management. You can use the restrooms at restaurants, airports, shopping malls, stores, and hotels. You don't have to be a customer or guest to use these restrooms. No one will question why you are using their restroom.
Restrooms at many gas stations are locked. If so, you can go inside the store and ask for a key. Once you are done, you have to lock it and return the key.
It is recommended that everyone wash their hands after using the restroom. However, it is mandatory for employees to wash their hands before returning to work.

Many stores have security cameras installed throughout the store in order to prevent theft. However, because of privacy issues, they are not allowed to install such cameras in the restrooms. There are often signs just outside the restrooms telling you that you cannot take merchandise into the restroom. If you need to try on clothes, use the dressing room.
Restroom signs may vary at different places. Some places have signs that show pictures of a man or woman. Other places write "Men" and "Women" or "Gentlemen" and "Ladies" on their signs. If the restroom sign shows a person in a wheelchair, then it is meant for people with disabilities.
Some restrooms are family restrooms where men, women, and children can all go together.

If you want to ask for directions to the restroom, you can ask things like "where's the restroom" or "men's room," or "ladies' room."
Many restrooms (both men and women) have diaper changing stations for infants.
The water in the toilet is only available for flushing. You have to use the paper wipes, or toilet paper. Of course, water is available at the sink after using the restroom. Some places may have paper towels or heaters to dry your hands after washing them.
We are sorry that this post was not useful for you!
Let us improve this post!
Tell us how we can improve this post?