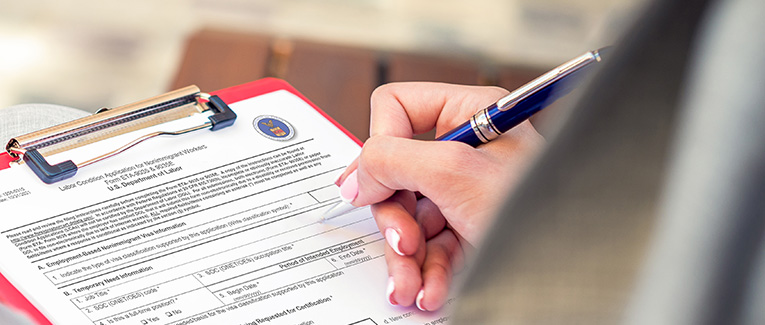 When sponsoring an H-1B visa for a potential employee, the employer is first required to file an LCA (labor condition application) with the U.S. Department of Labor (DOL) in which the employer agrees to pay the worker at least the prevailing wages. Once the LCA is approved, but before the H-1B petition can be filed with the USCIS, the employer is required to post a notice of LCA in their office in a location where other employees can see and keep the notice for 10 days in case any other employees (greencard holders, U.S. citizens, etc.) may be interested in the job for which the H-1B worker is being hired.
As an alternate, this notice can be emailed to the relevant employees in the company to make the process faster.
The following is a sample of such notice of LCA.
<TO BE PRINTED ON COMPANY LETTERHEAD>
NOTICE OF LABOR CONDITION APPLICATION
This Notice is being posted in connection with the filing of a Labor Condition Application for H-1B Nonimmigrants. <EMPLOYER NAME> is seeking to employ one (1) H-1B nonimmigrant worker as a Front-End Developer. This individual will be paid $95,000 per year, and will be employed from approximately October 1, 2022, through September 30, 2025, at the following location: <ADDRESS>
The original Labor Condition Application is available for public inspection: <ADDRESS>
Complaints alleging misrepresentation of material facts in the labor condition application and/or failure to comply with the terms of the labor condition application may be filed with any office of the Wage and Hour Division of the Untied States Department of Labor.
Individual, direct emails have been sent out to the following persons with the same or similar occupation classification as the FRONT-END DEVELOPER.
<EMPLOYEE 1>: <EMAIL 1>
<EMPLOYEE 2>: <EMAIL 2>
<EMPLOYEE 3>: <EMAIL 3>
<EMPLOYEE 4>: <EMAIL 4>
Posted by:
Name: <AUTHORIZED PERSON NAME>
Title: <POSITION>
Signature: ___________________________________________
We are sorry that this post was not useful for you!
Let us improve this post!
Tell us how we can improve this post?