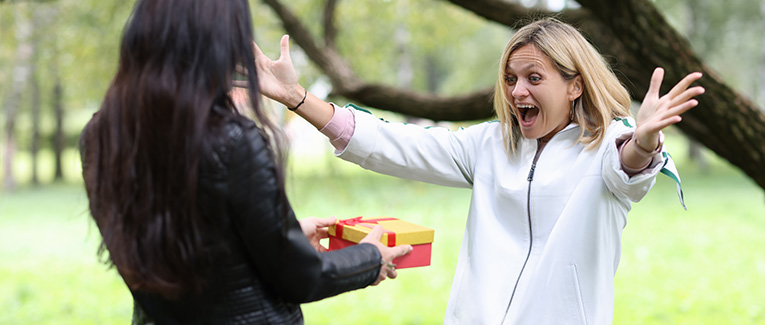 Gifting is an expression of goodwill and appreciation for the other person. But, it can quickly become an embarrassing experience when done wrong.
Practices for gifting vary hugely from culture to culture, and the nuanced traditions associated with it make it almost an art form.
With extra factors like the occasion and your relationship with the receiver, it can be difficult to put down a hard set of rules for gift giving.
But, fret not, you're not going to be left alone to navigate the vast ocean of gift-giving by yourself.
American gifting culture is quite casual compared to most others, and gifts are never mandatory in any social situation. But, Americans in general tend to be generous with their gifting. Gifts in America are a gesture of appreciation for the other person and the occasion.
This article offers you simple guidelines for gifting on the three major American 'gift-giving occasions,' so you can hit the mark every time.
1. Birthdays, Anniversaries & Weddings
Whether it's your neighbor's 25th birthday or a friend's wedding, if you're invited to the party, it is good practice for you to bring a gift.
There is no hard-and-fast rule for what this gift needs to be, especially when it comes to birthdays. But, meaningful gifts that reflect the personality of the recipient are always appreciated.
Just keep in mind that gifts such as perfume or clothing are usually inappropriate, as they are considered very personal. These should be reserved for very close friends, family members, or romantic partners.
Consider their interests and take note of any hobbies they may have spoken about. Use those to guide your gift choices, and you should be in a good place.
If you don't know the person well enough, ask a mutual friend or family member what they would recommend. You can also play it safe with some gift vouchers, baked goods, or flowers.
When it comes to weddings, it's a slightly different game. If the couple has a wedding registry (usually included in the invitation) stick to it, and pick out your gift from that list. On the off chance that they don't have one, then pick out some thoughtful home items for their new life together.
Add a card with a personal note to a well-packed gift, and it'll surely be appreciated.
Pro tip: If it is a destination wedding, don't burden the newly married couple with the stress of transporting your gifts back home. Instead mail the gift to their house, either before the wedding, or immediately after.
2. Visiting Someone's Home: Holiday Dinners, Weekend Lunches & Barbeques
When invited to someone's home for the first time, and for any occasions after that, take a small gift as a token of appreciation. While this isn't always expected, it's definitely appreciated.
The only exception for this social norm is a large, formal gathering hosted by strangers.
If you're unsure about what to give, you can't go wrong with a box of chocolates or a bottle of wine for the hosts.
Flowers or potted plants are also a good option to fall back on. But, try and have them sent in advance, so the hosts don't have to drop everything and find a place for them when you arrive.
A great alternative to make it more special would be to get them a gift from your home country.
If children are also involved, it would be a good choice to let the parents know ahead of time that you wish to get their kids a gift. It would be wise to ask them for the types of toys or objects they consider appropriate. Some parents might prefer educational gifts, while others may suggest games or snacks.
Pro Tip: For gatherings with meals involved, unless it is a potluck party, do not bring additional food without discussing it with the host first.
For holiday dinners, like Christmas, Thanksgiving, or Hanukkah, you could bring a holiday-themed gift. But, be sure to brush up on any specific gifting traditions for that holiday to avoid a faux pas.
In case of doubt, you can always fall back on your trusty box of chocolates, wine, or flowers and a handwritten note.
3. The Holiday Season at Work
In the workplace, Americans generally do not bring gifts when starting a project. They also don't bring gifts as a thank-you for doing business together. Instead, they tend to give gifts to coworkers, colleagues, and customers during the December holiday season.
Christmas is a major part of the holiday season in the U.S., and is celebrated by both Christians and most non-Christians too.
People also celebrate other holidays like Kwanzaa and Hanukkah in this season.
It is common for bosses to give gifts to their employees, and for colleagues to exchange gifts during this time. Often, companies will even organize 'Secret Santa' gift-giving parties to celebrate the holidays.
While gifting at the workplace, avoid gifts that are too personal or intimate. In professional settings, gifts like that might make the recipient feel uncomfortable.
Also, remember that not everyone celebrates the same holidays. So, avoid gifts with religious affiliations, unless you are sure of the receiver's religious background.
Some gift suggestions to ace it at workplace parties are:
Tickets to an event
Food baskets or Gift baskets
A bottle of wine
Flowers or plants
Personalized office stationary or notebooks
A meal at a nice restaurant or catered lunch (for an entire team)
Finally, here is one last tip for you on figuring out how much to spend on your gifts:
Most Americans receiving gifts are not bothered about their price. People appreciate the effort put into picking a gift, and cherish the thoughtful gesture. Americans also tend to feel uncomfortable if they receive expensive gifts from people outside their close family.
So, the next time you're anxious, don't go overboard to compensate. Remember, it's the thought that counts.
Wrapping Up
To 'wrap up' this low down, here are a couple of tips on the American etiquette for when you are on the receiving end of a gift:
If you are given a gift in person, unwrap and appreciate it in front of the gift-giver. It is general practice for a gift to be publicly unwrapped, so you may admire it and thank the gift-giver at that moment.
If you receive a gift by post, call the gift-giver to let them know it has arrived, and thank them for it. It would also be polite to send a handwritten thank-you note to the individual.
Keep these guidelines in mind and use your personal judgment to guide you, and you'll be sure to have a happy gifting experience.
We are sorry that this post was not useful for you!
Let us improve this post!
Tell us how we can improve this post?