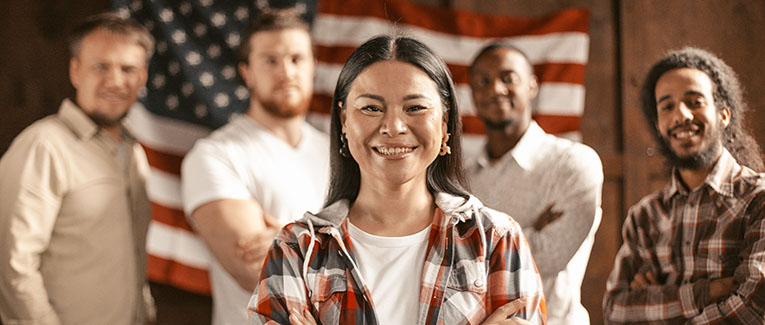 Have you moved to the United States, or are you thinking of doing so? Life in the U.S. can be amazing once you have settled in. However, before travelling, you must know your rights and responsibilities. They vary depending on whether you are a naturalized U.S. citizen, a lawful permanent resident (green card holder), or a non-resident. Make sure to read this guide before you make your move. It will let you know about what you can do to make your stay easier—and what you must avoid to keep yourself and your family safe.
How to Stay Informed
Your first few days after moving to the United States will be bewildering. Adjusting to a new culture, lifestyle, language, and climate can be challenging. You can follow these steps to gather more knowledge about living in America.
Visit the Public Library

You can use a public library for free anytime you want. You can browse and borrow books and DVDs for information that will make your stay in the U.S. easier. We recommend that you read up on American history, culture, customs, and rituals so that it is easier for you to understand your surroundings and blend in better.
Get a Phone Book

Even in this digital age, nothing can beat a good phone book. Go through the phone book to find the phone numbers of local offices and facilities relevant to you. Write down and save the numbers you might need to use on a daily basis. Make a separate list of numbers that will help you during emergencies.
Browse the Internet

Browse the Internet to find out more information about the state or locality you have shifted to. Read up on topics like the weather, alerts, current affairs, and tips that will help you stay safe. Government websites are very detailed and informative and, thus, a good place to start.

Immihelp was established as a comprehensive educational resource for all aspects of legal immigration to the U.S. We encourage you to bookmark this website and check its different sections to find information that can help you.
Know Your Rights
If you are a permanent resident, it means that you are a step closer to becoming a naturalized U.S. citizen. You have to follow a set of rules and regulations, and you can enjoy certain rights. Take a look at your rights as a full-fledged U.S. citizen.
You are allowed to reside in the United States as long as you want to.
You can buy or rent a house in the U.S.
You are allowed to be employed in the U.S.
You can have a driver's license.
You can attend a public school or university.
Depending on your eligibility, you may seek social security and healthcare benefits.
How you conduct yourself as a permanent resident or a non-citizen (who is looking to become a citizen) affects your chances of becoming a U.S. citizen. Keep these points in mind so that you do not find yourself in an unfavorable situation.
Read up on federal, state, and local laws. Follow them under all circumstances.
Make sure that you pay all your taxes regularly and on time.
Always carry a copy of your visa or proof permanent resident status.
Do not leave the U.S. for a long period of time unless it is for a temporary necessity, like education or treatment. If you do, carry proof of your purpose so that you can prove that you have not abandoned your permanent resident status.
If you relocate within the United States, let USCIS know that your address has changed within 10 days of the move.
Tips for Staying in the U.S.
You are not likely to encounter any trouble if you follow the suggestions already discussed. However, also consider these additional suggestions.
If you face any problem regarding your permanent resident status, consult a licensed immigration lawyer. There are many lawyers who provide free services to immigrants in need. If you want to take the help of an organization, check whether it has been approved by the Board of Immigration Appeals (BIA).
Stay informed about immigration fraud. Many organizations and agencies will make lofty promises and ask you for money so that they can help you out. But remember, the wrong kind of help can be a hindrance. Immigration or resident status is a matter of great severity and should not be dealt with lightly. If you feel that something is fishy about the organization or the person trying to help you, ask to see their BIA certification.
There is a list of crimes that can affect your permanent resident status. These include felonies like violence or dealing narcotics. You could also be convicted for a genuine mistake like forgetting to pay your taxes on time, or if you fail to register in the Selective Service.
Get your social security number. In order to do that, you should visit the Social Security Administration office with your passport and permanent resident card.
Be careful where you put your signature. Never sign anything without reading it thoroughly. Do not put your signature on a blank paper.
While staying in the U.S., if you feel like you are being discriminated against because of your race, religion, gender, or sexual preference, do not let it go. You have the complete right to seek justice through legal action.
Beware of loan fraud while buying or renting a house. There are lenders who might try to exploit you by extracting high interest rates. They are taking advantage of your inexperience. If you come across such a person, report them to the U.S. Department of Housing and Urban Development.
Make sure that you have a health insurance plan. If your workplace does not provide you with health insurance coverage, get a plan for yourself or your family. Visit Insubuy to learn all about health insurance plans and how you can purchase and use them.
If you find yourself unemployed due to no fault of your own, you may be eligible for unemployment benefits. To seek unemployment benefits, contact the Department of Labor in your state. For example, in Texas, you can contact Texas Workforce Commission (TWC).
If you have to be at your workplace and there is no one to tend to your child, you might face legal trouble. Contact your local child protective services agency to know about the guidelines of your state and seek suggestions for your situation.
You are prepared to move to the United States. Keep this guide in mind to stay safe and secure.
We are sorry that this post was not useful for you!
Let us improve this post!
Tell us how we can improve this post?