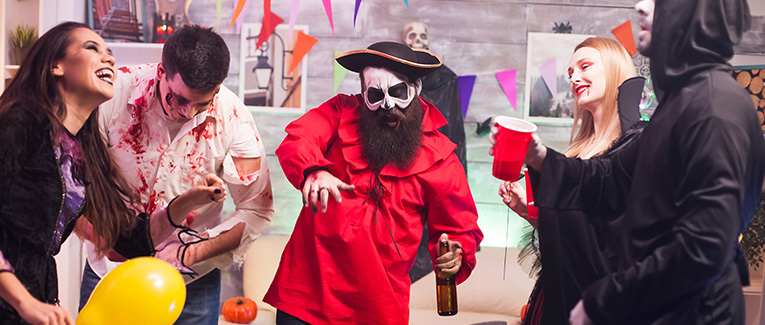 You've heard stories about the day everyone dresses up as vampires, zombies, and all things scary.
You might have celebrated your version of it with your friends back home. After all, who doesn't love a costume party?
What you may not know is how seriously Americans take Halloween. Over half the country participates in the festivities. It's only second to Christmas in terms of decorating. The Halloween season was estimated to rake in USD $8 billion in 2020.
What is Halloween, and why is it celebrated?
The word "Halloween" is an abbreviation of All Hallows' Eve. It marks the start of the Western Christian observation of Allhallowtide. It comprises Halloween, All Saints' Day, and All Souls' Day.
The reason why Halloween is associated with death goes further back to the Celtic New Year, aka Samhain (pronounced sah-win). This marked the end of summer and the start of winter. This period characterized light and dark, birth and death. Despite its many adaptations, the day's symbolism remains unchanged.
Religious foundations aside, millions get into the Halloween spirit. Halloween falls on October 31 every year. Since it's not an official holiday, but a social one, it's commonly celebrated on the closest weekend.
How is Halloween celebrated?
Irish immigrants brought Halloween rituals to the U.S. in the 1840s. Americans have had a knack for making those their own. Cases in point: trick-or-treating and jack-o'-lanterns, the two most quintessential Halloween customs.
Trick-or-treating is a combination of mumming, guising, and souling; practices derived from the UK and Scandinavia. All were similar traditions of people going door-to-door, often masquerading in costumes, and asking for food or sweets. "Soulers" were given spiced soul cakes, which is the equivalent of candy today.
Trick-or-treating was first documented in North America in 1927. It's still a flourishing part of Halloween. Families look forward to donning their costumes and decorating the house. Kids yell "trick or treat" at every neighbors' door. It unites people and communities.
Jack-o'-lanterns originate from the European folklore "Stingy Jack." The story goes that a miser, Jack, wronged the devil and had to pay the price. When he died, he was condemned to wander the world alone with only a lump of burning coal in a hollow turnip to guide him. So, the lantern was born.
Lighting lanterns became customary to signify the dead and ward off evil spirits. Pumpkins replaced carving root vegetables like turnips, beets, and potatoes when the Irish discovered them in the U.S. Today, pumpkin jack-o'-lanterns are synonymous with Halloween.
Other activities that are more recent or unique to the U.S. have cropped up too:
Bobbing for apples
This game has folks fishing floating apples out of a tub of water with their teeth. Historically, it was done by unmarried women. If they caught the apple with their partner's name, the relationship would last.
The American version is more of a competition than a quest for love, but exciting, nevertheless. Apples have other significance too; they're enjoyed as cider, or candied.
Parades
A parade is the place to be for those who get dressed to the nines and want to show it off. It's where creativity shines and Halloween-lovers thrive. From New York to Los Angeles, extravagant to extraterrestrial; countless parades across the country host it all. Artistic floats, intricate light structures, and skeletons on stilts-galore.
Haunted houses and ghost tours
This one is for the thrill seekers. The U.S. is peppered with some of the world's best and scariest haunted houses. Screams and jump scares are guaranteed. The brave set off on ghost-hunting walks, which are especially popular in Minnesota and Wisconsin.
Watching horror films
Groups gather to brave a horror film at home, or opt for big-screen viewing at drive-in theatres. From the namesake "Halloween" franchise to classics like "Scream" and "Nightmare on Elm Street," the time is ripe for horror movie marathons. Munching on festive candy completes the ordeal.
Pumpkin chunking
Commonly shortened to "punkin chunkin," this is a contest of slinging the heaviest pumpkins the farthest. As lighthearted as it sounds, it's a broadcasted sport that warranted an annual World Championship with 15 competing categories. Contestants also participate in independently-held events throughout the nation.
States with the best celebrations
New York
No one does Halloween as big as The Big Apple. It is home to the record-setting Village Halloween Parade. NYC residents pull out all the stops to create pumpkin arches, floral installations, and decked stoops. The exhibits at Manhattan and Brooklyn are unrivaled.
Minnesota
The first U.S. city to commemorate Halloween was Anoka, Minnesota, back in 1921. It's dubbed the "Halloween Capital of the World." Yearly parades, carnivals, pumpkin-related games, and bonfires happen throughout October, and draw in over 40,000 visitors.
Illinois
Chicago is the center of Illinois' Halloween hubbub. The streets come alive with gusts of wind and the Arts in the Dark parade. Parties and haunted houses are around nearly every corner. For the bravehearted, Alley of Darkness and Highway of Horror offer immersive drive-in experiences.
California
The balmy fall breeze along the West Coast in California adds its own flavor to Halloween. SoCal's very own Disneyland and Universal Studios rise to the occasion, chock-full of themed thrills and chills. The raves of Los Angeles attract half a million party animals. San Diego's mile-long Scream Zone terrifies thousands.
Hawaii
Halloween traditions might not come to mind when you think of Hawaii, but one thing they know how to do is party. Nothing beats the "Mardi Gras of the Pacific." Lahaina's Halloween cruise is a unique journey. For most, it kills two bucket list birds with one stone: Celebrating Halloween, and visiting Hawaii.
Here comes the fun stuff to round off your trip down Halloween lane.
Halloween trivia
There's almost an equal level of splurging on costumes, decorations, and candy; planned spending for each was USD $2.6 billion, $2.6 billion, and $2.4 billion respectively (as of 2020).
17% of Americans don't want their pets to miss out on the festivities, so they dress them up in costumes. Enthusiasts enter them in New York's Tompkins Square Dog Run, the world's largest canine costume parade.
Halloween lends its name to a stock market phenomenon – the Halloween effect. It stems from an inference that stock returns are higher between November and April than in May and October.
October 30 is nicknamed Devil's Night. What started as Mischief Night with harmless pranks on the night before Halloween turned dangerous. It led to rampant vandalism and arson in the Rust Belt region between the 1960s and 1990s. This phenomenon no longer exists for the most part, and October 30 is now quite safe.
Samhainophobia is a fear of Halloween, often manifested in irregular breathing, tremors, impaired speech, or numbness.
Dragon's House of Horror in New Mexico holds the record for the longest walk-through haunted house. It measures nearly 7,184 feet (over two kilometers) end-to-end.
We are sorry that this post was not useful for you!
Let us improve this post!
Tell us how we can improve this post?