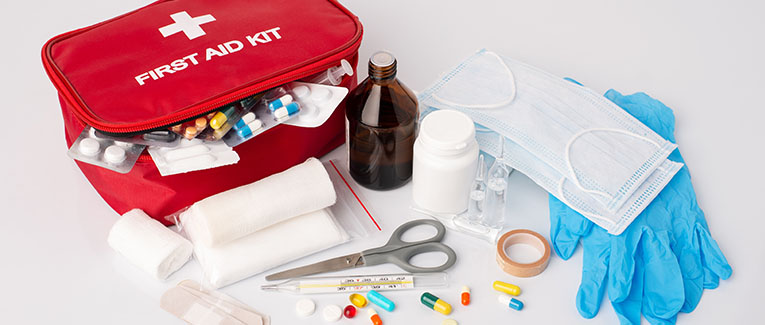 Newcomers to the U.S. found out that California is not all about sunshine and opportunity for immigrants. The wildfires of 2020 were a rude shock for foreigners who had recently moved to the state—living proof that their life in the U.S. is not out of reach of emergencies.
Emergency preparedness is likely a priority for you when moving to a new country. We have created an exhaustive list of resources to help you, along with crucial information on readying an emergency kit.
Supplies You Need: How to Prepare
First things first, you need an emergency kit handy, no matter where you are and no matter the situation. It is always a good idea to prioritize basics such as food, water, and warmth. Let us look at some essentials you'll need for your kit.
At least a gallon of water per day, per person, for a minimum of three days. This is for sanitation and drinking.
Edible items that require little to no cooking, refrigeration, or water. You need non-perishable supplies for at least three days. These can be:

Canned items such as fruits, vegetables and meat
A hand-crank or battery-powered can opener
Fruit bars or proteins
Granola or dry cereal
Nut butter, such as peanut butter
Nuts and dried fruits
Canned juices
Crackers
Pasteurized milk, non-perishable

Hand-crank or battery-powered radio, with extra batteries
Flashlight with extra batteries
A first-aid kit (you can get a 90-piece first aid kit online for less than $20). This can include:

Sterile gloves
Adhesive bandages and sterile dressings
Antibiotic towelettes and a cleansing agent
Burn ointment
Antibiotic ointment
Thermometer
Eyewash solution
Any prescription medicines you may have that are to be taken daily. These include heart medicine, asthma inhalers, and insulin. Remember to keep an eye on expiration dates.
Any medically prescribed supplies such as blood pressure or glucose monitoring equipment
OTC medicines such as aspirin, laxatives, pain-relievers, antacids, or anti-diarrheal
Scissors and tweezers
Petroleum jelly

A whistle to seek help
Personal sanitation supplies, such as plastic ties and garbage bags
Pliers or wrench to cut off utilities
A dust mask, to protect yourself from contaminated air
Some additional supplies you may add to your kit include:
Pet food, along with extra water to account for your pet(s)
Extra set of prescription glasses
Diapers and infant formula
Any important documents, such as insurance policies, bank accounts, and identification records. Keep these in a portable and waterproof container.
Cash
Extra set of clothing, including a pair of sturdy shoes
Medicine dropper and bleach for disinfection
Fire extinguisher
Feminine personal hygiene supplies
Matches, stored in a waterproof pouch
Pens and paper
Paper plates, cups, paper towels and plastic utensils
In case you have older or disabled family members, you should check additional resources to stock supplies for them. Make sure you keep mobility devices (such as wheelchairs) handy. It's best to keep these labelled with addresses, phone numbers, and names.
General Resources for Emergency Preparedness
Here are some resources to help you prepare for emergencies of all kinds.
Do 1 Thing: This is a program that makes the task of emergency planning a little less stressful for you. Check it out if you want to prepare your emergency plan in a year's time, with all the steps divided into months.
American Red Cross: While this has the mission to help people both during and after an emergency, it also offers a guide to make you self-sufficient. Red Cross has a bunch of templates that you can use to create your own emergency plan with your family.
FEMA: The Federal Emergency Management Agency offers a good amount of resources to help you prevent, prepare for, and recover from a disaster. It is also a good source for updates and relevant information during a disaster. If you have kids, FEMA has a Youth Emergency Preparedness Curriculum to educate students of all grades.
America's PrepareAthon: The PrepareAthon aims to motivate communities so that they may be prepared in the event of a disaster. Do check this out if you want to stay informed about the risks in your region, and to support your community in staying safe.
CDC: The Center for Disease Control and Prevention does critical research to protect you from threats to security, health and safety. You can use its resources on Emergency Preparedness and Response to learn about the various kinds of emergencies and stay informed in general.
Department of Homeland Security: This aims to improve national preparedness through a complete cycle of exercises following an emergency. It is another great source to help you prepare for your family's safety.
Embassy of Your Home Country: You can always rely on your home country's embassy website to keep you updated with advisories during emergencies. It has 24X7 emergency helplines and provides a list of emergency services by jurisdiction that you can refer to.
Rest assured that every emergency comes with its own set of recovery measures on the part of the state you're in. For example, a fire recovery website was launched by Jackson County, Oregon, to consolidate information and help those impacted by the nearby South Obenchain and Almeda fires. Stay informed and up-to-date with the resources we've shared, and you will be able to keep yourself and your family safe.
We are sorry that this post was not useful for you!
Let us improve this post!
Tell us how we can improve this post?