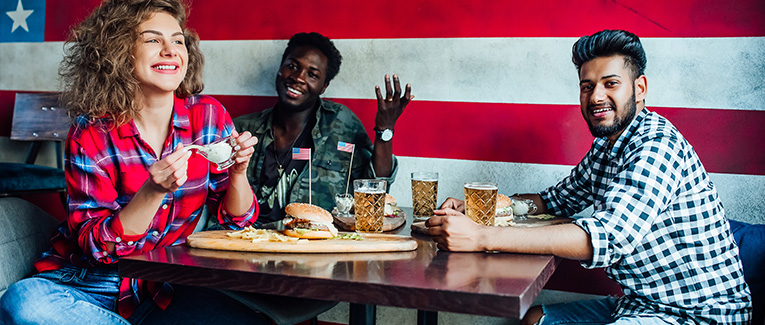 A wide variety of food is available in the U.S. Many stores and restaurants are open until late at night or early morning.
Tips
In the United States, there is no such term as "non-veg" or "non-vegetarian," as most items contain meat. The closest you can get to the equivalent of that term is "food items with meat."


If you want to order vegetarian items, make sure to say "no meat" rather than "without meat," as it may be misunderstood as "with meat." The place will then either give no meat in the food item or substitute it with a vegetarian piece of food.


In all eating places, by default, water is served in a glass full of ice. If you prefer your water without ice, make sure to mention "no ice."


A cheeseburger always contains cheese and meat, typically beef.


Many hotels provide a complimentary continental breakfast that contains many vegetarian or egg-based choices.

Pizza
Pizza is pronounced "piTza." Pizzas are very popular for people of all ages across the United States. You can get either cheese pizza, vegetarian pizza, or pizza with meat (pepperoni, ham, sausage, etc.). Pizzas are usually available in four sizes: personal, small, medium, and large. One large pizza is usually enough for a family of two adults and two small kids.
You can order pizza by phone or online and have it delivered to you within half an hour to one hour. Usually, there is a delivery charge, and a tip is expected. You can either look up a number for a pizza place on the internet or in a phone book. Some of the most popular pizza companies are Pizza Hut, Dominos and Papa John's Pizza.
Vegetarian Eating Guide
Restaurants such as Olive Garden or Sizzler: Hardly any choice other than salad bar and french fries. However, Olive Garden has lots of vegetarian pastas available that may be high in cheese or other calorie-dense items.


Burger King: Veggie whopper.


Denny's: Vegetable omelet (with eggs), vegetable lunch/dinner (salad, potato smash, garlic sauce), broccoli soup.


IHOP: Veggie omlet (with eggs).


Italian or Greek: Eggplant (brinjal) sandwich, falafal, Italian pizza, Italian pasta with tomato sauce, lasagna (pronounced "laza-nya"), spaghetti with tomato sauce, veggie gyro (pronounced "yero").


Pizza Hut: Veggie Lover's Delight, veggie pizza with a choice of toppings, such as jalapenos (pronounced "hala-pin-yose," which are green chilies), pineapple, tomato, onions, etc.


McDonald's: McCheese sandwich, milk shakes, ice cream sundae, egg biscuits, walnut-apple salad.


Mexican: (Taco Bell, Chipotle, Baha California) Bean burrito, bean taco, bean tostadas, cheese taco, chalupas with bean substitution, cheese enchiladas, Mexican pizza.


Subway: Veggie Max Sandwich (the one with veggie patties), Veggie Delight Sandwich (the one without veggie patties). You can order your sandwich with a wide variety of breads and in sizes of 6 inches and a foot long. This kind of sandwich is actually called a "sub." Along with the sub, you can order cookies, potato chips and a drink.


Quizno's: Veggie Sandwich. You can order your sandwich with a wide variety of breads. Sandwiches come in three sizes: small, medium, and large. Quizno's provides Pepsi drinks as well.
We are sorry that this post was not useful for you!
Let us improve this post!
Tell us how we can improve this post?