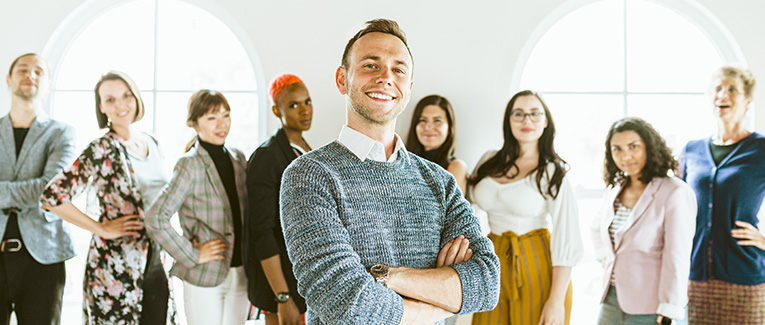 The dress code in the USA is pretty much this: wear what you like and what you're comfortable in. The underlying condition is that you look neat and presentable. That's doable, right?
There are many popular style options in the U.S., and they are usually defined by the weather. Some people even rotate their wardrobe depending on the season. This is done because the popular colors change every season.
Despite the relaxed outlook on people's clothing, there are some expectations and norms to follow. Here are a couple of the requirements:
Always Dress Neatly
Yes, artistically placed rips are tolerated, but if your jeans rip on their own accord, that means it's time to throw them away.
Clothes with stains and wrinkles are looked down on in the U.S. Even if you're headed out on a casual walk, make sure your clothes are neat and appropriate.
Along with your outfit, your hair also needs to be neat. No matter the haircut you're rocking at the time, you're required to keep it maintained. Dirty or oily hair is generally disapproved in the U.S., so ensure you wash it at regular intervals.
Going Barefoot Isn't the Norm
In many countries, people choose to go barefoot if they're just stepping into the yard or down to the mailbox. This isn't the custom in the U.S.
You'll see that a lot of people even wear shoes indoors. This is considered an impolite practice in some Asian countries.
You may be uncomfortable with wearing shoes indoors, but try not to get caught without footwear outside. Not wearing shoes is often seen as dirty and unhygienic here.
Dress for Comfort
Other than some special contexts, most Americans dress for comfort and functionality. Bear in mind the definition of comfort changes for each person.
Wearing multiple layers is a common practice in the U.S. You can opt for simple inner layers like a tank top or camisole, and spruce up the look with a fancier jacket. Dresses or rompers are also suitable options.
It's not odd to see people out and about in baggy shorts and a casual tee. This is also allowed in most public places.
Accessories
The usual trend with accessories follows the clothing trend, which is functionality over style. Keeping that in mind, backpacks and fanny packs are popular accessory choices among women. Especially knowing that most women's pants don't have pockets.
Accessories are also layered, like clothes. So you'll see people wearing multiple bracelets or chains at the same time.
Most often, accessories are minimal and don't overpower the look.
Clothing Length and Daring Cuts
You won't need to worry about wearing short clothes or ones with revealing necklines for the most part. Of course, there are some situations in which it is not accepted. This includes religious places or office settings.
But, if you're going to hang out with friends, don't hesitate to wear such outfits. You won't need to worry about disapproving looks from strangers.
You also aren't constrained by the color of your clothes. It can be anything from vibrant neon green, to more muted beiges.
It doesn't take a rocket scientist to figure out that the typical American outfit is casual and comfortable, but that's not all that there is to it. There are some phrases and terms you need to know to pull off the proper look. Here are some things you'll likely hear:
What Various Dress Styles Mean
In the U.S., you'll often get invites to events and parties with some cryptic words on them. It'll say it's a cocktail party, or it may request you to dress business casual. Did you know these words mean specific things? Particularly, specific types of attire.
What Is Business Casual?
Most offices require their employees to wear business casual attire. This is basically business-wear without the full pomp and show of a suit.
Men should wear button-down shirts that aren't flamboyant. There shouldn't be any eccentric patterns on your shirt. Wearing a tie is your choice, but you won't have to wear a waistcoat or a jacket. Avoid jeans and sneakers. The pants have to be dress pants or khakis, and the shoes can be loafers or oxfords.
For women, the rules are pretty similar. Wear a cardigan over a blouse or button-downs. You may wear slacks, or skirts with stockings. A business casual look usually involves a statement jewelry piece. Bring the look together with a comfortable pair of closed-toed shoes.
What Is a Cocktail Dress Code?
You're probably familiar with a cocktail drink, but cocktail clothes? Cocktail parties are usually semiformal get-togethers that happen in the evening. Think of the setting and venue as you're getting dressed.
Women have it quite simple. A cocktail dress is a knee-length dress of any color or pattern. These dresses usually don't have bold necklines, and are more on the modest side. Women can also wear jumpsuits or trousers with fancy tops to a cocktail party.
Carry a clutch to round out the look. Avoid mini or maxi dresses. The rule of thumb is that it's better to be overdressed than underdressed. Your makeup look can be bold or natural.
For men, the rules for cocktail attire are a little hazier. You will need to know who will be at the party before you choose your outfit.
It is usually a three-piece outfit: a dress shirt, a jacket, and trousers. If you dare, experiment with colors or patterns on the jacket. But, if you go that route, keep the other two elements muted. It's important to look neat at a cocktail event, so make sure your outfit is steamed and crisp.
You can accessorize with a watch and cufflinks. But, make sure that none of the colors or designs clash.
What to Wear To a Black-Tie Event?
This is one of the more formal looks you'll wear. A black-tie event is a formal event that starts in the evening; think charity events or award ceremonies.
A silk-lapelled dinner jacket with a bow tie is customary for men. The jacket can be single or double-breasted, and is usually worn over a white shirt. Waistcoats and cummerbunds are optional, but never put them together.
If it's not obvious, please don't wear open-toes sandals or sneakers to a black-tie event. If you want to be a bit more adventurous in your color scheme, choose earth or jewel tones. But, don't forget your white handkerchief.
Women have a lot more options to play with. Dresses don't have to be full-length, but that is the popular choice. Revealing necklines and slits down the legs are discouraged; it is a formal event after all. Since it will be a sit-down dinner, ensure that your dress will cater to that.
Simple jewelry can be worn with closed-toed heels. Your makeup look should be more done-up and neat.
It is a well-known fact that fashion trends are never constant. Mom-jeans, which were considered the heights of a fashion fiasco in the early 2000s, are back in style. Every new style has its time. So, if it's something you enjoy sporting, go for it. The American fashion scene is highly tolerable to most whims.
We are sorry that this post was not useful for you!
Let us improve this post!
Tell us how we can improve this post?