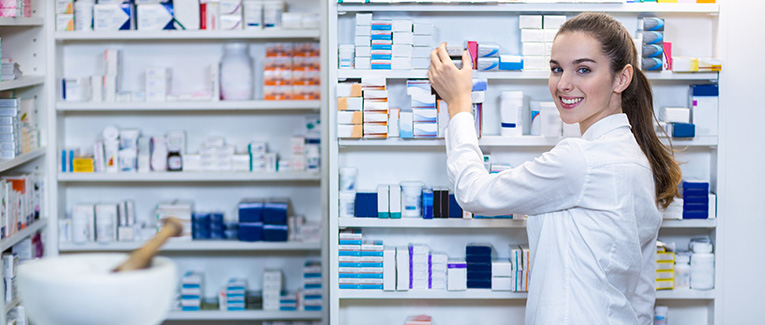 A chemist shop is called a pharmacy or drugstore in the U.S.
CVS, Walgreen's, Rite Aid, and Eckerd's are the biggest pharmacy chains in the U.S. Additionally, many grocery and department stores have pharmacies, e.g., Wal-Mart Pharmacy and Safeway Pharmacy. Of course, there are individually owned pharmacies, as well (called mom and pop stores).
Prescription drugs are available only with a physician's prescription.
Over-the-counter medications are available without a physician's prescription.
Most pharmacies are very big. In addition to selling drugs, they are like mini department stores and sell items like candy, beauty products, cosmetics, diapers, jewelry, magazines, newspapers, postage stamps, toys, toothbrushes, shaving items, and cigarettes. At many pharmacies, you can even get prints of digital pictures or get passport photos taken.
Many items that are available without a prescription in other countries are not available without a prescription in the U.S., e.g., oral contraceptives, sleeping pills, high dose antihistamines, etc.
Most pharmacies only accept prescriptions from U.S. physicians. Therefore, if you have a need for constant medication and if you are visiting the United States, you should bring enough with you. A prescription is written on security paper so that it can't easily be duplicated or faked. Many physicians electronically submit a prescription directly into the pharmacy's computer system.
Most pharmacies don't give the prescription drugs right away. They ask you to either wait or come back later. They generally take 15 minutes to half an hour or more to fill the prescription. Prescription bottles are not manufactured directly by the pharmaceutical company, but provided by the pharmacy itself. A bottle will have the name and contact number of the pharmacy, the name of the patient, the name of the doctor, the description of the medicine, and instructions on use. Additionally, you will get a document along with the drugs that gives details about how to take the drug, any side effects, and other useful facts you should know.
Many drugs are available without a prescription. They are called over-the-counter drugs. They are particularly useful for minor ailments like a cold, flu, fever, or allergy. However, the strength of such drugs is much lower than prescription drugs and some over-the-counter drugs available in other countries. Many times, for several different drugs, pharmacies also have a 'house brand' that is similar to the national brand but it is much less expensive.
Each pharmacy will have at least one trained and licensed pharmacist on duty at any time that it is open. There may be several other staff members working as cashiers and technicians. Some pharmacies are open 24 hours a day, 7 days a week. Occasionally, even after the actual pharmacy is closed, the remainder of the store will stay open.
Foreign prescriptions are generally not accepted at most pharmacies. Also, a pharmacist can only give you limited advice regarding which over-the-counter drug may be suitable for your situation. However, no pharmacy workers will give medical advice or provide medical help.
Once you buy the drugs, there are no returns due to health reasons.
Most regular insurance companies pay for prescription medicines one month at a time. For those who need to take prescription medicines on a continuous basis, many companies also provide a mail order option through which they will pay for three months at a time. You will have to pay less money out of your pocket if you get the medicine by mail order rather than paying monthly.
Brand name drugs come directly from the company that invented the drugs. Initially, only that company will have rights to manufacture a particular drug. However, once the initial exclusion period has expired, other companies will make the same drugs, as long as it is of the same quality and equally effective. Drugs made by other companies are called generic drugs and are usually significantly cheaper than brand name drugs. Therefore, if the generic for a particular drug exists, you should ask the doctor to allow the pharmacist to fill the prescription with generic drugs. Remember that generic drugs are not fake drugs or duplicate drugs and are completely safe in the U.S. Whenever a generic drug is available for a given medical condition, most insurance companies will not pay for the brand name drug.
We are sorry that this post was not useful for you!
Let us improve this post!
Tell us how we can improve this post?