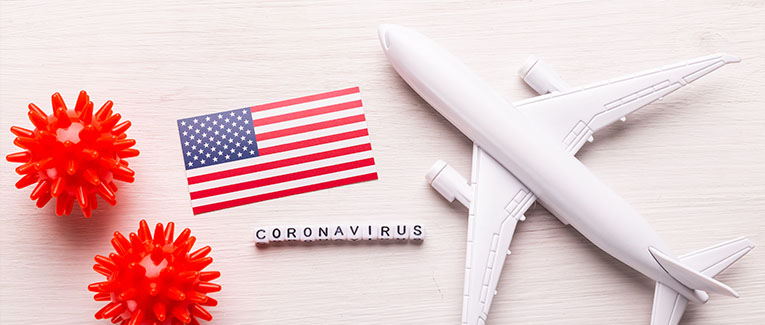 Note: This guide was developed in November 2020.
The 2020 COVID-19 outbreak and its aftermath brought the relocation plans of many people to a grinding halt. It has become crucial to seek expert advice if you are planning a move to the U.S. Luckily, we're here to guide you through a process that will be challenging but rewarding at the same time.
Stay Updated on Travel Policies and Advisories
As regulations and policies surrounding travel change, there are sources you can visit for relevant and reliable information:
Keep tabs on travel advisories through the U.S. State Department website, which provides a color-coded map along with regular updates on the rapidly-changing scenarios in every country.
Visit the World Health Organization website to stay updated on international travel advice and general information for the public.
The U.S. Center for Disease Control and Prevention (CDC) has a host of resources for travellers, along with guidance and travel restrictions by state.
What About Visa-Regulation Changes?
If your next step is to apply for a visa, be sure to stay up-to-date via the following websites:
U.S. Citizenship and Immigration Services (USCIS) provide information on international immigration offices and updates on the reopening of facilities.
Depending on your purpose for travel, check your eligibility via the Electronic Visa Update System website.
You can also refer to this web site for information on renewing, extending or changing a visa.
The U.S. State Department also provides the latest updates on visa policy.
The most recent in a series of updates on the changing landscape has been an executive order that bars foreign nationals coming to the U.S. on an H-1B specialty occupation visa from getting entry into the country until the year's end. As the EB-5 program is not included in this order, it might end up becoming the chosen option of foreign nationals forging ahead.
Education in the U.S.
If you are contemplating further education in the U.S., you might be concerned about how the pandemic has affected your prospects. Amid the crisis, universities and colleges have worked hard to help students complete their studies online. There has been close collaboration among international university partners and program providers for education abroad. You'll be relieved to know that universities have adapted their academic practices and standards to accommodate as many students as possible. Some considerations for what the future might hold are listed below.
Virtual learning and online education: Online learning has become an essential tool to connect students and introduce them to sites that earlier could only be explored offline. Some programs are even offering virtual internships.
Domestic study away: Institutions have now begun offering domestic study-away courses that replicate the experiences of education abroad. This transformative journey can open your mind by introducing you to different perspectives and engaging you with diverse communities.
Faculty-led programming: While education in the future will continue being faculty-led, there will be a stark difference. You might notice an increase in cross-border collaborations.
Which city do you choose in a post-COVID world?
Confused about which city to move to? We have you covered with this list, curated on the basis of different metrics.
Jefferson City, Missouri: This is a good choice if cost of living is a concern. The price of goods and services here is 18% less than the national average.
Bloomington, Indiana: Consider moving here if you want to extend your remote lifestyle for a longer duration. Around 39% of jobs here potentially allow you to work from home.
Bismarck, North Dakota: You might want to consider this city if housing costs are your concern. Surveys say that more than 70% of residents spend less than 30% of their earnings on housing.
Ames, Iowa: What makes this city a worthy option is that its unemployment rate before the pandemic was a mere 2%.
While the world has definitely changed in the last few months, it doesn't need to hamper your preparations for relocation.
We are sorry that this post was not useful for you!
Let us improve this post!
Tell us how we can improve this post?